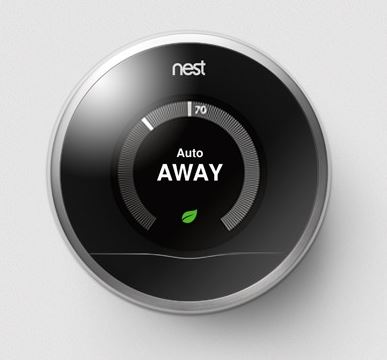 Imagine that you're an emerging company who make connected devices. One of your best selling products is a a brainy thermostat which learns your schedule and programs itself. It's a device you can change and control via your phone and it'll apparently lower your bills too.
Now, imagine that Google have just strolled up and dropped $3.2 BILLION, which is about £1.95 billion. That, my friends, is a huge amount of dosh. It appears to be their second most expensive investment after the purchase of Motorola.
Nest, the company in question, has two founders – Matt Rogers and Tony Fadell. They'll both now join Google and Google CEO, Larry Page, tells us…
They're already delivering amazing products you can buy right now–thermostats that save energy and smoke/CO alarms that can help keep your family safe. We are excited to bring great experiences to more homes in more countries and fulfill their dreams!
With this investment, Nest can seriously increase their forward momentum. The end result should be a more connected home which, through clever technology, should let you live your life whilst everything else is taken care of. The existing Nest products and services will continue to be available.
So, Google will soon know who you are, where you are, what your favourite search terms are, where you travel to, where you went yesterday, what your house looks like and whether you're in. They'll also know what room you're in, what emails you're reading, what phone you have, what apps are installed, who your friends are and when your birthday is.