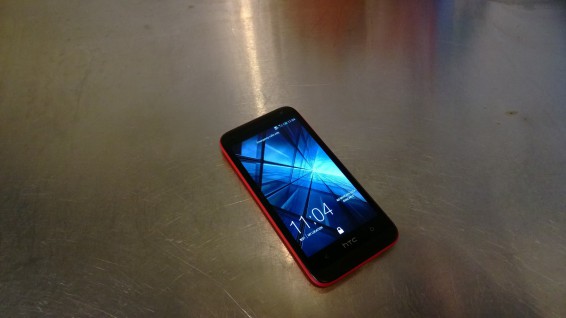 Last September HTC announced the Desire 601. It's a mid-range device with a 4.5″ QHD display and the video montage feature we also saw on the Desire 500.
The handset also includes a dual-core 1.4GHz CPU, which – despite the fact it's called the Desire 601 – actually makes it slower than the quad-core 1.2GHz chip on the Desire 500. Not only that, but the 601 only has a 5 megapixel camera (compared to the 8 megapixel one on the 500 we reviewed). It does, however, have more internal storage than the Desire 500, packing 8GB on-board plus a microSD card slot for up to 64GB more.
Other specs include GPS, WiFi, 1GB RAM, Bluetooth 4.0, 3.5mm audio port, DLNA, HTC Zoe, HTC Sense. There's a VGA front camera and a 2100 mAh battery too.
The 601 also includes BoomSound and those dual front speakers, which is missing on the 500, but there's no Beats tech here.
Anyhow, it's now available exclusively in red on O2 in the UK, and it'll do 4G too. We've had a nose at the plans and you can get it for £239.99 on Pay & Go. If you want a contract then you can get it for nothing on plans starting at £17 per month. There's more detail on this O2 page.