Nvidia have started CES a little early by announcing the K1 family of chips for mobile devices. However, they won't just be in mobiles, they will also be appearing in 4K TVs, consoles and cars (more on those later).
The K1 is Nvidia's attempt to reclaim lost market from Samsung and Snapdragon in the mobile processing market, and will be coming in two flavours; a 32-bit quadcore 4-Plus-1 ARM Cortex A15 CPU and a 64-bit dual Super Core CPU, which is based on ARM's V8 architecture.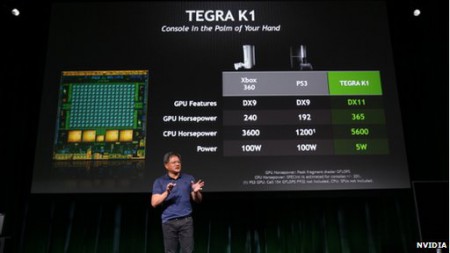 These chips, Nvidia claim, will make Android phones and tablets more powerful than Xbox 360 and PS3 and the 64-bit chip is claimed to be three times more powerful than the A7 processor that powers the iPhone 5S. Below is a demonstration picture showing the real time animation graphics made possible by the new chip.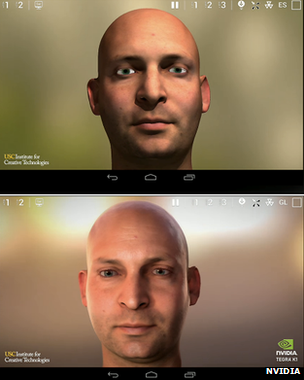 Aside from the obvious mobile device uses, the other interesting announcement was on using the chips in cars making dashboard graphics more realistic, a programmable platform for Advanced Driver Assistance Systems which could lead towards fully automated cars. Whilst no partners have been officially confirmed, Audi are interested:
"Audi and Nvidia have a long, deep partnership, in which we've utilized three generations of Tegra to bring industry-leading capabilities to the instrument cluster, infotainment and rear seat entertainment systems," said Ricky Hudi, chief executive engineer of electronics at Audi AG. "Tegra K1 opens a new chapter for Audi to deliver revolutionary supercomputing advances to the car, paving the way to piloted driving experiences."
This would back up the news we reported about Audi partnering with Google here, which mentioned Nvidia would be providing the hardware.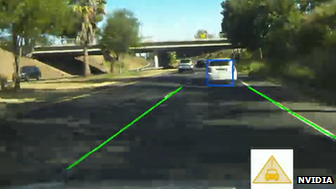 Full technical details can be found here, the 32-bit chip is due to appear in mobile devices by mid-2014 whilst the 64-bit version should be about before the end of the year.
Sources: BBC and Pocket-Lint