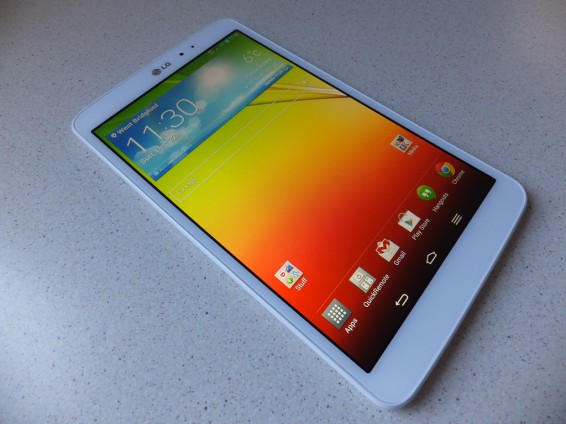 Android tablets are a mixed bag and as much as I love my Nexus 7 it always does seem like a massive phone and my Asus Transformer Prime tablet always seems too big. I've wanted to try out an 8″ tablet for a while now and the price of the LG G Pad 8.3 was worth a shot. The G Pad appealed for another reason as well, it looked like a huge LG G2 which I loved (you can read my review of the G2 here). I've had it a few weeks now and here is my review, starting as always with the good and bad points.
Good Points
Glorious screen.
IR Blaster.
Micro SD slot.
Some of the additional software added by LG.
Double tap to wake/unlock when it works is great.
Ideal size for book and magazine reading.
Decent sound quality with headphones.
Bad Points
Android 4.2.
LG software seems to slow down the G Pad a little.
Notification drop down is a jumbled complicated mess.
Speakers a little weak.
 Almost too big for comfortable typing in a phone style of typing.
The iconset and core UI look a little dated thanks to the LG skin.
No wireless charging.
Design
The G Pad is a great looking device, from the front it looks like a large LG G2 in white, but upon closer inspection it's a mix of white plastic around the side and a metal backplate. It's reminiscent of the HTC Flyer with its mix of silver and white.
Some people will be thankful that the button arrangement is different to the G2, with the power and volume buttons on the right hand side. Although LG would prefer it if you tapped the screen to lock and unlock.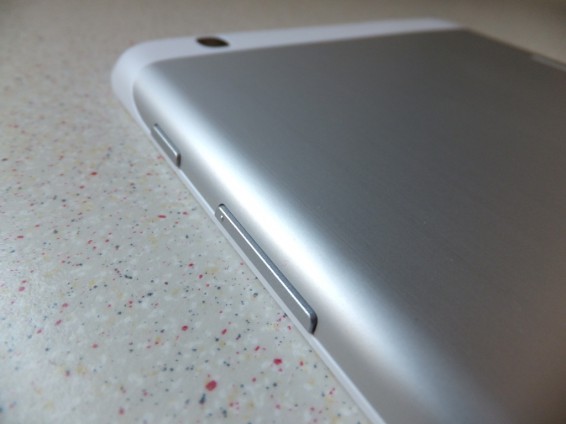 The interesting parts are along the top edge of the device. The IR Blaster, the Micro SD slot and the headphone socket all sit nicely along the top edge. The Micro SD slot has a nice feel to it and doesn't feel flimsy.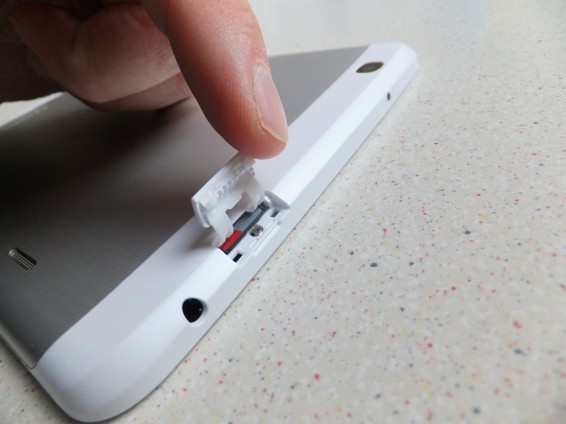 The bottom edge is just home to the Micro USB port which doubles up as a Slimport for TV out and also as a USB host. Oh and one of those little holes which I presume is a microphone.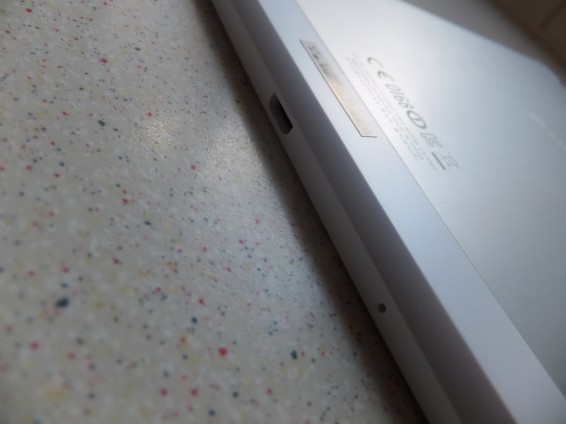 The back of the device has a big slab of metal, which doesn't make it noticeably heavy, in fact the whole device feels really lightweight. The back houses the two speakers, which are orientated for landscape use. At loud volumes they sound a bit distorted, at lower volume they lack any depth to the sound. I just plug headphones in instead as the audio quality with headphones is really good. The back also houses the 5MP camera which works in reasonable light, see the dedicated section on the camera later.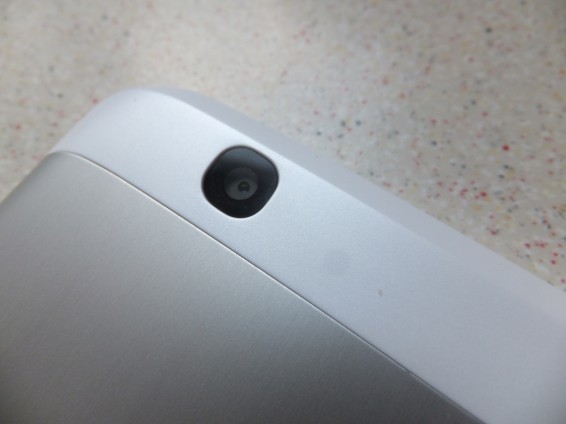 Overall I like the design, it's nice and thin and it feels great in the hand, for web browsing and general tablet stuff I prefer the size of the G Pad, for typing things out though the size is a little awkward to hold and type with two hands simultaneously (in portrait mode held with two hands like a large phone). On a smaller tablet like the Nexus 7 I can comfortably hold it like a large phone and type.
Hardware
Spec wise the G Pad is good, with a spec sheet slightly better than the Nexus 7.
Processor – Qualcomm® Snapdragon™ 600 1.7 GHz Quad-Core
Display – 8.3″ Full HD IPS Display, 1920 x 1200 pixels, 273 ppi
RAM – 2 GB RAM
Internal Memory – 16 GB eMMC Memory
MicroSD™ Memory Slot (Support up to 64 GB*)
Front-Facing Camera – 1.3 MP
Rear-Facing Camera – 5 MP AF BSI
Battery Capacity – 4,600 mAh Li-Polymer
Android® 4.2.2 Platform (Jelly Bean)
802.11 a/b/g/n (2.4/5 GHz)
Bluetooth 4.0
Miracast
GPS
Dimensions – 216.8 mm (H) x 126.5 mm (W) x 8.3 mm (D)
Weight – 338 g
Highlights of the spec include the MicroSD Slot, the Slimport, the IR Blaster and the battery, these all give the G Pad a 1up on the other tablets in the same price range.
Things I would have changed about the spec would be to offer a 32GB model, a 3G/4G model and possibly add the Snapdragon 800 chip instead of the 600 which would help with the LG Optimus skin. At times the G Pad feels a little laggy during transitions or when trying to get the double tap to wake to be registered. The battery although bigger (4600 mAh) than the Nexus 7 battery it seems to drain quicker, playing a game or watching video really seems to knock it for six and the lack of wireless charging means that you'll need to keep a charger nearby.
Software
The G Pad runs a skinned version of Android 4.2, LG say it's a light skinning, it isn't. They have played about with almost every single core part of the UI in much the same way the have done with the G2. The LG G2 and the G Pad both run Android 4.2 and having used both I feel that the G2 runs a whole lot more smoothly, this is probably down to the fact that the G2 has a better processor (Snapdragon 800).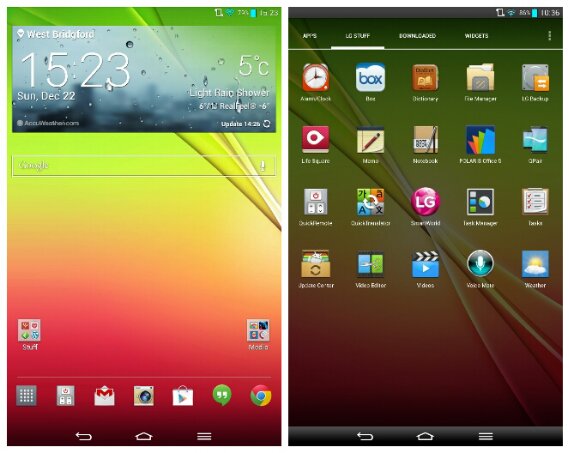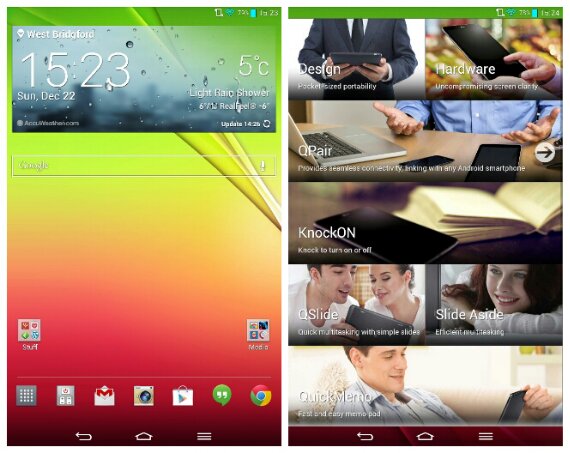 Various LG apps that were present on the G2 have made their way onto the G Pad, things like QuickRemote, QSlide, Voice Mate, Wireless Storage, KnockOn, Slide Aside, Smart Screen and Smart Video. Which to be honest mostly get turned off, only QuickRemote and KnockOn really get used.
Some of the apps show a lack of thought on LG's behalf, things like Slide Aside which is LG's take on multi tasking and it basically duplicates the functionality of the built in Android multi tasking (albeit with a bit more flair). Unfortunately for LG all of this extra software slows the tablet down a bit, as screen transitions aren't anywhere near as fluid as my Nexus 7. Although Android 4.4.2 might have something to so with that, as to when LG will update the G Pad your guess is as good as mine, we have heard rumours of a Q1 update for the G2 phone so it shouldn't be too much longer after that.
If you fancy having a fiddle with the G Pad, changing transition speeds, using a different launcher and turning off most of the extra software does speed the tablet up
Seeing the Google Play Edition of the G Pad become available in the US makes me a little jealous, as they basically get Nexus 7 software on the nicer hardware. But as with the other SD card equipped Google Play Editions The device can't write to the SD card. So I'm quite happy to put up with a little skinning. For now at least, I may however end up rooting this and installing a custom ROM.
Notification Drop Down
The LG Notification drop down has took some stick recently in various reviews around the web. LG have made what is fairly straight forward drop down area jumbled and confusing and to make matters worse you can't turn some of it off. Yes some of the options are useful, like the QSlide floating widgets, but LG really need to rethink this area for future generations.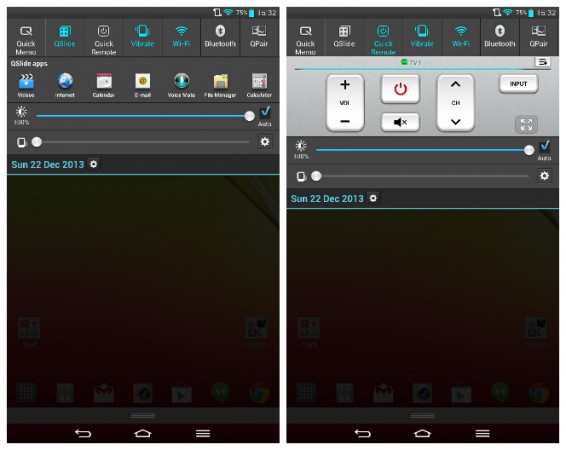 QPair
QPair is a fairly useful app that is unique to the G Pad and it is something that various developers over the years have tried to create apps to do what it does. Basically you pair an Android phone running Android 4.1 or higher and notifications, messages and some other stuff can be shared between devices. As I say it's fairly useful as it only really saves a few seconds each time getting your notifications on the tablet instead of on your phone. As well as notifications it allows you to quick launch an app on the paired device that you were just using, so your browsing the web on your phone using Chrome, you turn the phone off and pick up the tablet, turn the tablet on and up pops a shortcut for Chrome. Again fairly useful.
Handling calls and SMS via the tablet is quite handy though if you've got the tablet out and a message appears, the message thread is synced to both devices.
Qslide
On the LG G2 the floating widgets didn't really make sense, mainly down to them virtually covering the whole screen. On the G Pad they are a whole lot more useful thanks to the size of the screen. You could even use two at a time.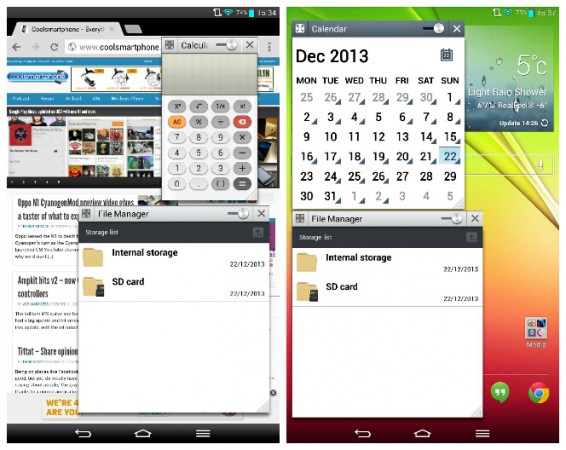 Other notable stuff
Benchmarks
The LG G Pad 8.3 running the standard LG software scores as follows using Antutu X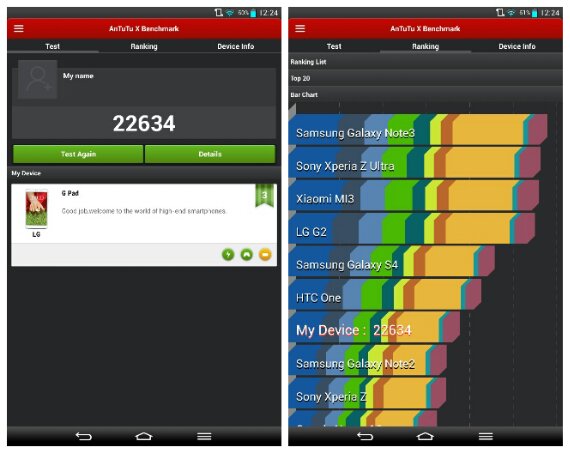 For comparison purposes the Nexus 7 (2013) scored 19924 in Antutu X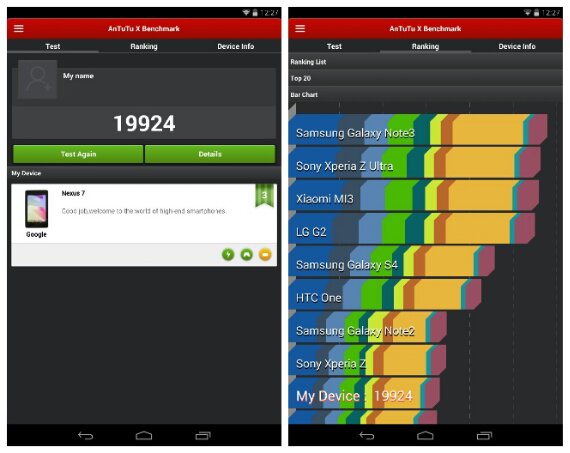 In real life the Nexus 7 feels faster, which is probably down to the different software the two devices are running.
The Camera
The camera is only a 5MP unit which you'd expect to hamper the experience, but I fired up the camera whilst out on a walk and I was pleasantly surprised to find the same UI as on the G2 but without the annoying inability to focus quickly, LG seem to have fixed the problem in their software and the G Pad is a perfectly adequate tablet to take basic pictures with, as it has no flash you are limited to when and where you can use it. But I found it took some pretty nice shots and you have lots of mode and options to play about with as well.
Conclusion
The LG G Pad 8.3 is a great tablet, with great potential, I feel LG went a bit too far with the extra software. In a similar way to Galaxy tablets, you just get too many options and things to turn off.
Overall though I like it, probably more than my Nexus 7 (2013), but that is mainly down to the IR Blaster, the Micro SD card and the slightly larger screen. I mainly use my smaller tablets for Multi-media consumption so watching films and listening to music stored on the memory card really makes this a device for doing that, as long as you stick to using headphones or a third party speaker with it.
No doubt over the next few months prices will drop, currently you can get the G Pad for under £250 in white or black. If and when it goes under the £200 mark you might be onto a bargain. As to whether you should buy this or a Nexus 7 I'd say the G Pad is more fun to use than the Nexus. The slight increase in screen size makes everything easier, apart from holding it easily in a typing stance. So unless you type out lots and lots of stuff your probably going to be better off with the G Pad, as long as you can cope with playing about with settings, transitions and launchers. If not just get the Nexus 7.
LG G Pad 8.3 - Review
Design - 8.5
Hardware - 8
Software - 7
Camera - 6.5
Screen Quality - 9
Battery Life - 7
7.7
The LG G Pad 8.3 is a great tablet, with great potential, although I feel LG went a bit too far with the extra software. In a similar way to Galaxy tablets, you just get too many options and things to turn off.