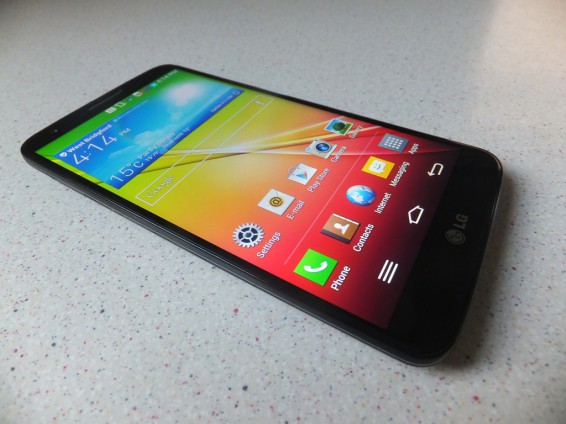 Just how bad is the LG skin? Is it worse than TouchWiz? How is that button on the back? That's what people say to me when the see I've got the LG G2. The LG G2 is one of the most unique devices of recent times and as I've had one for a few weeks now and it's time to bring you my full review. Starting as always with my good and bad points and eventually answering those questions that people keep asking me.
Good Points
Great feel in the hand
Amazing screen
IR blaster
Decent camera
Decent sound quality with headphones
Double tap to wake and double tap to lock
Unique power button arrangement
Bad Points
Some elements of the LG UI
Speaker is a little bit dull
No wireless charging (UK version)
16 GB (about 10 GB out of the box) internal memory with no Micro SD slot is rather limiting
Low light focusing is a bit fiddly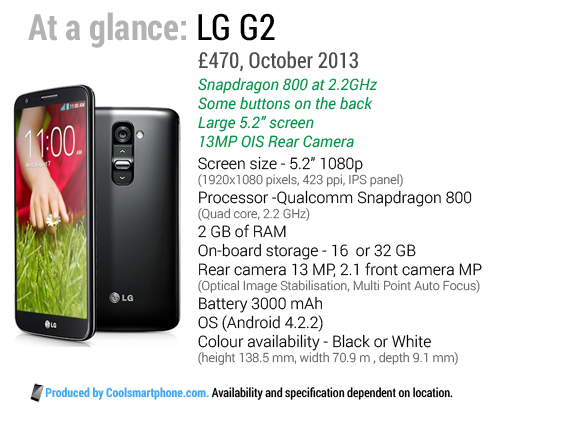 Design
The LG G2 is a great looking phone, it feels great in the hand thanks to the curved back panel, which leads round to those quirky but intuitive back buttons. LG have done a great job with the G2, it's almost like every element has been thought about. The onscreen soft keys free up space to reduce the bezel size, the rear buttons allow the sides of the device to feel great in the hand, the only ports and holes are all along the bottom edge, the only slight awkward thing is the Micro SIM slot which sits on the left hand side.
The speakers on the bottom are a little deceptive, it's basically one speaker and one set of holes. I guess this was done for aesthetics, as it's almost symmetrical. At first I thought the left speaker was broken. It's nice to see a headphone socket on the bottom though for listening to music.
The two things thing I like most about the G2 are the slightly textured almost sparkly back panel and the glorious almost edge to edge display. Although no doubt people will think it's just plastic and that's it end of. I like it though.
The screen really is something special, it has an oleophobic coating which means fingerprints just sort of disappear. When it's powered on you almost have to do a double take as it looks like a printed image not a display.
Here are a few images from around the device.
Hardware
The spec of the LG G2 is as high end and high spec as you'd expect, they are as follows.
Chipset – QualComm Snapdragon 800 2.26 GHz Quad Core

GPU – Adreno 330

Android 4.2.2 (Jelly Bean)

Display – Full HD IPS Display, 5.2 inches, 1920 x 1080 pixels

Internal Memory – 2GB RAM/16GB or 32GB eMMC

Camera – 13 MP Rear with Optical Image Stabilisation 2.1 MP Front

Battery – 3,000mAh Li-Polymer (Embedded)

Dimension – L x W x D (mm) 138.5 x 70.9 x 9.1

Weight – 143 g

Radio – 2G (GSM/EDGE), 3G (HSPA+42Mbps/HSPA+21Mbps), LTE (SVLTE, CSFB, CA, VoLTE RCS, MIMO)

2G Network – GSM 850 / 900 / 1800 / 1900

3G Network – HSDPA 850 / 900 / 1900 / 2100

4G Network – LTE 900 / 1800 / 2100 / 2600 / 850

NFC

Infrared blaster

24bit x 192kHz Hi-Fi Sound

USB Slimport for video out and USB OTG

Miracast

Wireless storage mode (SMB)
Almost everything you could ever want in a spec sheet is there, unless you're a memory card and removable battery fan or a wireless charging fan. Don't get me wrong here, the spec is amazing, it's just the same old as list as the other high end devices.
However highlights of the spec are, the IR Blaster, LTE, USB Slimport, the 3000 mAh battery, the 13 MP camera and the Snapdragon 800 processor. The Snapdragon processor really makes the G2 fly and in use I find the G2 more snappy than my Note 3.
Software
When I was at the UK launch party the various LG people that were present kept saying that the G2 interface was designed with stock Android in mind with various software tweaks to enhance the experience. At the time I thought it sounded a little far fetched and after using the G2 for weeks now I've got to question their words.
LG have continued their skinning of almost every element of Android 4.2. Everything gets touched by their brush, the icons, the core apps like messaging and phone, the settings, sub menus, the gallery, the camera, the notification bar, the lockscreen, everything really. It's quite a light theme as well, with most apps and menus being based on a white background. After a while you start to hunt for dark themed third party alternatives.
LG have added a selection of software to enhance the experience and I have to say, in some areas they have certainly done this, the camera app, the IR blaster app, the lockscreen and the launcher are all pretty well thought out additions.
Some of the software LG have added just duplicates software already present in Android, such as the multi tasking. A three finger side swipe minimises an app, which can be recalled at a later date using the reverse three finger swipe. Although only three finger swiped apps are accessible and not normally minimised apps. Those are only accessible via long pressing the home button, so you basically have two multi tasking systems in place. Another thing that's ever so slightly annoying is the notification area, it has four rows of things going on, some of which can be disabled and some of which can't be disabled. It basically means most notifications that come in are near the bottom of the screen and you'll be scrolling through the list at times.
Here is a little guide to what LG have added, or the stuff that's slightly useful anyway.
The Notification bar
The notification area has had a good old interfering with by LG. Out of the box it's a bit of a mess, with barely any space for notifications to be viewed.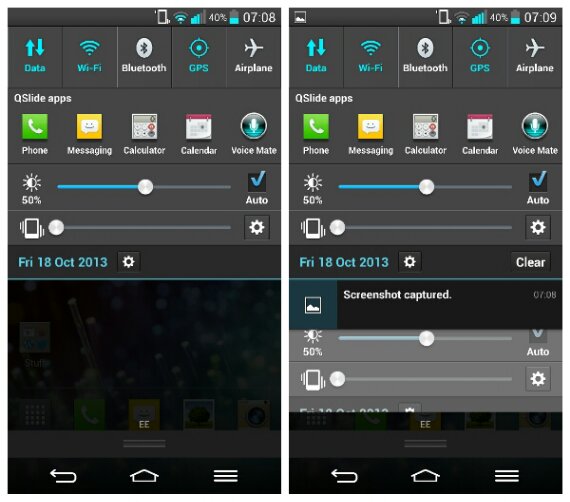 The top row is editable, you scroll to the far right and hit "edit" and then you get a huge list of things you can add to the top row.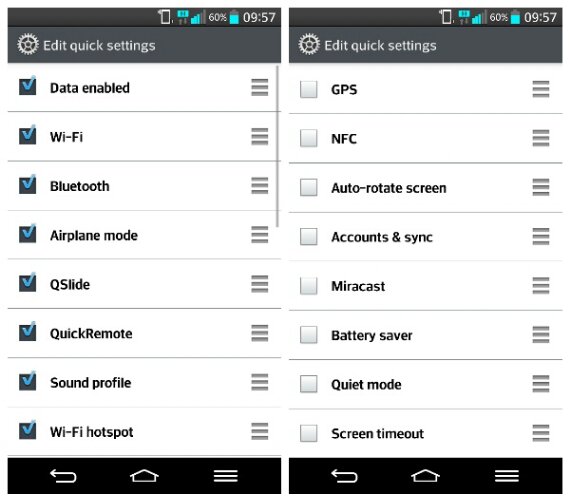 In that list is QSlide which allows you to turn on and off the QSlide popups, in the list is also QuickRemote which puts a handy little widget in the drop down to control the IR blaster for your TV.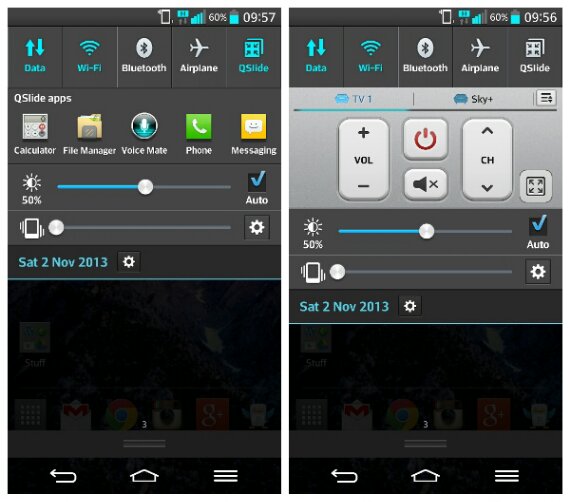 You can't remove the brightness and volume sliders though. But with QSlide turned off you reclaim a little bit of space.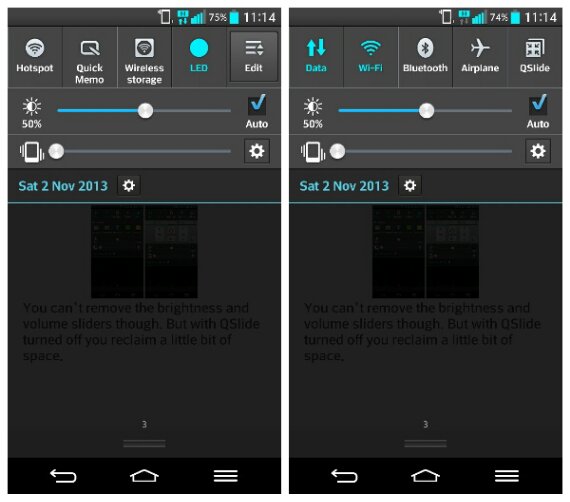 QSlide
The strangely named QSlide is actually a range of mini popup apps, that can be called up almost at any time. You get quite a few too choose from and they are accessed from the notification bar. Some of them like dialler and messaging apps are really quite useful as they appear over the top of your current activity. Once they have popped up you can change the transparency, the location and the size.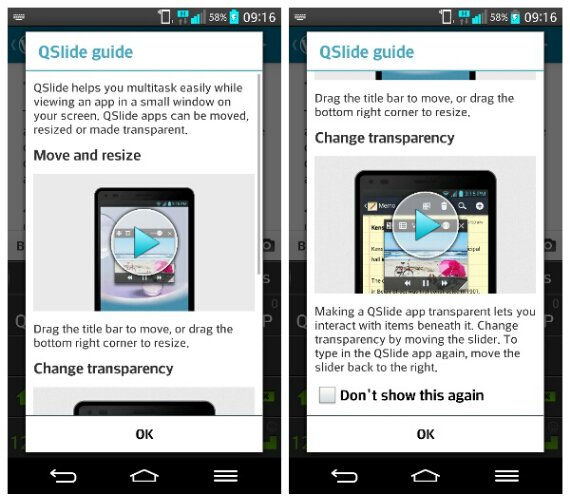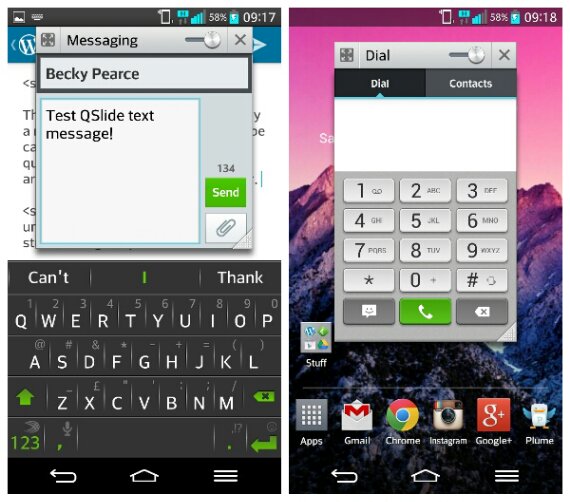 The Lockscreen
A lockscreen can be a powerful element to a phone, adding shortcuts, widgets and animations is one of the exciting things about Android and with the LG G2 they've added options to do all of these.
Other notable stuff
As usual certain things need to be mentioned that don't quite fit into the other sections.
Camera
The camera is a 13 MP sensor that has optical image stabilisation, which is really quite good…. In the light anyway. In the dark the camera app struggles to focus quick enough if the subject is moving. The camera has a lot of mode and options to play about with, including an "intelligent auto" mode which fiddles all of the settings for you.
The 9 point auto focus was a little disconcerting at times, I found waiting for it to focus and then tapping the screen and making it focus on what I wanted was preferable.
Here are a few sample shots.
Battery life
Battery life is good as you'd expect from a 3000 mAh battery, I was killing it under my usual really really heavy usage by mid to late afternoon, that was a heavy Twitter and Email day. Under light to normal usage you can easily make it through a whole day.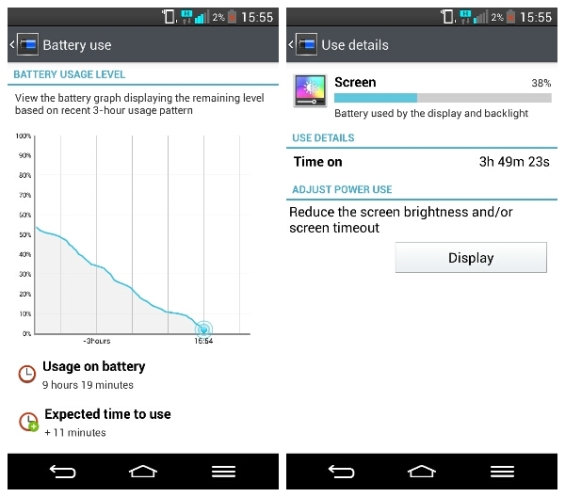 Benchmarking
As you'd expect the LG G2 comes out pretty high in the benchmarking game, only being beaten by the Note 3 and even then it's only by a whisker. In use the LG G2 and the Note 3 feel equally as fast.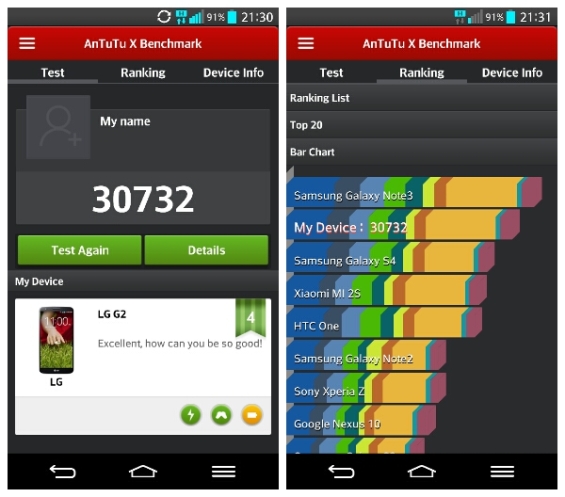 Those rear buttons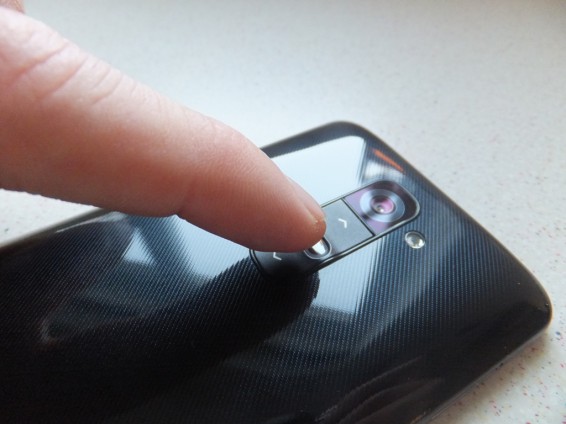 After a few days you really get used to the buttons being on the back, after a few weeks it  becomes totally intuitive, the double tap to wake and double tap to lock function basically negates the need to use the power button. As regards volume I find if you need to adjust volume the notification slider or heaven forbid the rear buttons are perfectly usable.
I've read some reviews where the rear buttons are slated as the camera lense gets covered in fingerprints, I've found a simple solution to that. I bought a case for the G2 and it has a rubber strip covering the buttons, the button cover made it really easy to pick out which button you wanted and I barely ever touched the camera lense.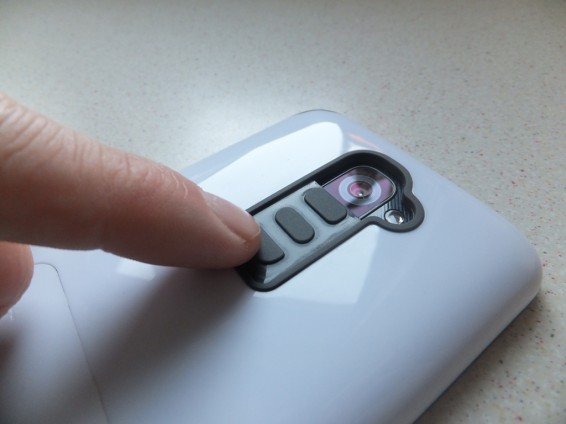 Conclusion
The LG G2 is a great phone, with a bit of fiddling it's an amazing phone, with a bit of hacking it would be an astounding phone. It's just the normal person buying one of these won't probably be able to even turn off some of the unnecessary features. Which will more than likely leave them wishing they had bought a Galaxy S4, HTC One or the Nexus 5 instead.
I'm not sure what LG could have done to make the G2 a better phone, it is the ideal size, the spec is amazing, in my eyes the build quality and design is pretty cool, leaving only a few details like Micro SD, Wireless charging, less software "enhancements", an even better camera and a wide range of colours (bright yellow) being the only options to improve the G2.
I think LG are partly to blame in it all, they knew exactly what was going in the Nexus 5 and exactly when the Nexus 5 was going to be released, so why release them close to each other and with virtually identical specs and drastically different prices?
To wrap it up I really liked the LG G2, for day to day use I prefer it to my Note 3 mainly down to the size. Should you get one? Maybe…. If you really don't want a Samsung or HTC device or if you want something different with an amazing screen, a decent camera and amazing sound quality.
LG G2 - Review
Design - 7
Hardware - 8
Software - 7
Battery Life - 8
Camera - 8
Screen Quality - 10
8
The LG G2 is a great phone, with a bit of fiddling it's an amazing phone, with a bit of hacking it would be an astounding phone