We've seen cheap tablet devices before. We usually cover then when deals appear, but until now we've always classed £79.99 to be a cheap price. DATAWIND, however, have today announced their new tablets and prices start from just £29.99 including VAT.
Yes, a tablet for less than 30 quid.
In India the "UbiSlate" tablets have already out-sold the iPad and they're now set to arrive here in the UK too.
But what do you get for £29.99? Well, the entry-level Ubislate 7Ci has a 7″ 800×480 capacitive screen and runs Android 4.0.3. It comes pre-loaded with games and has a 1GHz CPU. The 7Ci has 4GB storage plus a microSD slot for more storage, plus there's WiFi connectivity if you want to use cloud storage. The cheapest model, however, has a £9.99 delivery charge – something that the other models don't have. This means that the true cost is actually £39.98, but that's still cheap.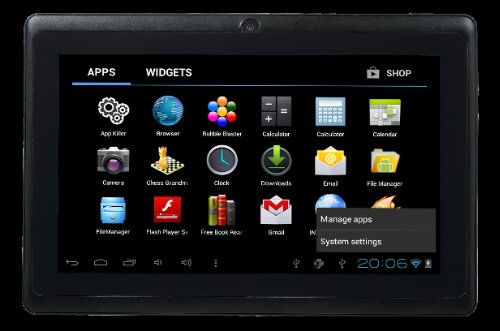 There's other models in the range that add GSM connectivity, with the 7C+ delivering 2G data (EDGE) and the 3G7 obviously delivering 3G. These are priced at £49.99 and £129.99 respectively but also include a whole years' worth of mobile internet, which isn't to be sniffed at. These are all commercial models of the Aakash tablets that were promoted by Government of India as part of an initiative to link 25,000 colleges and 400 universities in an e-learning programme.
We're going to try and get one in to review, but if you'd like to buy one, just head to their website and they'll deliver before Christmas.
More details below.