New in Android 4.0.3 and above it the ability to have USB On-the-Go (OTG). This basically alllows devices to plug into your phone through the microUSB port whilst your phone or tablet acts as a host. With a lot of phones now not having microSD card slot, despite all the cloud storage options there's definitely a need for some sort of mobile storage option, so this is it.
Meet the new Sony USB flash drive. It's tiny and that's a dual micro USB / USB 2.0 connector on top. As you can see, the main body of the device isn't much bigger than the plug itself and it'll remove the need for you to plug your phone into a computer or crank up the WiFi transfer. It's all about simple storage, and the new Sony drives wil be available in 8, 16 or 32GB sizes.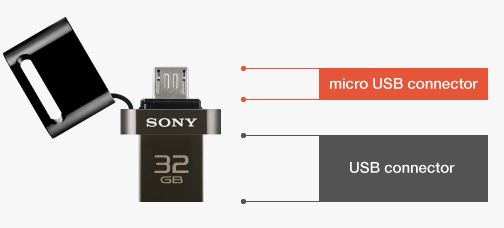 It's not all about transferring photos and videos from your phone either. Imagine that you're on a long flight and you've got a movie (one of those that "backed up after it fell off the internet") on the device. This will let you watch the movie straight from the USB stick onto your phone or tablet.
Currently these are said to be available in in January for really not-that-much money, although currently we only have US pricing..
8 GB (USM-8SA1/B) – $19.99
16 GB (USM-16SA1/B) – $29.99
32 GB (USM-32SA1/B) – $62.99
More details in the press release below..