It was hinted at a short while ago (here to be precise) but it is now official, Spotify users can now stream music for free on the iOS and Android apps, but not Windows Phone yet. This now brings the apps in line with the desktop version of the app.
The free version will still have adverts in it every few songs but they are less frequent and less invasive than the ones on normal commercial radio stations, or so Spotify CEO Daniel Ek says. It isn't full listening on demand like the Premium version rather you can choose a track or playlist and then listen to a shuffled stream of songs in a similar way to the Spotify radio service, if you don't like a song then you have 6 skips to use per hour.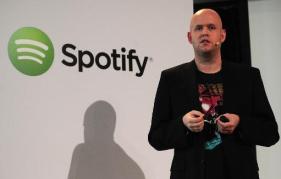 The tablet version of the app is a little bit different and works the same way as the desktop version so you can choose to listen to specific songs and albums without the app adding in extra songs that it thinks are similar to the ones selected.
As an added bonus Spotify also announced that Led Zepplin will now be available as part of their streaming service, the first time they have been available to stream, previously you could just buy their tracks on Apple and Android.
The new versions are available now so check for updates or head over to the iTunes store (here) or Android Play store (here) to download them if you're interested.
Source: Spotify