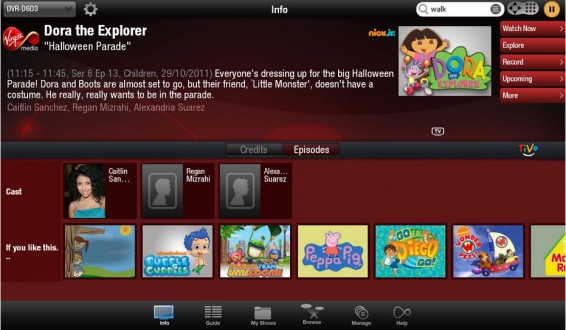 Just recently Sky added more channels to their Sky Go service. It brought the total amount of "watch anywhere" channels to 57, but Virgin have today blown them out of the water by launching their TV Anywhere app for Android devices which gives access to 67 channels across "a range of tablets and smartphones" and 90 channels "online".
The app, which is already available for iOS devices is exclusively available to Virgin Media customers with Tivo and currently it doesn't work with Android 4.4 (KitKat). As with Sky Go, some handsets seem to offer up more functionality than others – such as some being able to manage the Tivo box but not to watch live TV.
You can see the full channel list here (PDF) and, if you want to watch live TV, it seems that you need to be on WiFi. It'll also let you browse the TV guide and see what's on, up to 14 days in the future and browse shows from up to 7 days ago. More detail below.