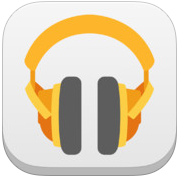 Yes you read that right!
Google have FINALLY released their Google Play Music app for
Apple's iOS! For any iPhone user who doesn't know, Google recently
launched their "All Access" service which allows subscribers to
stream music in a similar way to Spotify and Deezer but the free
version is similar to Apple's iTunes Match service.

The free option allows you
to upload up to 20,000 songs to their servers an stream them
to your device or PC's browser. Apple's equivalent service is
£21.99 per year! The "All Access" option is £9.99 per month and
allows you access to Google's huge music collection again from your
device's app or PC browser. The "All Access" option is also
available as a 30 day free trial so check it out. Sadly at this
time there isn't an iPad app but you can use the iPhone/iPod touch
app in the 2x mode. Get the official app for your iOS device from
the App Store