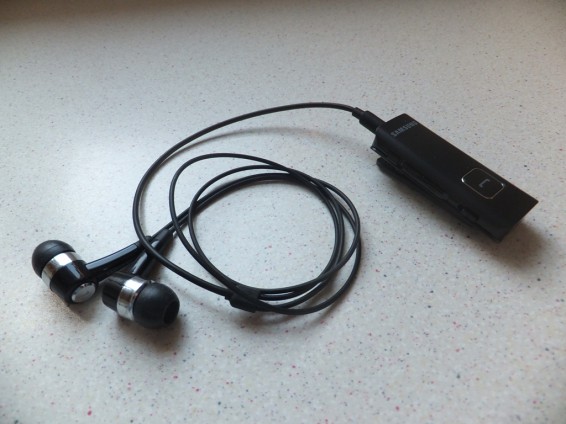 Headsets and headphones are pretty useful, you can use them whilst driving, listen to music, listen to podcasts (ours is here!) and if you have a bluetooth headset you can do all of this wirelessly. I've been trying to find a headset that I can listen to music with and also to use in the car to make calls. I've been using two different headsets, one for music and one for driving. The Samsung HS3000 Bluetooth Headset fits the bill for both. So onto the review for it, starting of course with my good and bad points.
Good Points
Bluetooth connectivity

Can route media audio and phone audio

Micro USB charging

Media controls

Clip on style

Can pair to 2 devices simultaneously
Bad Points
Streaming audio over Bluetooth has an impact on audio quality of music

Basic design

Side buttons fiddly to pick out and hard to see
Design
The HS3000 is a plain looking bit of kit, it's just basically a black plastic thing with a selection of buttons and ports. It's what's inside that counts I guess.
On the front you have the Samsung logo and the multi function button, with which you can answer calls, trigger last number redial and a few other things like triggering pairing mode or speech mode, depending on how long you hold it for. On the left are the power button, volume buttons and the mode button, the mode button basically triggers one of three preset equaliser modes. On the right are the media playback buttons, allowing you to play/pause or move forwards and backwards through your tracks. On the top is the headphone socket, it's a standard 3.5mm socket so you can plug any headphones you want in. On the bottom is the Micro USB charging socket, the supplied charger is pretty low rated at 0.5A so if you try and charge anything else with it'll take an age. On the back is the clip which allows you to clip the whole thing onto an item of clothing.
I did find the buttons on the sides a little fiddly, I couldn't really pick them out as to which was which without having a look. In the dark or semi dark even looking at them was difficult, the buttons are made of the same semi gloss plastic as the rest of the headset.
Hardware
Yes even a Bluetooth headset has a spec list. Here it is.
Dimensions: 53.5 x 21.5 x 9.6mm
Weight: 13.2g
Play time: 7 hours
Standby time: 170 hours
Bluetooth: BT Class: 2 / BT Ver: 3.0
Bluetooth Profiles: HFP / HSP / A2DP / AVRCP
I found the playback time of 7 hours about right, I listened to music and podcasts for a good half an hour a day and it easily lasted through a whole week. If they'd made it Bluetooth 4.0 it would have lasted even longer though, oh well.
In Use
I wanted a headset that would play my music and also that would work in the car for making calls. Yes it does that, so I'm happy but I wanted to see quite what I could get out of it. Here is my experience with it.
Often out of the box, some Bluetooth devices just don't want to play ball, they have far too many complicated button combos to complete before you can use them. With the HS3000 I just switched it on, scanned for devices on my phone and it paired up. It paired up quickly and easily to a few Android phones, my Nokia Lumia 1020 and my Sony NWZ MP3 player.
Once paired up if your using an Android device you can select what sort of audio to route to the headset. Either phone audio or media audio can be selected. On my Nokia you got both and that was that.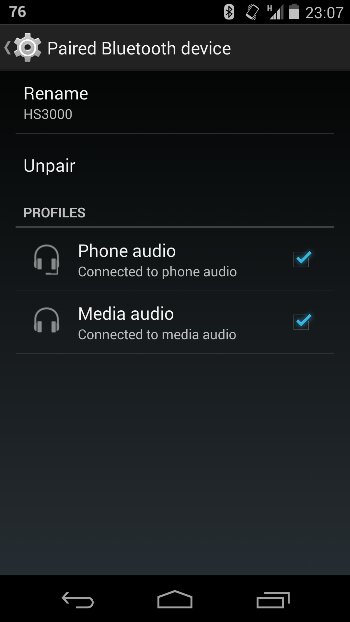 From then on in your selected audio will play through the headset.
Music Mode
As the headset has two distinctly different modes I'll look at them separately. First up the music mode.
Listening to music over Bluetooth is about freedom of movement, it allows you to put your phone or tablet down and wander round listening to music without having to carry the device as well. So if you had a tablet linked to your home NAS drive or your Google Music you could just connect the headset and away you go. It would be useful for commuters or for fitness actvities, as the phone or tablet could stay concealed leaving the headset to do the work.
The media playback controls on the sides are useful when using the headset when listening to music, they allow you to pause or skip tracks with ease. This functionality even worked on Windows Phone as well. Although voice recognition isn't quite up to picking out specific songs on either platform.
We now need to talk about audio quality. I listen to quite bass driven music, Drum & Bass or Dub Step mainly and normally with a device I will play with the graphic equaliser settings to get the sound just right, but with the HS3000 there is only so much an equaliser can do. The headset struggles to stream bass with any depth and treble with any crispness. Normally changing headphones makes a difference but here it is the quality of audio being streamed over Bluetooth that is the issue. I can tell this by disconnecting the headset and plugging headphones in directly and revelling in the bass directly from my phone. The mode button on the side of the device boosts the audio quality slightly, there are three modes flat, voice and full which in the case of the last just basically boost the mid-range sound. If you like really base heavy music I'd possible avoid these. If you mainly want to listen to podcasts or the radio then these will be ideal.
Phone Mode
A Bluetooth headset for calls has to be capable of a couple of things, to be able to hear calls, to have a decent microphone and to hopefully have a multi function button that triggers voice recognition on youe phone. I'm pleased to say that the HS3000 can do all of these, the talk button when paired with a phone has the following functions. Single press triggers last number redial, long press triggers voice recognition. I tried this on my Nexus 5 and my Lumia 1020, with both OSs managing to recognise my voice and dial a contact from being in standby.
Accepting a call is just a matter of pressing the talk button and ending the call is the same. Call quality was decent and I could hear the other person clearly, having a volume adjustment on the headset helped if the other person was quiet. The people I called said I sounded clear and loud, which is always pleasant to hear.
The headset can cope with two phones paired simultaneously, in this instance you'll actually have to read the instructions, as the main button has to be manipulated in a certain way to operate the individual devices.
Conclusion
Overall I liked the HS3000, it's got a basic design but great functionality. I found myself using it with more and more obscure devices just so that I wouldn't have to carry them around.
How would I improve the headset? Well I'd look into the audio quality of music, I'd possibly make it Bluetooth 4.0 so that the battery would last longer, I'd possibly add a Micro SD slot and I'd make the buttons on the side of the headset a bit more usable and make the symbols on each white instead of black on black.
It's available from Mobilefun here for £34.99.