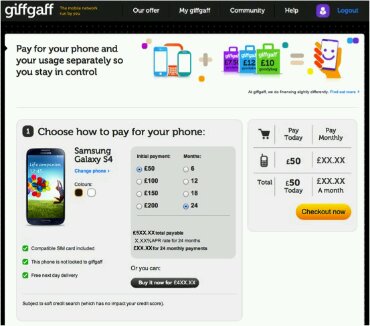 The network famed for hassle-free SIM-only plans has now announced their very own range of handsets and you can buy them later this month. The initial list includes the following handsets, and there's a good mix of Android, iPhone and Windows Phone devices..
Samsung Galaxy Young
Samsung Galaxy Fame
Samsung Galaxy S3
Samsung Galaxy S3 Mini
Samsung Galaxy S4
Samsung Galaxy S4 Mini
Samsung Galaxy Note 3
Nokia 301
Nokia Lumia 520
Nokia Lumia 625
Nokia Lumia 925
Nokia Lumia 1020
Sony Xperia E
Sony Xperia M
Sony Xperia SP
Sony Xperia Z
Sony Xperia Z1
HTC One
BlackBerry Q10
LG G2
iPhone 4 refurb
iPhone 4S refurb
Popular high-end handsets like the HTC One, Samsung Galaxy S4 and Sony Z1 are on the list, although the iPhone 5 and 5s are sadly nowhere to be seen. Apple fans will instead have to make do with refurbished iPhone 4 devices.
Some 5300 members helped to shape the range and giffgaff will be selling these handsets before the end of the month. They say that prices will be "competitive" and it looks like they'll be splitting the phone payment and the service plan costs. Phones can be paid for out-right in one hit or in 6 to 24 month payments through a finance deal. You buy a goodybag (which is one of their monthly bundles) seperately if you want.
The network, which uses O2 infrastructure, has also said that you can adjust your monthly phone payments at any time and that handsets won't be locked to giffgaff. You also won't need to buy a goodybag with a phone, but if you do then this can also be adjusted as and when you wish.
It seems a pretty good offer, but we'll have to wait to see the handset prices to compare more.
Head over to giffgaff now for your free SIM or follow us on Twitter to find out when you can buy the phones above.