Every year Ofcom produce an infrastructure report which details the state of our broadband and mobile infrastructure here in the UK.
It's the first time that the regulator has looked at the mobile coverage provided on UK roads. Motorways appear to have fairly decent coverage, so you can browse at 90mph or keep in touch via WhatsApp…
"Yeah, I'll be home in a bit. Woaha!! Where did that truck come from?"
However, head onto a A or B road and your satnav or email might slow up somewhat. Only 35% of these roads get coverage from alll four mobile networks, with 9% having no 3G whatsoever.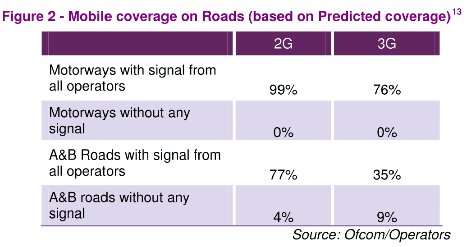 If you travel to work on a train then, unless there's a booster strapped to your carriage, you'll be aware of the hilariously bad coverage on the railways. Ofcom has started to investigate this and will be giving their results out next year.
The full report, which is really rather chunky, is available to download here (PDF) but it certainly backs up some of my experiences, although I must state that there's several areas on my car-share up the M6 this morning where O2 dropped to GPRS. Methinks that Ofcom are relying on those hit-n-miss network coverage maps a little too much.