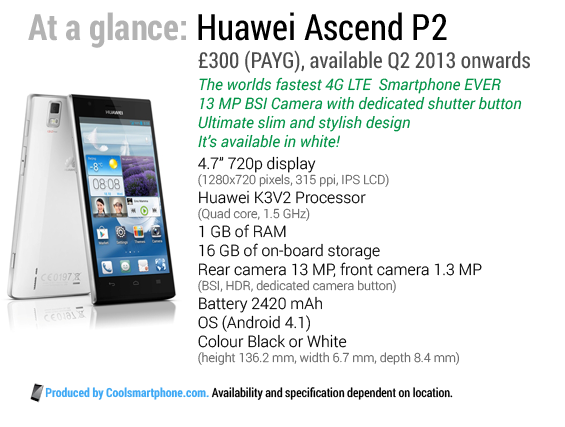 The Huawei Ascend P2 was a device we first spotted back in Barcelona some months ago and, finally, it's here. Inside there's some pretty decent specs. Decent? No, that's not the right word. Very good.
Firstly you have that 4.7″ 720×1280 pixel screen. Resolution is great – the 312 ppi works well. It's a tall but thin and measures in at 136.2 x 66.7 x 8.4mm. The usual WiFi, GPS, Bluetooth 4.0 and sensors are on board. It's powered by a nippy quad-core 1.5GHz CPU and has Android 4.1.2 (Jelly Bean) . There's an FM radio too, for which you'll need to plug your headphones in to act as an aerial.
Storage comes in the form of 16GB internal space but, alas, there's no microSD card slot.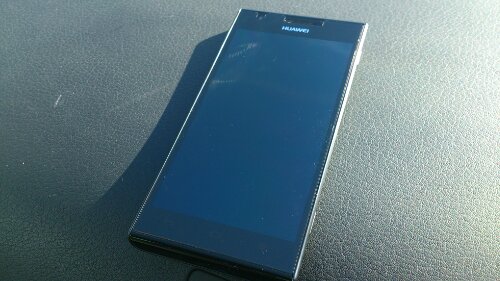 It's powered by a 2420 mAh battery and has DLNA, Dolby Mobile Plus sound enhancement and a 13 megapixel camera at the back with LED flash. Up front there's a second 1.3 megapixel shooter for video calls.
Initial thoughts ?
Now, I've got to be honest, I didn't have a huge amount of initial thoughts on this one. Yes, the phone is good. Yes, it's well built and well designed, but unfortunately it's difficult to differentiate handsets given the current competitive climate.
Outside
The screen takes up the majority of the handset, with a small section down the bottom for the soft-keys which light up when pressed. At the top, just above the Huawei logo, the earpiece for your calls. To the left is the front-facing camera. Ignore the plastic on the screen below, I've left the protector on for this review.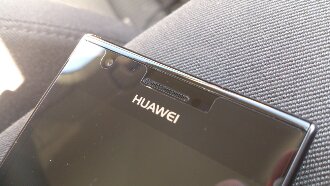 The front section is flat and one plain piece of glass which meets the rest of the frame. The top and bottom sections are curved.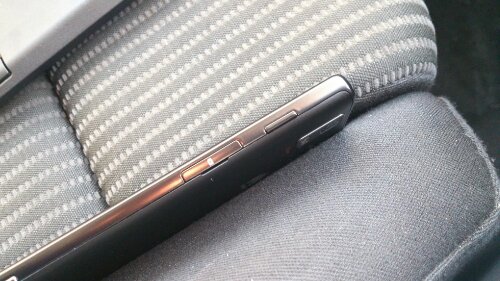 The right side houses the power button at the top, the microSIM card slot (which sits behind a flap) and, down the bottom, the camera button. Press and hold this to activate the camera and, when you're using the camera app, you can soft-press it to focus and then again to take some snaps.

We've got some example shots from the camera below.
The bottom of the device, which is a polished black plastic (like the rest of the device) has the microphone and nothing else.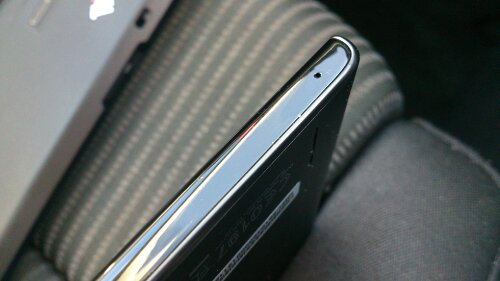 On the left of the device is the volume up / down and, up top, the microUSB port and 3.5mm audio connection. The second noise-cancelling microphone.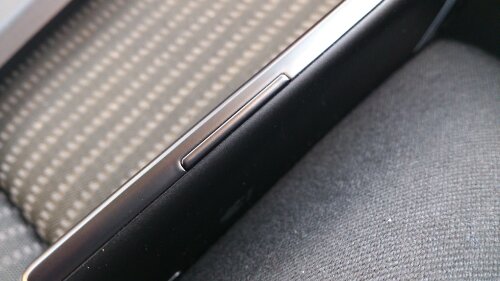 Yes, it is a little strange having the microUSB port up top but it is actually pretty good when you pick up the phone to answer a call – no cable at the bottom getting in the way.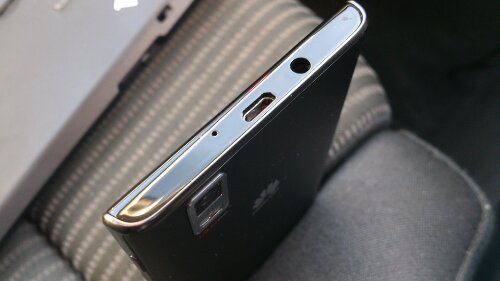 The rear section, which is a matt black and not removable, has the 13 megapixel camera at the top left and the speaker.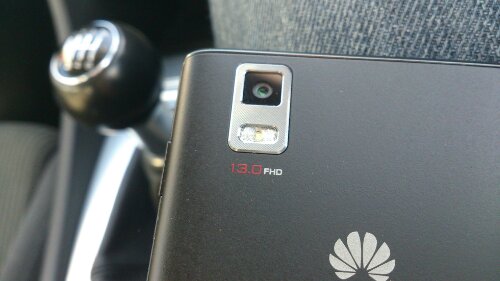 Camera
So let's have a look at the camera. Before I start, I must admit that we did have many laughs with the face-altering options. There's a wide variety of face-tweaks and, when you get a shot of your face, you can change yourself into some very weird shapes…
There's a range of shooting options, including HDR, panorama, group, smile and more. You can also add some special effects to your shots too – including the antique, mono, sepia and something called "lomo warm". This will make your shots look go all "Instagram" ..err.. instantly.

You can also add GPS tagging, a red-eye reduction and much more.
Here's some example shots from the camera..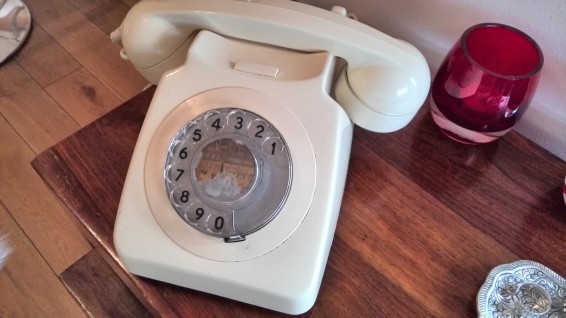 The camera also has a stabilization system which I really wanted to put through its' paces. This I did by sticking the phone on my dashboard as I went over lots of speed bumps, just to see if it could iron out the judders properly…
Software
I'm getting used to Huawei and their Android "Emotion" interface. There's no app tray and everything you download goes onto the main screen. There's a range of transitions too, so you can have it do a windmill transition, or a squeeze, rotate or "perspective" transition. Don't worry about the names, it basically means that there's a lot of swish effects when you move the screen from the left to the right.

Like most Android devices you can change everything you see, and there's a great "theme" system to let you flick easily to a whole new look easily. This is a new design that's styled and works well across the handset.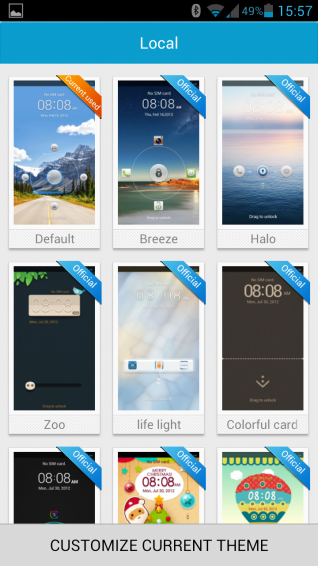 The settings screen, just like on the P6 we reviewed earlier, has a stack of options and tweaks that you can enable or disable, such as having the phone mute when face down or auto-answer when held to your head.
The keyboard on the P2 works well and you can choose between a full QWERTY keyboard or numeric keypad. Sadly I couldn't find the Swype-style interface that lets you enter text quickly by dragging your finger across the letters, but there's the option to install your own keyboard anyway.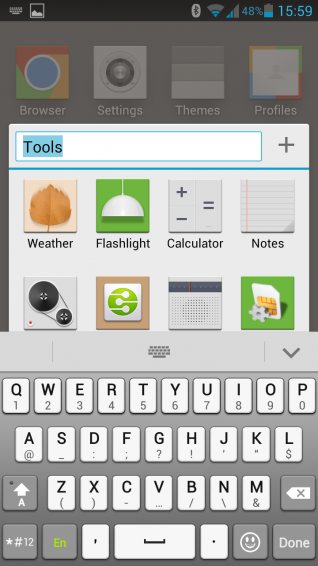 To be honest I spent a large portion of this review looking in the settings screen, which is a little weird. It's mainly because there's so many options in there and so much to play with. There's a gloves mode, so if you don't have any of those touchscreen gloves then this will at least help you use the thing on a cold winters' day.  The notification panel (that little tray that slides down from above) can be tweaked to within an inch of its' life, and there's the option to add your own custom shortcuts, meaning that you can easily turn GPS, Bluetooth or data on and off quickly. You can also perhaps add a custom shortcut to take a screenshot, adjust the brightness or change to a new profile.
As usual with Android, pretty much everything you do is backed up and sync'd with the cloud. Your contacts, meetings and emails are all safely kept at Google HQ and you can use additional services like Dropbox or Facebook just by installing them. There's also a Power Manager, which helps to prolong the life of your battery by adjusting which apps continually pull data down after you dim the screen. I like this, and it's a very useful option I'd like to see on other handsets as default. Not only does it save battery, but it cuts down on your data use too. It also includes a Startup Manager and you can control which apps fire up when you power up the handset for the first time.
Everything is very polished and well done. Although the default interface / theme is a little "kiddy" there's a range of more professional themes which make the handset look more polished. I kinda wish that Huawei had chosen one of the other themes as their out-of-the-box option, but it does make the handset more "approachable" for many.
The text messaging interface is friendly and easy to use, with the option to add pictures or call the person you're texting on the same screen. It's handy having it all on one screen and each message is sorted into a conversational view.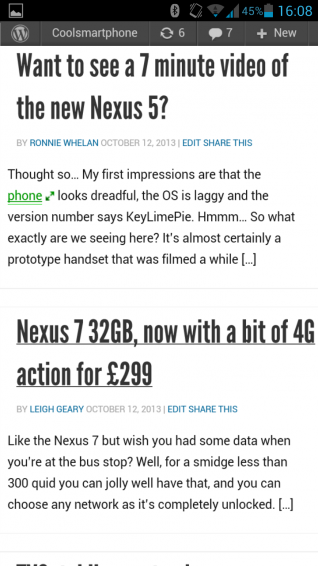 The browser is quick and nimble, although I did find some slight strangeness on the formatting of some sites. It wraps text automatically to make it easy to read. Zooming in one content-heavy sites is not a problem and happens quickly. You can do tabbed browsing here too, and save your favourite sites so that you can come back to them.
There's a voice dialler and a range of widgets available on the home screen to make your daily tasks easier. Predictive dial will also help you call people by simply starting to enter their name or the first few digits of their number. The default widgets show you the weather, your recent photos, your favourite contacts (for instant one-click dialling) and quick access into the music player. You can also turn on the portable WiFi and share your connection with your tablet or laptop if you need to get onto the internet.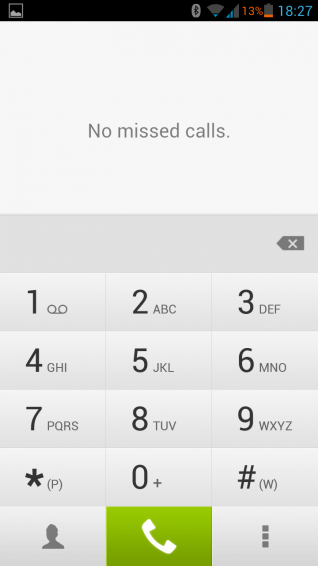 DLNA is here, so you can beam your favourite media to your TV screen, as is a wonderful weather app that displays the current conditions beautifully, whether near or far. All apps are neatly organised into drawers, with Google apps, Social apps, Management apps and Tools all getting their own folder. You can create your own of course, but it does help you find things quicker – especially out of the box. I like the fact that Huawei have added a Flashlight, Sound Recorder and Backup system out of the box. Neat little touches.
One feature this handset also has is the Dolby Digital Plus sound system. To be honest it wasn't long before I turned this off. It made everything sound like it was inside an echo chamber and, although there's stacks of settings (from "Dance" to "Podcast" and everything in between) I couldn't find one that didn't reduce this echo. It led to DJ's sounding like they were broadcasting from inside a bathroom, whether I used the headphones or relayed the sound out through my car speakers. Very weird.
Overall
Another very good handset from Huawei. The battery held out well and the pictures from the camera were very good indeed. I liked the fact that it had a dedicated camera button and the quad-core CPU meant that everything sped along very quickly. I feel that Huawei will be adding to their minor software tweaks in the coming years and months as, although their hardware is excellent, they'll need to start shouting louder about some of their additional features that are tucked away in the settings. They can compete with the big boys but they need to shout about it more.
The 4G speeds were blistering, the interface was friendly and could be tweaked endlessly. It's excellent value for the money and, apart from the Dolby Sound being a little disappointing and the lack of a microSD card, I couldn't find a great deal wrong with this handset, so I'd definitely recommend it. There just needs to be a little more flair in the the marketing and possibly design teams, then Huawei would really start knocking down the big boys.
Huawei Ascend P2
Price - 8.3
Looks - 7.1
7.7
Good price, well put together, great camera. The Dolby audio disappoints. Still, a very smart handset for the money