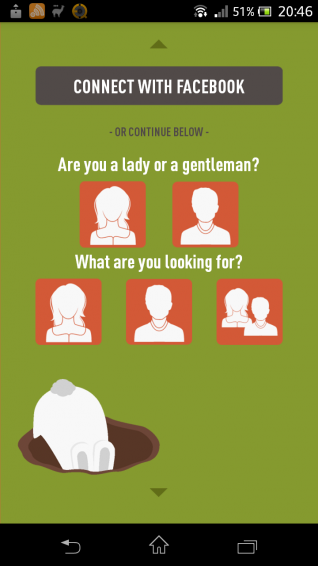 Online dating doesn't have the stigma it maybe once had, and many dating websites are trying new things to differentiate themselves. Carrot Dating has Android and iPhone apps and their idea is definitely "different".
It's begins with the usual steps. You sign up and tell the app your "complete and real age" (yeah, right), plus whether your're a man or woman. You then tell the app whether you're looking for a man, woman or both. All standard-ish stuff so far but, when you're presented with a screen full of matches based on location (I had a few from America and Australia for some reason though), you need to choose a "bribe" in order to secure a date.
Yes, bribery. "Incentive" is probably a better word, and you basically choose from a list of incentives, such as a bouquet of flowers or a meal out. If the person accepts you're invitation, then you've got a date, although I think I'm going to struggle to meet "sexyandfree", who lives in Sydney, Austalia.
I chose "MsKrissy" from Ellesmere Port instead. Purely, as you'll see, because she has a Google Nexus handset. No other reason.
There's a couple of rather bizarre options, such as a "Tank of gas" (i.e. Petrol or diesel, which is not a gas, but don't get me started on that) or…… strangely … plastic surgery.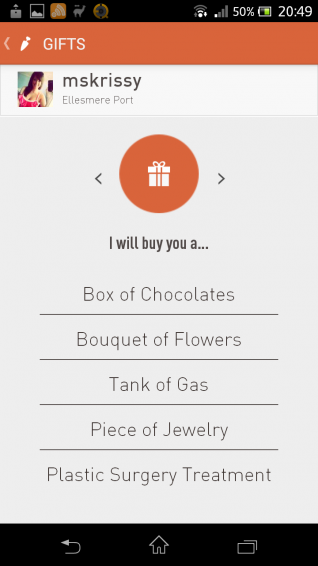 Seriously? Who's going to go out on a date with you if you offer to give them plastic surgery for free? Imagine the scene, "Thanks for meeting me on this date, this is Doctor Jones, he's going to make you look like my ex-wife.. Huuuhahhahahaaaaaaaaaaaaa!"
So, I gave it a spin. I signed up, I dangled my carrot in front of lots of ladies.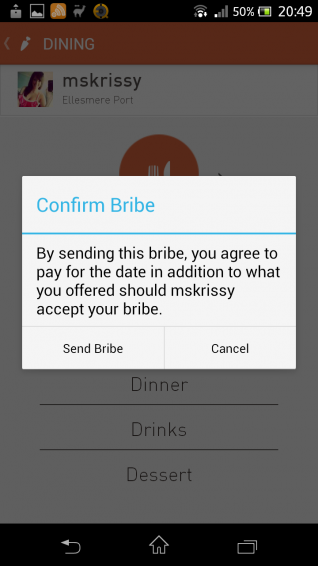 I loved the warning message that pops up and states, "You will pay for the incentive AND the date if the user accepts your offer."
Give it a try, and don't forget. Money can't buy you love… but sometimes it might do.
http://www.youtube.com/watch?feature=player_embedded&v=n_1KHhIItxE