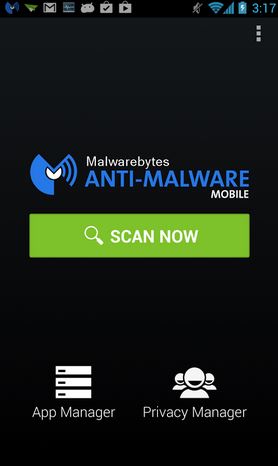 Come close to the screen dear reader, because I know your secret. I know that your Android device is chock full of apps and games that you downloaded "just to try" and you've never uninstalled them. I know that you've got pop-ups all over the place and you're not quite sure whether the apps you grabbed are actually harming your handset.
Malwarebytes have just launched this free mobile security app which will prevent malware and mobile threats from getting into your phone. It'll highlight any unwanted and unauthorized surveillance and will hover around in the background like one of those special "security dudes" who follow the Queen.
The interface is simple enough, but it's the clever behind-the-scenes stuff that really matters. There's a custom-built detection engine that will monitor your personal identity and data, including Trojans, backdoors and spyware. Not only that, but – as you'll see from our expensive movie below – you get a privacy manager and security audit to keep an eye on the apps that you've installed.
Now, over to me in the car for a hands-on wobble-cam special overview…
If you'd like a slightly more professional video, have a nose at this one instead…