If you are a fan of BlackBerry devices and want to get your hands on their latest flagship, listen up. Vodafone have just put the Z30 on sale here in the UK.
The Z30 is the largest phone BlackBerry have made and comes with a 5″ display, 8 megapixel camera, 16GB of internal memory and, of course, 4G ready so you get super fast access on the move.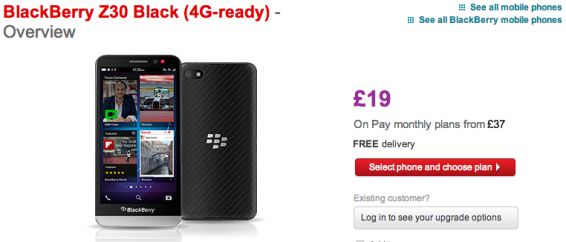 Customers can pick up a Z30 for just £19 up front cost when signing into a £37 a month contract over 2yrs giving unlimited calls, texts and 1GB of 3G data. If 4G is your thing, then £42 a month will get you the same deal but a massive 6GB of data. This package also adds an entertainment pack.
When we had short hands on time with the Z30 a few days ago something I was impressed with was the build quality, the Z30 feels like a premium phone.
Full pricing is available online now or just pop into your nearest Vodafone store.