The Xperia Z Ultra is a great bit of kit but with the giant screen I am worried that I will break all that lovely glass in my bag or pocket (yes you can put this beast in a pocket). So the first thing I did after getting hold of this beauty was to start hunting for a case. Once again the good boys and girls at Mobilefun were able to help me out.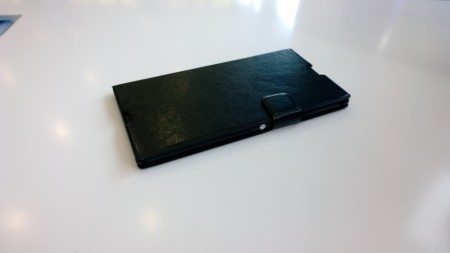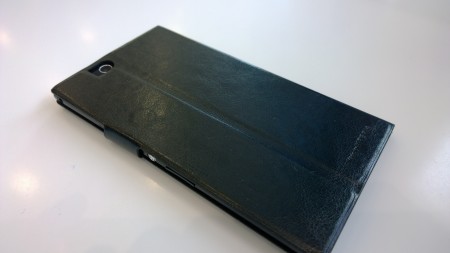 Here we have the Muvit Stick N Stand and when I first saw this I have to say I was intrigued from the get go. I do not like thick cases and I am also not a huge fan of the book style cases that have become popular due to the brilliant flip cover from Samsung. They both add bulk and are awkward to use.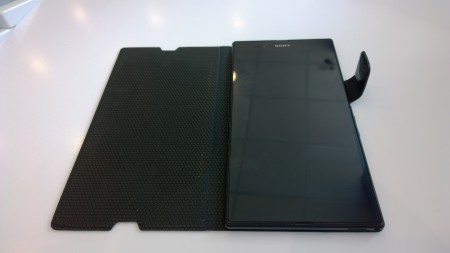 I was hoping that the Muvit case did not have these issues. I can happily report that my needs have been fulfilled.
The case is made out of a leather like material and is incredible thin. Unlike the previous Muvit case I reviewed for the Xperia Z, this one does not have the added bulk brought from having credit card slots.
The case also attaches to the device differently instead of using a cumbersome bracket, here we rely on a sticky stop on the far right hand side of the case. The reason it does not cover the whole back will be shown later on. The glue used in the sticky pad is good as I have had no issue with the device moving while it is in place.
To keep the case closed or compact when open there are magnets built into the front right hand side and also flap with a magnet in it. This system works well and keeps the case closed well in normal circumstances.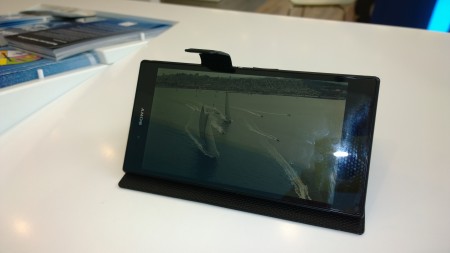 I have been using the case for nearly 2 weeks and I have had no issue with the clasp opening. Another aspect of the case is that you can prop up the phone in a viewing style to allow you use it for viewing videos etc. This works brilliantly on airline tray tables and also on trains.
However one major negative is that the charging port is not accessible in this configuration. Another annoyance could be if you were to using Sony's Magnetic charger as this would mean that the cover would have to be placed in the propped open position for a prolonged period of time.
Overall I have found the case  useful and simple to use. It is also good at what a case should be and that is protecting the device. Now I don't mean protecting it from being dropped but not many cases will do that and still be this svelte.
I am very happy with the Muvit Stick N Stand case as will be using it for a long time coming. At the price of £24.99 it cannot really be argued with as well as it really is great value.
If you are going to be getting an Xperia Z Ultra or anything of this size then it is well worth checking out the Muvit range from Mobilefun as I have been consistently impressed.