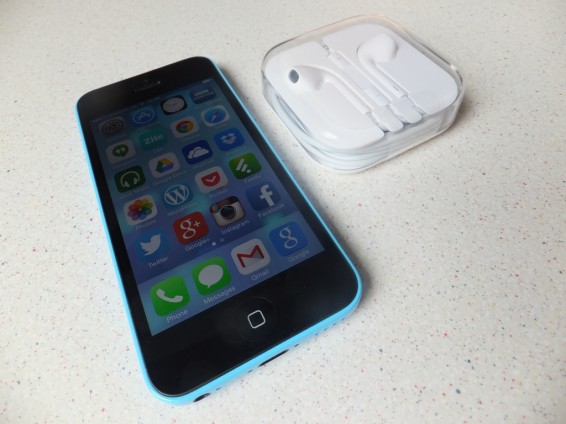 The iPhone has become somewhat synonymous with quality, it's seen by some as the ultimate status symbol. I've never bought into that idea, almost resisting it, just because rather than by choice. But now and again I do like to see how the latest iPhone shapes up.
Whether or not the new cheaper iPhone will be as successful as previous generations remains to be seen. The Apple iPhone 5C sits in a position that would normally taken by the previous years model. The 5C is of course something that we've seen before, or the internals are anyway. It's just that they're covered in a lovely bright coloured shell. That isn't a bad thing either, it seems if anything that the 5C is going to be Apples main marketing tool this year. (judging by the number of adverts I've seen so far anyway)
I've had the iPhone 5C for about a week now, running on the Vodafone network and it's time to bring you my review. Starting as usual with the good and bad points.
Good Points
Lightweight and compact
Nice mature OS with nice optimised apps
Fast feel throughout the entire OS
Great camera
Great sound quality
Bad Points
Battery life
Casing quite slippy
iOS 7 still lacks in certain areas
Design
The iPhone 5C is made of plastic, steel reinforced plastic, formed into a seamless shell and covered with a shiny lacquer. It makes for a really solid device and also a device that feels amazing in the hand. But the nice gloss shell does make for a slippy device. Once or twice the 5C nearly slipped out of my hand, you're definitely going to want to get a case if you go for the 5C.
The buttons, ports, switches and logos are all in the usual spots, the nice thing with the 5C is that the buttons and the mute switch are all made of the same plastic as the shell, which adds to the seamless feel of the device.
At some point in the review I do have to add that I feel the iPhones are just too small, yes the OS is optimised to work with the screen size and yes the keyboard is super predictive. But at times I really struggled to tap certain elements on the screen, like the "clear" on the notification drop down. It could just be me, I don't know, it's just my opinion.
Hardware
The iPhone has pretty much the same spec as the last years iPhone 5, but being the lower spec device it is nothing but expected.
Display – 4" 1136×640 resolution at 326 ppi, LCD IPS, fingerprint-resistant oleophobic coating on front

CPU – Dual Core 1.3 GHz Apple A6

GPU – PowerVR SGX 543MP3

Network – UMTS/HSPA+/DC-HSDPA/LTE

Camera – 8 MP, ƒ/2.4 aperture, Backside illumination sensor, Five-element lens

Video Camera – 1080p HD video recording, 30 fps, 3x zoom

Front Camera – 1.2MP photos (1280×960), 720p HD video recording, Backside illumination sensor

Sensors – Three-axis gyro, Accelerometer, Proximity sensor, Ambient light sensor

Internal Memory – 16 or 32 GB

RAM – 1 GB

SIM – Nano SIM

Bluetooth – 4.0

Battery – 1510 mAh Li-Po

Dimensions – 124.4 x 59.2 x 8.97 MM

Weight – 132g

Colour – White, Blue, Green, Yellow, Pink

OS – iOS 7
Highlights of the spec in my eyes are the camera and the screen. Both perform admirably well. The screen is incredible, everything is clear and the colours are great, outdoor visibility was pretty good and I barely had to clean the screen during my time with it thanks to the oleophobic coating. The screen is one of those that look like a high resolution printed image of a screen stuck on top of the glass. Although the small size of the screen does make things like browsing web pages, filling in web forms or typing up articles for Coolsmartphone a little cramped and awkward.
The nice thing about Apple hardware is that the hardware and the software work in harmony, the OS is tweaked to work with every single little chip inside. Everything just works, really well. Perfectly you could say.
I was really surprised by the camera, I'll cover that later.
Battery life wasn't the best, once I had set up my few email addresses, my selection of social networks, cloud storage, my collection of hundreds of RSS feeds and a few apps for posting stuff to Coolsmartphone, I found I was killing the battery by lunchtime. But I must stress I usually kill my Galaxy Note II by mid afternoon, so I'd imagine a normal person who uses a mobile phone in the normal way could probably get through to hometime.
Software
Having seen and heard lots of cleverly arranged words a few weeks ago at the announcement of iOS 7 and also having spent weeks listening to people complaining about how buggy iOS 7 was, I really wasn't sure what to expect. I found setting it up way easier than before thanks to improvements in the accounts setup side of things and the Google made Gmail app made push email a doddle, even using my three different Gmail addresses. I didn't come across any bugs, everything worked as you'd expect.
Dare I say it, but I actually quite liked iOS 7, everything just pretty much worked, notifications were pushed through when you'd expect, speaking of which the new notification area in iOS 7 is pretty handy, handling calendars, weather and all your notifications has never been so easy.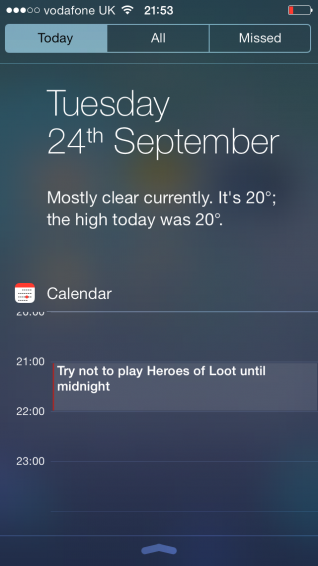 The iOS launcher takes a bit of getting used to, especially coming from Android and Windows Phone, I just wished I could have had a 4×2 clock widget at the top of the first page. The new style folders are nice, although the way they display more than 9 icons creates a non symmetrical mess that jabs at my OCD side.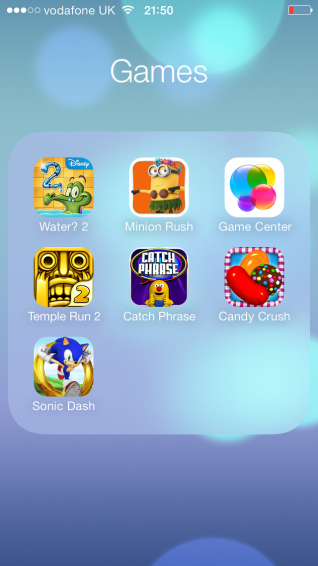 The new multi-tasking thing is nice, it reminds me of Windows Phone and Web OS. You double tap the home button and then swipe through your opened apps, with a quick swipe up to close the app.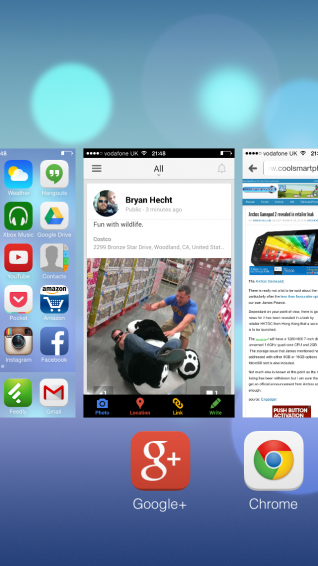 The control centre is a nice new feature of iOS 7 that allows you to access basic settings with a quick swipe up from the bottom of the screen, this works in most apps including the lockscreen, which luckily you can turn off.
The new search feature is accessed by pulling down on your homescreen and it searches for whichever app you want.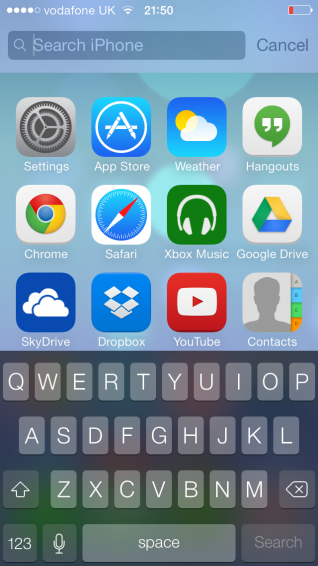 Other notable stuff
Camera 
The camera on the 5C is really quite good, I found it to be a quick easy way of getting great shots. I set it to take HDR photos and normal photos simultaneously and found that often the HDR images were better than the normal ones. I liked the way you could quickly open the camera from the lockscreen and quickly take a shot, rather than having to fiddle with scenes and modes to get the perfect shot.
The camera did struggle in low light though, adding lots of noise to images took in the semi dark without a flash.
Siri is an interesting feature, it allows you to do all sorts with your voice, I was lying on the sofa the other night and thought I'd have a chat with him. Take a look below.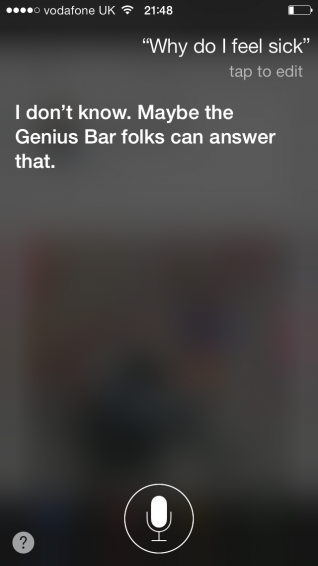 I wasn't happy with the answer so I pressed on.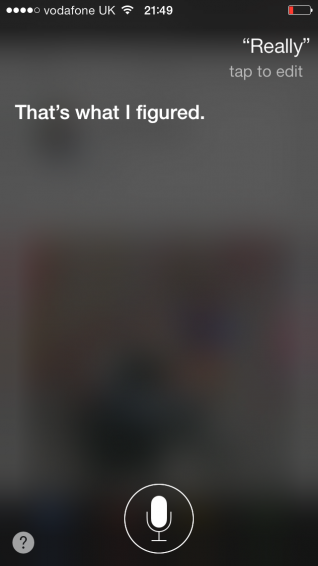 It was late and we'd had a long day, I just went to bed. The rest of the time though SIRI performed well, advising me of the weather and helping me with web searches.
iOS in general
I'm warming to iOS now, the apps I use in the Windows Phone and Android world's are so much more polished on iOS and are often packing extra features over the other OSs.
I did miss being able to do basic things though like sharing images from the photos app to something else than Facebook, Twitter or Flickr. Although the various apps do allows you to upload themselves rather than the other way round.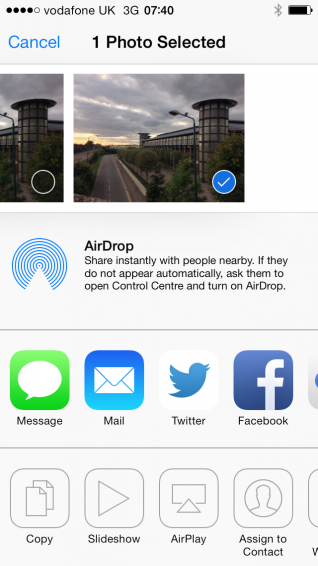 I also missed out on social networking integration in the contacts app, Windows Phone has this nailed and I just don't get why no one else can implement it properly (apart from HTC with their Sense People app).
Conclusion
The Apple iPhone 5C is a great device, with a decent spec, great build quality and a stigma of being the cheaper and inferior product. Which is true but also slightly unjust, the iPhone 5C is a totally different product. I think the issue will possibly be that people will just spend a little bit more money on their new iPhone and get the 5S instead and getting an improved camera and improved processors.
If you're on the lookout for a deal for an iPhone on a contract then the iPhone 5C might be the one for you. You can see all the different Vodafone offers on their website here
Apple iPhone 5C - Review
Design - 8
Hardware - 8
Software - 8
Camera - 8
Screen Quality - 10
Battery Life - 7
8.2
The Apple iPhone 5C is a great device, with a decent spec, great build quality and a stigma of being the cheaper and inferior product. It just needs to be a bit bigger.