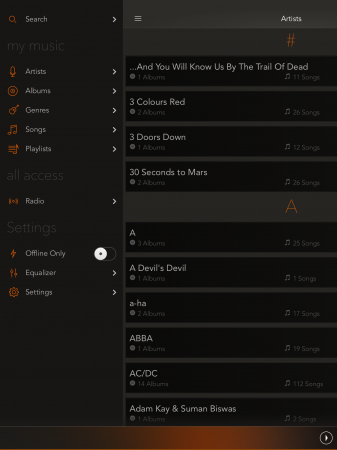 GMusic is a Google Music client for iOS in case you hadn't come across it before. It has just received a major overhaul in both back end and user interface, with the new UI being released as dedicated iOS7 app – GMusic 2. Existing users will benefit from the back updates in the existing app.
The new UI looks beautiful in dark grey/black with orange highlights. It has been designed specifically around iOS7, and perfectly matches the new flat look.
Sign into the app and you can access anything from your Google Music library and it also provides access to the new All Access service as well. You can browse by Artist, Album, Genre, Songs or Playlists, as well as Search function. Tracks can be streamed or stored for offline listening and there is also an Equaliser thrown in too. Last.fm scrobbling and lockscreen controls round off the functionality – in all, a comprehensive spec.
It's a great Google Music client that has been brought bang up to date with iOS7 and All Access – and for today only its discounted to 69p to celebrate its launch.
Link – GMusic 2 for iOS in App store