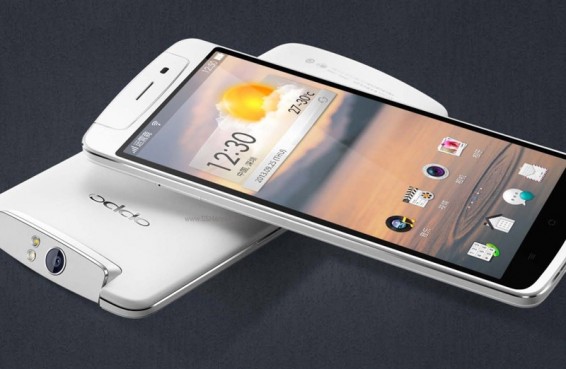 In an event that took place just minutes ago in Beijing Oppo have announced the release of the Oppo N1. The handset features rear touch panel called "O-Touch" and a multi-touch OS which adds a splash of colour and time-saving tricks.
The makers of the much lauded Find 5 have unveiled their latest and greatest handset, with a 1080p display in a screen size of 5.9″ .
Also included is the worlds first rotating camera, a 13MP unit which turns 206 degrees thus enabling you to take pictures from all sorts of interesting angles and also comes with O-Click, a small remote to enable you to take photos wirelessly.  The processor is a 1.7GHz quad-core APQ8064 model and also featured is a rear touch panel.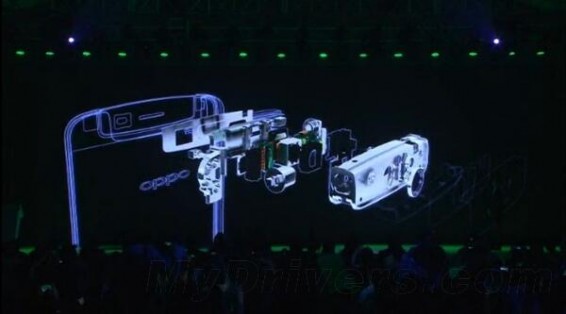 A massive 5.9″ screen and an immense 3160mAh battery are included. Add the usual Wi-Fi, bluetooth, NFC and, strangely, a tachograph. Storage is made up of 16GB or 32GB internal and the device will be available in either black or white.
It's just been confirmed that, as expected, the N1 will ship with CyanogenMod. Cyanogen – aka Steve Kondik – is at the event.
UPDATE – The full product details are now online here.
Oppo have posted some details about the Cyanogenmod ROM.
OPPO is committed to serve the smartphone market with an open attitude. OPPO N1 ships with Color (based on Android 4.2), a unique Android operating system with over 400 unique features and improvements over stock Android. CyanogenMod is the world's most popular aftermarket Android operating system. International versions of the N1 come with Color, and also the ability to flash CyanogenMod directly from stock recovery. A limited OPPO N1 CyanogenMod Edition will ship with CyanogenMod preinstalled, the first CyanogenMod hardware product in the world.
UPDATE – Full video and more pics below. We also have the full press release further down..
http://www.youtube.com/watch?v=CUHonCDcCQ8&feature=player_embedded