Along with the colourful iPhone 5C Apple also announced the premium iPhone 5S.
The iPhone 5S packs the same 4″ retina display as the 5 and the new 5C in a premium finish in 3 different colours; gold, silver and space grey.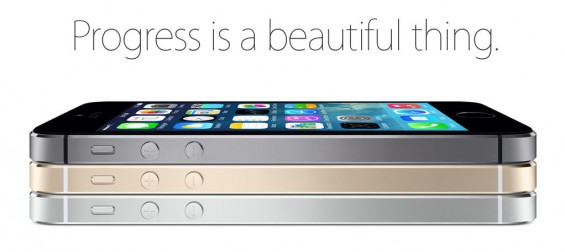 Inside the 5S runs a new A7 processor which is 64-bit so should run faster, Apple say the new 5S is up to 40 times faster than the original iPhone and 56 times faster graphically. Apps will automatically be backwards compatible so all current apps will run on the 5S, but it could also mean there are exclusive 5S apps.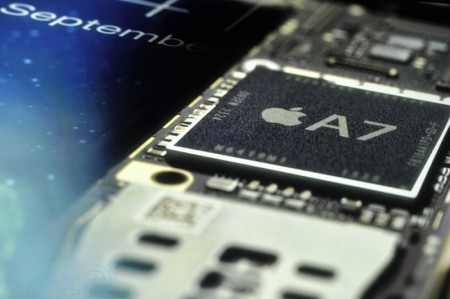 Apple have also boosted the camera in the new iPhone, it is still 8 megapixel but they have increased the pixel size in a similar way to the HTC One, and so they are now promising even better lowlight photography. Burst mode and 120fps recording at 720p HD have also been added to the phone. The front camera has also been boosted. The other part of the camera upgrade is a True Tone flash. This consists of a dual LED flash, one with an amber filter and one with a blue filter. The phone detects the ambient light level and chooses the correct flash colour to give accurate flesh tones. The phone also includes digital image stabilisation.
The last of Apple's big announcements is Touch ID, a fingerprint scanner built into the home button to allow users to unlock their phone with just a press and also allows users to confirm purchases in the store by holding finger over home button rather than typing in their password every 15 minutes. The scanner will only hold details locally on the phone, they are not sent to Apple. The scanner has 360 degree recognition so you don't need to have your finger exactly the same way every time.
The iPhone 5S fully supports all the UK 4G networks and Apple say the phone has 10 hours of 3G talktime or LTE browsing and a 250 hour standby time.
The iPhone 5S will be available from Friday 20th September in either 16GB (£549), 32GB (£629) or 64GB (£709). No price plans for the networks are available yet but we will let you know as soon as we do.
If you want to watch the event you can now do so on the Apple website, as long as you have Quicktime installed, just click here.
Full press release below..