I saw it coming when the partnership was announced 2 years ago, but still this news has totally shocked me this morning.
Microsoft are buying Nokia!
A cool £4.6 billion has changed hands, which is an amount that'll put those football transfer payments in the shade.
Ex-Microsoft man, Stephen Elop has stepped down as CEO of Nokia and is now becoming the 'Executive Vice President of Devices & Services' with Risto Siilasmaa taking over the CEO role.
There is a press conference arranged for 11am Finnish time today (3rd Sept) where we hope to hear more details on this shocking news for the industry.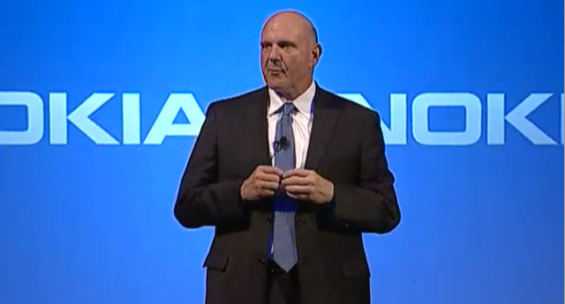 Here is an open letter from both Steve Balmer and Stephen Elop
Nokia and Microsoft have always dreamed big – we dreamed of putting a computer on every desk, and a mobile phone in every pocket, and we've come a long way toward realizing those dreams.

Today marks a moment of reinvention.

Nokia has an identity spanning 150 years of heritage, innovation, excellence, and change which began and will continue in Finland, as well as around the world. From humble beginnings as a paper mill, to manufacturing rubber boots and car tires, and then to mobile phones, reinvention is in Nokia's blood.

Now Nokia will write its next chapter, focused on enabling mobility through its leadership in networking, mapping & location, and advanced technologies.

For Microsoft as well, today is a bold step into the future, a huge leap forward on our journey of creating a family of devices and services that delight people and empower businesses of all sizes.

Our partnership over the past two and a half years, which combined our respective strengths to build a new global mobile ecosystem, has created incredible results: award-winning phones and amazing services that have made Nokia Windows Phones the fastest-growing smartphones in the world.

Building on this successful partnership, we announced some important news today: an agreement for Microsoft to purchase Nokia's Devices & Services business, to deliver more choices, faster innovation, and even more exciting devices and services to our customers.

Today's agreement will accelerate the momentum of Nokia's devices and services, bringing the world's most innovative smartphones to more people, while continuing to connect the next billion people with Nokia's mobile phone portfolio.

With the commitment and resources of Microsoft to take Nokia's devices and services forward, we can now realize the full potential of the Windows ecosystem, providing the most compelling experiences for people at home, at work and everywhere in between.

We will continue to build the mobile phones you've come to love, while investing in the future – new phones and services that combine the best of Microsoft and the best of Nokia.

Nokia and Microsoft are committed to the next chapter.

Together, we will redefine the boundaries of mobility.

Steve & Stephen