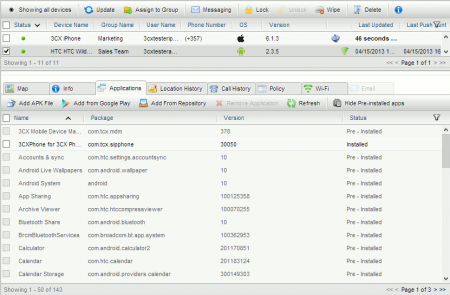 We've covered 3CX Mobile Device Manager a number of times, but this version is slightly different. The "On Premise" edition sits on Windows Server and provides and easy-to-deploy solution for managing mobile devices across your company. It'll provide location tracking, remote locking, password enforcement, remote wipe, app management and a lot more.
It's easy to manage and use, sitting on top of a Windows Server within your organisation. Best of all, you can give it a try right now with a free edition supporting up to five devices.
Once you've got it installed you can manage WiFi network settings on devices, check CPU and memory usage, remotely configure email, manage apps on handsets and receive alerts when policy violations occur.
If you like it, you can buy it and purchase a licence that'll fit your requirements. For up to 50 devices it'll cost $1295, which is €1030, but it's a one-time fee.
We've come a long way from every employee having a locked-down BlackBerry, so if you're responsible for IT and have lots of staff with iPhones and Android devices, give this a spin.