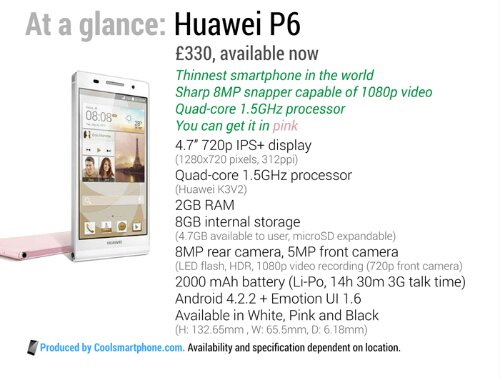 So I've mentioned this new handset already. Out of the box it's a corking design. Glance at it from the sides and you there's a whiff of iPhone about it. Before I start though, I should also mention something else.
I'm becoming increasingly impressed with Huawei. Sure, no-one really knows how to pronounce their name, but there's no denying that their phones are getting better and better as time goes by.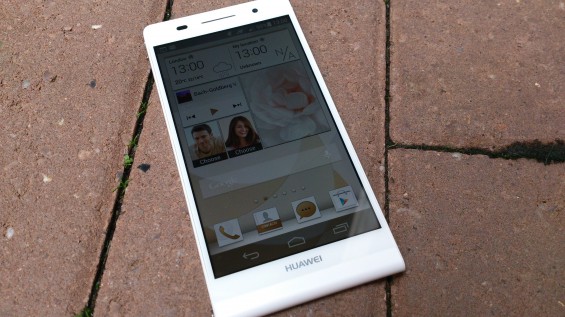 This, then, is the P6. It's a slender 6.18mm thick and we've got the white one on test. Around the flat edges there's a brushed metal finish and, at the back, a matt white surface. The front, which is where we're starting, is a smooth polished white.
The specs? Well, you're looking at a rather nice 4.7″ 1280×720 display and, under that somewhere, it's powered by a quad-core 1.5GHz CPU. The P6 runs Android 4.2 and has a custom interface called "Emotion" which does away with the slide-up app tray. Instead you'll find everything on one of the main sliding home screens, but more on that later.
Inside there's 8GB of storage, of which 4.7GB is available. There's also a pop-out microSD tray for additional storage which sits next to a pop-out microSIM slot. An 8 megapixel camera, WiFi, DLNA, Bluetooth 3.0, GPS, FM radio and an additional front-facing 5 megapixel camera also feature.
So, as I said with my earlier photo special, there's also something we've not seen on a smartphone before…
A plug…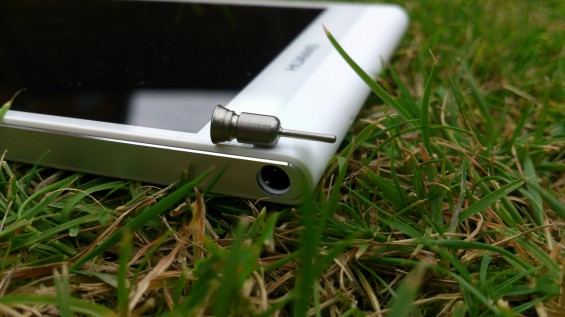 No, don't worry, there's no kitchen sink in there, this is to stop dust getting into your 3.5mm hole and it'll also help you pop out the microSIM and microSD. Aha ! Time for a look around then..
As you can see, the bottom of the handset has a scroll finish, whilst the other edges are flat. No excuses for holding this phone upside down! The plug is held in by magnets and, as yet, hasn't got lost. I'm not entirely sure how long that situation would remain if you're using your audio port lots though. I'm guessing… not very long.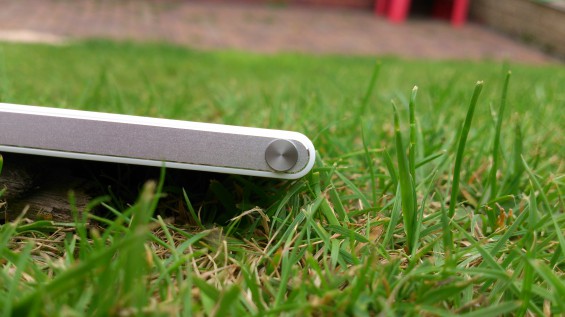 The right side of the phone is a little busier, having those two trays I mentioned before, audio up / down and the power key you'll be tapping for waking the device. No dedicated camera button here sadly, but those buttons are easy to locate and sturdy.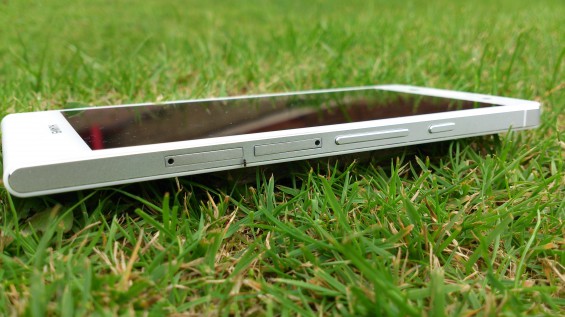 Up top, the charging port – ala the microUSB hole we're all accustomed to now. Yes, I know it's on the top. I'm guessing someone at Huawei has an allergy to dust, because putting it on the top means you don't get quite so much dust transferred from your pocket.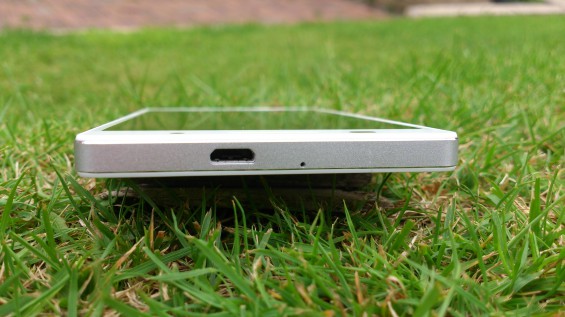 On the very top of the front face is the proximity and light sensors, 5 megapixel front camera and earpiece.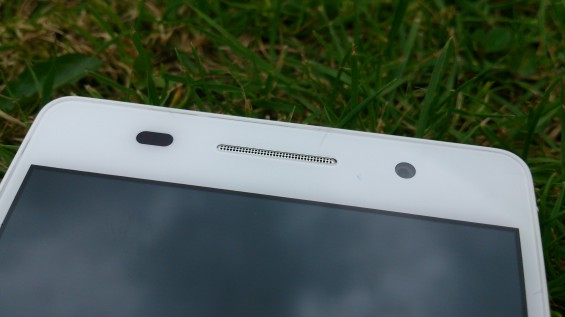 The back is relatively fuss-free, with that 8 megapixel camera sitting right up in that top-left corner with the flash. On on the bottom left corner is the external speaker, which sits behind a precisely-drilled grill. It's all very classy.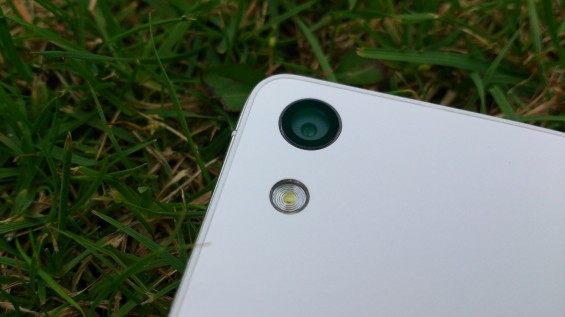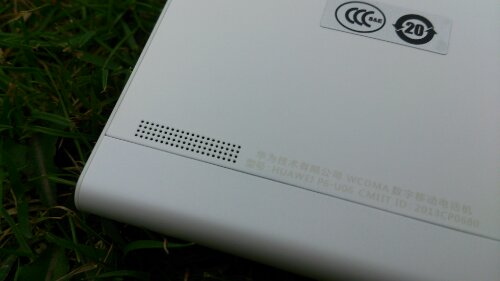 Now, this wouldn't be one of my reviews if we didn't have a full hands-on video filmed in my car. Go on, crank it up to full HD so that you can see how dry my skin is.. bleugh.. 😉
Inside
Inside, there's a small amount to get used to. Firstly, as I said earlier, there's no apps tray – everything is stored within the main set of screens. There's six here, but you can add more and you can easily decide which is your "Home" screen out of all of these.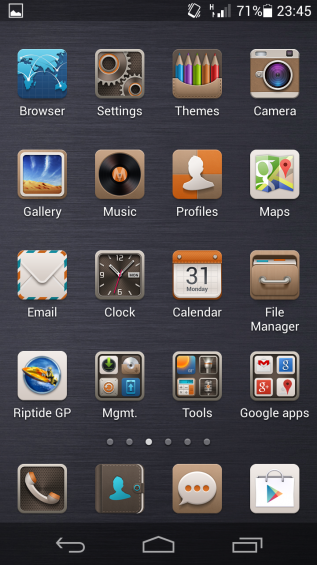 Now, what I like about manufacturers is when they do the small stuff. Hosting a big press event and telling everyone about how amazing a new function is. That's fine, but make sure that all the little stuff works. Here, it does. It really does. I got little surprises the more I used this. For example, there's a selection of transitions that you can choose from when switching screens – you can have it squeeze, rotate, flip or perform little windmill effects when you slide your finger across the screen, which is really cool. Just press and hold to get into this setting or adjust your wallpaper, widget or thumbnails.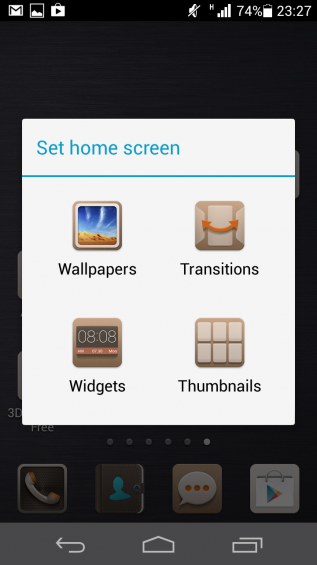 Other little touches I liked were the home screen themes. There's a selection to choose from and you can customize your current one to extreme lengths. For example, you can adjust the lock screen style, icon style, ring / email and text tones all from one screen.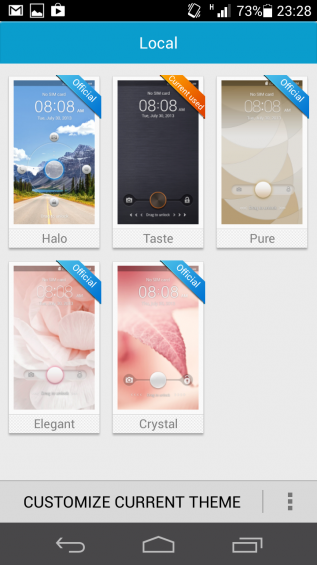 I also like the way that those functions other companies like to shout about are tucked neatly into the settings. For example, here in Settings and "Motion Control" I found that you could individually enable or disable functions that I've seen Samsung and other companies raving about. The ability to flip the phone to mute? That's there. The option to make auto-answer a call when you put the phone to your ear? That's there too.
Huawei have also added a cloud sync system called… err.. Cloud Sync. This appears to be very similar to the Google system but requires a Huawei ID and lets you effectively create a backup of your phone on the web. You can also locate your phone using their Phone Finder system.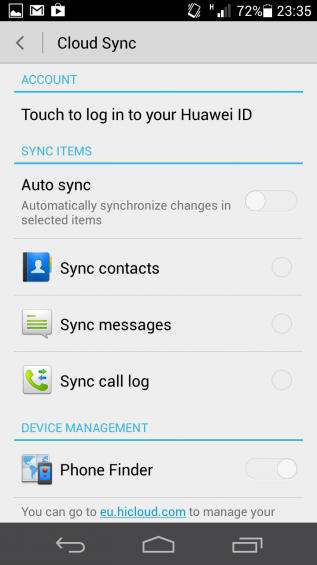 This being Android, you can of course sync everything with the Google cloud too. Your contacts, appointments, email and documents get sync'd and there's the ability to use POP3 accounts or have Google mop up your POP3 mail too.
Oh wait.. you're reading this and it's cold outside ? No problems. Tucked away in the settings there's a "Gloves Mode" which means that you can still move around your phone whilst wearing the thickest of gloves. Perhaps not mittens though, that'd be mental.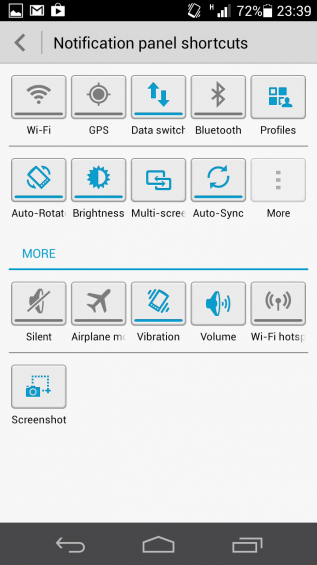 Other bits I liked? Well, there's the clever notification panel, which you can reconfigure to your hearts' content. Slide it down from the top and you can hop into the afore-mentioned settings easily. You can also toggle data, GPS and more. It'll even let you grab a screenshot if the old "volume down + power key" combination is getting too much for you.
A Daydream mode? Yes, there's a Daydream mode. With this you can set what happens when your phone is charging or sleeping. You can have some pretty colours on the screen or have your photos display in a frame or "table" effect. It's all jolly lovely.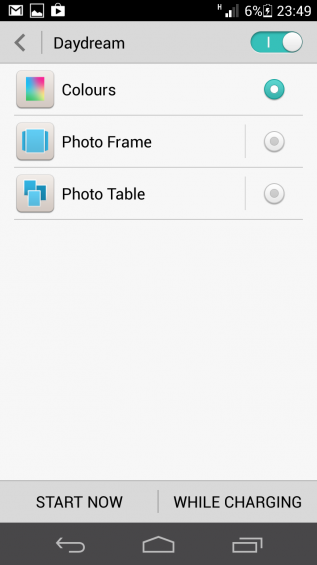 As mentioned before, the Emotion GUI keeps everything on the main set of screens, so there's no scrolling up and down to dive into the apps tray. There's not much of a crush though – everything is sorted into nice folders so you have all the Google apps in one folder with the Management and Tools apps in another. It's tidy. The usual Google catalogue is in there – Google+, Gmail, YouTube, Play Magazines, Play Music, Talk / Hangouts, Music, Chrome etc.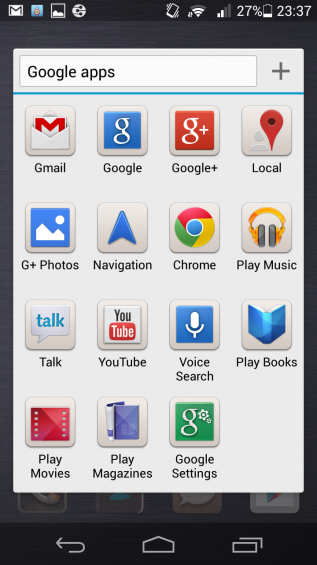 You can move apps to the storage card, which is always great for freeing up space.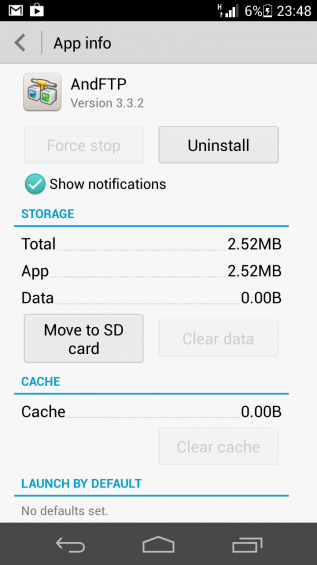 Talking about Chrome, although it's not the default browser it at least means that you have a choice. Browsing, as you'd expect by now, is fantastic on both the stock browser and the Chrome one too. It'll cleverly hide the address bar for extra real-estate when you're reading a page and you can double-tap to zoom into a certain section. It'll also ensure that the part your reading is formatted correctly so that it's easy to digest and fits on the screen.
You can switch to Desktop mode, share pages, search pages, add bookmarks and use tabbed browsing.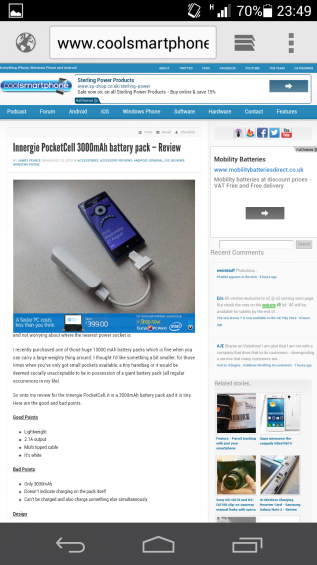 The GUI can, at times, feel a little stodgy. It doesn't happen that often but can be surprising for a quad-core CPU. Other than this minor gripe I really did like the simplicity and ease-of-use. The GUI was really cool, easy to navigate and very smooth indeed. Sending media over DLNA was simple and it was fun to alter the appearance and style of the phone. There's stacks of profiles too, plus you can add your own and there's a whole selection of options to include into every profile.
As usual, we always take stacks of screenshots, so here's a gallery from the handset …
Camera
Here's some shots from the camera. To be honest the camera performed well enough. I was quite surprised by it to be honest and had a range of options – HDR, Smart, Beauty, Panorama and a selection of effects to add to the mix too.
Although there's no dedicated camera button, shots were taken the very instant you hit the on-screen button. I used the HDR mode quite a bit below, but the Smart mode turned on the flash automatically and judged lighting conditions very well indeed.
Overall
The phone actually has full animations turned on as default, so switching from portrait to landscape is fluid as flip, but does involve a momentary wait whilst the phone prepares the animation. I loved the on-screen keyboard (it was pretty accurate and had a lot of settings) and was impressed by the overall finish of the phone. It was a complete package – the outside build quality, design and premium feel continued into the OS and the GUI that Huawei have added. It feels like a much more expensive handset than it is, and currently it's around £330 at Expansys.
I really couldn't find a lot wrong here. It's yet another spectacular device from Huawei, and they really do have a keen eye for detail. They ensure that the basics are done well – good battery life, good power saving tech, bright screen, clever on-board camera tweaks and a phone which you can pick up and use easily. I loved my time with it.
Huawei Ascend P6 Review
Hardware - 8.9
Design - 8.8
Screen quality - 7.6
Battery life - 7.3
8.2
Another fantastic handset from Huawei which is well styled and very well thought out.