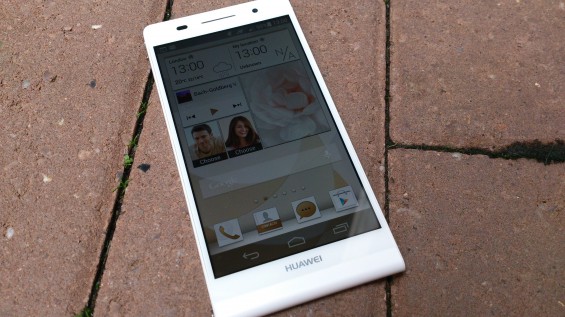 Yes, I'm busy writing another review, but I figured you'd like to see some up-close shots of the new Ascend P6 from Huawei. The specs include a 4.7″ 1280×720 display, a quad-core 1.5GHz processor, Android 4.2 and is an just 7mm thick.
On the lower left of the device there's a small metal plug, which you'll notice in the shots. This has a dual purpose. It covers the 3.5mm audio port and protects it from dust and fluff, but also it acts as a pin to eject your microSIM or microSD from the trays on the right side. The idea is good, but with the size of it I can't help thinking that it would end up in your pocket, then a washing machine, then lost. It's held in by a magnet.

The other aspect of this phone I like so far is the design of it. It's defined, clear and robust. Huawei, as I've said many, many (many, many, many) times before, are really on the up. Their handsets are good and they're gaining a very professional and polished feel to their handsets with each passing handset I review.
I should also, and this might sound weird, mention the box. The handset arrives in what I can only describe as a designer perfume box. It has a small pull-out loop on the side and the earphones, charger and USB cables are beautifully packaged in slim boxes. It's an element of thought that I really appreciate – these small touches go a long way with me.

So, the other specs then. This has an 8 megapixel camera around the back and another 5 megapixel shooter up front. There's 8GB of user storage on-board (we checked and around 4.7GB is usable) with 2GB RAM and the ability to stick your own microSD card in (up to 32GB). WiFi, Bluetooth 3.0, WiFi Direct, DLNA and an FM radio.
We'll have the full review online shortly, but until then here's a stack of photos to enjoy..