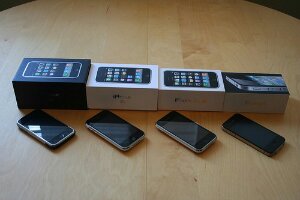 If you are waiting for the rumored September launch of the next iPhone and you've got an iPhone 3G or newer, Apple wants to buy your old phone back. The iPhone Reuse and Recycle programme will begin on 30 August at select US Apple Stores but will roll-out to all Stores in early September. Plans for international roll-out have not been mentioned. Fingers crossed it comes to the UK!
Any money received from the trade-in scheme can only be used to discount a new iPhone bought on contract. The price is determined by the condition of your old phone based on screen quality, button quality, overall hardware damage, engravings, liquid damage and being able to power on and use it normally.
The iPhone 3G, iPhone 3GS, iPhone 4, iPhone 4S, and iPhone 5 are eligible for both the trade-in and recycling aspects of the programme.
Pricing for the iPhones is slightly below the competition. For example, an unlocked, undamaged iPhone 5 16GB will be worth around $279 (£180), while an AT&T 16GB iPhone 5 will be worth $255.
There will also be a recycle scheme for those wishing to hand in damaged or broken iPhones. As with the rest of the trade in programme, you'd fetch more for your iPhone if you tried to sell it yourself via a site like eBay or Swappa – make sure you check out the alternatives (and the potential hassle that using an auction site brings) before handing over your iPhone to Apple.
Source: 9to5 Mac