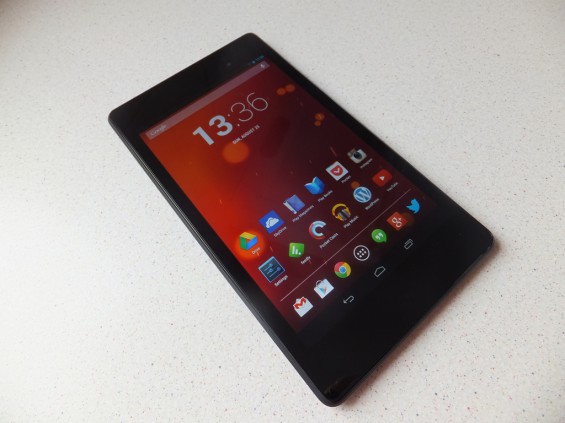 The original Nexus 7 was something special, up until then small 7″ tablets had either been awful or stupidly expensive. The original Nexus 7 showed us that you could have a well specified device at a reasonable cost. It quickly became the most popular Android tablet ever, I imagine a good portion of people reading this will have owned one at some point.
With the inevitable sequal, Google and Asus had a choice, go cheaper, stay at the same price or bump the spec and increase the cost. They went with the latter and in my eyes they've done the right thing.
I've had the new Nexus 7 for about a day now and I've whipped up my initial impressions and a load of photos for your pleasure. So as usual let's start with the good and bad points.
Good Points
Decent build quality

Gorgeous screen

Nice design

Wireless charging
Amazing sound quality with headphones
Stereo speakers
Bad Points
No expandable memory

No Tegra optimised games

A little bit long and thin

Edges feel a little pronounced, prolonged use is uncomfortable

Touchscreen seems a little random in its responses at times
Design
The new Nexus 7 has a pretty basic design, it is in my opinion dumbed down from last years model. The Nexus 7 just basically is the screen and the backplate, the front is a huge great slab of glass, which is elongated compared to last years model.
Around the device you get a variety of other bits and bobs, on the front is a front facing camera, a notification light, Micro USB port, the volume rocker, power button, headphone port and then on the back you get the stereo speakers, the rear camera and the Asus and Nexus logos.
The edges of the device are interesting, as the screen has a relatively small bezel, Asus have decided to make the edge of the device slightly pronounced, giving you something to grip rather than holding the screen. They have succeeded here but the edge after a while starts to jab me in the hand, making me want a case for the Nexus.
Check out these pictures of the new Nexus 7 and some comparisons shots with the old Nexus 7.
Hardware
The spec of the new Nexus 7 is as high end as you'd expect.
Operating System – Android 4.3
Display – 7″ LED Backlight, WUXGA (1920×1200) Screen, IPS Panel, 10 finger multi-touch support
CPU – Qualcomm® Snapdragon™ S4 Pro 8064 Quad-Core, 1.5 GHz
Memory – 2GB RAM
Storage – 16GB/32GB
WLAN 802.11 a/b/g/[email protected]/ 5GHz
Bluetooth V4.0
NFC
Camera
1.2 MP Front Camera with Auto focus
5 MP Rear Camera with Auto focus, large f2.4 aperture. (rear camera)
Stereo Speakers
Interfaces – SlimPort, headphone socket
Sensors – G-Sensor, E-compass, Ambient Light Sensor, Gyroscope, Hall Sensor
Battery – 10 hours; 15Wh Li-polymer Battery (3950 mAh)
GPS
Wireless Charging
Dimensions – 114 x 200 x 8.65 mm (WxHxD)
Weight – WiFi: 290 g / LTE: 299 g
For me highlights of the spec are the HD screen, Wireless charging, the extra RAM and the stereo speakers.
Personally I would have preferred a Snapdragon 800 chip, not for any reason just me being greedy really, also a higher spec camera and a Micro SD slot would have been great, these additions would have bumped the price up though.
Software
The new Nexus 7 is like a breath of fresh air, possibly because my ageing original Nexus 7 and my Asus Transformer Prime are both showing signs of imminent death. But Android 4.3 on a brand new fresh device just feels great, having bought the 32GB version I felt a sense of freedom to install whatever I wanted, no funky internal memory partitions here.
I have found that the touchscreen registers a few phantom touches now and again, I guess this will be sorted in a future update, also I found that some apps haven't yet updated to work with Android 4.3 or they just don't appear in the Play Store, such as BBC iplayer and TVCatchup again it's only a matter of time before they sort it.
I sideloaded the iPlayer APK and it worked perfectly, so it is just the BBC being a bit slow in updating their apps.
As the screen is higher resolution, reading books and magazines on the new Nexus 7 is a pleasure. Especially magazines which in the past I had to resort to text mode to read the text, now as the screen is so detailed I can read almost the whole magazine as it was intended.
Initial Conclusion
My initial conclusion is that the new Nexus 7 is a great device, compared to its predecessor it feels miles ahead. The only concern is the price, at £239 for the 32GB model you are dangerously close to iPad Mini pricing, with its premium build quality (and currently lower specs). Will Apple up their game to trump the new Nexus 7? if they lowered the price a bit Google and Asus would be in a difficult spot.
I'm impressed though, for me it offers everything that I need on a daily basis. I just need to figure out the HDMI out via the slimport next.
As this is just my initial impressions we'll bring a more in depth review in the next few weeks, so if you have any questions please leave a comment below. Also if you want a specific app game or service testing again let us know below and we'll do our best to help.