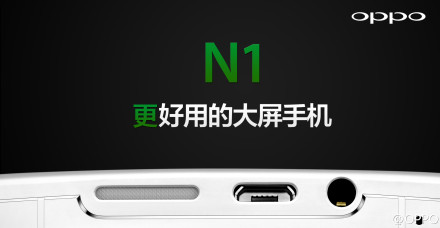 We recently reported that OPPO are going to make a camera-based phone, called the N1, to compete with the likes of the Nokia Lumia 1020 and Samsung Galaxy Zoom. Today the little teasers over on the OPPO Weibo microblog have published a sneaky peak at a bit of the phone as well as a sort of release roadmap that hints at a September release date.
The close-up of the connectors seems to be a bit of an odd layout. There seems to be a headphone jack on the right, a microUSB port in the middle and then what looks like a speaker grille of some sort. I'm interested to see what area of the handset this is, because that could be a seriously awkward bit of design.
All we really know in the way of specs is that it'll have a 12MP "N-Lens" with "Owl sensor" and Xenon flash. Oh, and it'll run on OPPO's operating system of choice: Android. There is a rumoured price of $480, which, if true, will make it extremely competitive.
The roadmap (below) is a little odd, because there's no mention of the R819 that was announced yesterday! However, I think it's just focusing on their flagship devices. As such it clearly shows the path they've taken over the past few years culminating in the Find 5. Considering that the N1 is the next phone in line it seems logical to postulate that the N1 is going to be the replacement for the Find 5.


Does this mean we're going to see the Find 5 discontinued next month to make way for the N1? I'd say it's unlikely, considering the cult success OPPO is enjoying with it. To be frank, it doesn't feel like a phone that's had its day and given the fact OPPO have recently upgraded the processor in Chinese models I can see a lot more life in the 5″ 1080p wonder.
In the gallery you can see the aforementioned teasers as well as the earlier leaked press images from our previous story.
Source – OPPO Weibo
Via – GforGames