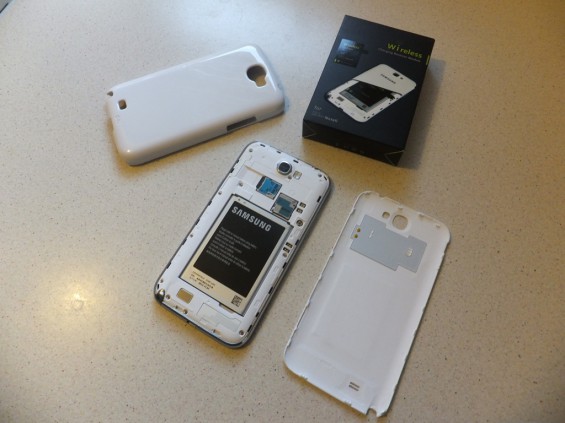 A few days ago I posted an article about wireless charging. It was all about some receiver cards that attach to the battery in either your Galaxy S4 or Note II. I bought one for my Note II and I've spent the last few days playing about with it. As usual let's start the review with some good and bad points.
Good Points
Relatively cheap

No new backplate needed

Simple setup

Qi compatible
Bad Points
Only 0.5A charge rate compared to normal 2A

Slow charge rate

Can only be applied to one battery
Design
The receiver card comes in a pretty nondescript box, inside is no different, no instructions, just the card and a tear off strip of paper that reveals a strip of adhesive.
The only interesting part of the card is the tab with two pins on, that connect to two pins near the battery pack in the phone.
In Use
In use the receiver card is pretty easy to set up. You reveal the adhesive on the card and attach it to your battery making sure the two pins are able to contact the pins on the phone.
The next step is really easy, you just put the backplate back on the phone. That pushes the pins into place. All that remains to do then is to find a wireless charging pad.
As I've got a couple of Nokia pads I didn't need to get another one, which made my test for the Note II a whole lot cheaper. I've got a flat pad and an upright desk pad as well. The Note II being a huge phone didn't sit correctly on the upright one, meaning the receiver was no where near the charging coil. Luckily the flat pad was easy to use and I just plonked the Note II down and it started to charge…… Slowly…..
To fully charge the Galaxy Note II whilst turned off, from 1% charge to fully charged took 9 hours. Yes 9 hours.
Up until now I've only ever tried out wireless charging on Windows Phone devices, which all have a rapid charging feature thanks to the Qualcomm Snapdragon chips they all share, so charging only takes a few hours. The Note II has a 3300 mAh battery which takes a while normally takes a good few hours to charge (it comes with a 2A charger), so charging it with a 0.5A pad takes forever.
Having it charge wirelessly is handy, just being able to drop it down on a pad and slowly charge it whenever you're at your desk is really useful, it just felt more of a chore than anything, mainly down to the time involved. I normally use one of those charging docks to keep a spare battery charged up, as the prospect of having to plug in makes me feel restrained!
Conclusion
Overall the receiver card is quite useful, it's just fell fowl to the limitations of wireless charging and a huge battery pack. If your sat at a desk for hours constantly needing to use the phone and you can't be bothered to keep unplugging it then this might be one solution. For £12.99 I thought it was worth a go, especially now I can charge it wirelessly. I think in the long run I will probably continue swapping batteries when one dies and only really use the wireless element if I'm near a pad and I've got plenty of time.
You can get the receiver card from Clove here, they also have a Galaxy S4 card here and you can get cheap ish Qi charging pads here as well.
Qi Wireless Charging Receiver Card - Samsung Galaxy Note 2
Price - 8
Quality - 7
Functionality - 5
6.7
Great idea, cheap enough to just try out, let down by 0.5A charge rate. Took my Note II nine hours to fully charge.