So yesterday we saw the LG G2. Many, I'm sure, will be wanting the LG logo to vanish and a Google Nexus one to appear instead. You do have to wonder how successful this would be if it was branded as a Nexus..
It's coming to Three and we've got loads of video footage.
So what should you expect? Well, the screen is good for starters. It has a 1920×1080 full HD IPS 5.2″ display and comes with a quad-core 2.26GHz CPU. There's 32GB of ROM, 2GB RAM and a whacking 3000mAh battery.
Around the back is a 13 megapixel shooter with Optical Image Stabiliser and 8X digital zoom. This means less blur and less shaking. Other camera goodies include multi-point AD, super resolution zoom and a clever feature called "Shot and Clear" which helps fix photos where people walk into your shot.
There's a "Guest Mode" which let's you select what apps will appear on the device when others use it. You can create separate pattern locks for each user so it'll hop straight into your custom homescreen. Great for when the kids use the phone.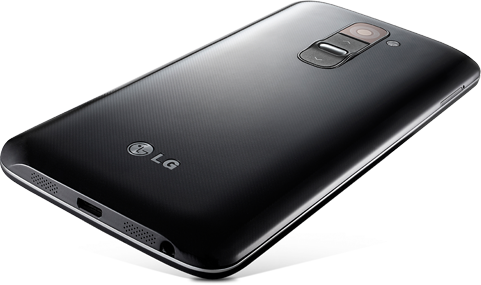 Audio Zooming is also included and, if we're honest, this might be a bit tricky to explain. It's all thanks to the three stereo microphones and, when you zoom in on a subject during a video recording, it'll make it clearer.
Other features include "Knockon" which wakes the device when you tap it twice. There's also "plug and Pop" which shows you the icons for features that require earphones or USB cables when you plug them in. There's dual-recording (so you can film yourself and others with the two cameras) plus a clever tracking feature that zooms in on your subject whilst keeping others in the shot.
There's a few more clever features which we've included in our infographic below..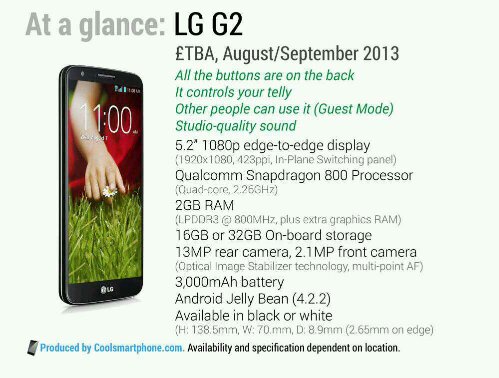 The keys around the back will let you adjust the volume, activate the camera and fire up the note-taking app. Moving buttons to the rear should, it's hoped, make the device easier to use.
Here's some more shots of the device. That funky cover at the top of this story lets you quickly see what's going on – it's called "QuickWindow".