The Nexus 7 has been somewhat of a success for Google.  It has become the fastest selling Android tablet and its successor is due to launch here in the UK imminently.
In the meantime there are plenty of Nexus 7's still in circulation and plenty of Nexus 7 accessories to be had!
One such accessory is the Mobile Bluetooth Keyboard kindly supplied to us for review by Mobile Fun.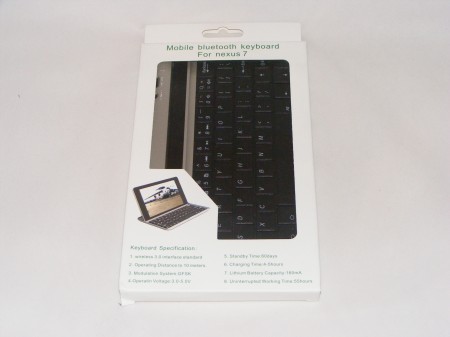 The Mobile Bluetooth keyboard's design is simply great.  Starting with the back, the keyboard is finished in the same material and design as the Nexus 7 itself and has the same nice feel to it as the tablet.  There is a mini nodule on each corner to prevent any slippage when placed on a flat surface.
The main body of the keyboard is finished in silver with the power and connect buttons as well as the indicator lights (connected and charging) located in the top right hand corner.  The charging port is located on the right hand side and quite usefully uses the same charger as the Nexus 7.  The power is provided from a long lasting Lithium-ion battery and gives a quoted standby time of 60 hours and use time of 55 hours.
The keyboard itself is a miniature version however this in no way impedes typing performance.  There are dedicated home and back buttons as well as functionality for volume, search and media controls built-in too.
In day to day use the Bluetooth Keyboard is excellent.  Pairing is exceptionally easy, just press the connect button and search for devices on the Nexus 7 and hey presto, pairing happens.  From that point all typing is done on the external keyboard thus freeing up vital screen real estate.
In use the Nexus 7 sits into a groove within the keyboard that makes the tablet rest at a 60 degree angle in a landscape orientation.  This makes for both good viewing and means that you can sit with the keyboard on your lap as if it were a notebook.
The keys themselves are responsive and provide ample feedback although be warned, this is not a device for those with mashing fingers.  The keys are sufficiently small to provide an issue for those with digits of a larger size.
Overall it is hard for me to fault the Mobile Bluetooth Keyboard.  Stylish design coupled with simplicity of use make for a winning combination and for the relatively small price of £29.95 it certainly becomes a recommended product. If you're interested, here's the link.