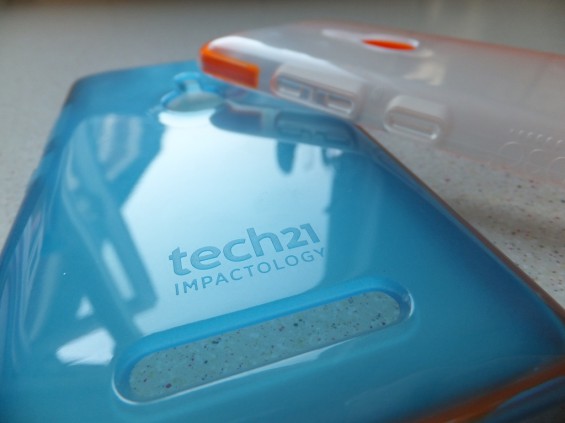 Now and again in life something makes it way into my hands that just feels amazing. The last time this happened to me was the day I held the HTC One for the first time. This week it was when two phone cases found their way onto my desk.
Call me weird if you want, but I really like a solid, decent quality phone case and I don't care how much bulk it adds to the phone. The Tech21 Impact case is exactly that, solid and decent quality and it doesn't actually add too much bulk to the phone either.
To start my review here are my good and bad points.
Good Points
Great feel in the hand
Great shock absorption
Nice colour options
Bad Points
Not much screen protection offered
Seemingly expensive
Design
The Impact case is basically a souped up TPU case, like the cheap ones on eBay, just a whole lot better. The Impact case comes in three different colours, blue, clear or smoke and each one has a strip of bright orange D30 shock absorbing material embedded. On the clear case this gives it quite a unique look, on the blue and smoke cases it's a little more understated.
The case has all of the expected cut outs for the charger and your headphones, the buttons are covered with a slightly more flexible material, the camera and the speaker both have cut outs as well. The only slight problem is you have to remove the case to access the SIM card. Which for me is a problem, but for someone who doesn't swap phones every few hours you'll be ok.
The case doesn't come past the screen much so if you were to drop it face down
In Use
In use the case feels really nice, I don't know how they've made a TPU case feel nice but they have. The orange strips in the side of the case add to the width of the Lumia, which in my opinion makes the Lumia 925 feel better in your hand. As all of the buttons are covered up with the TPU you'd expect them to not function properly, again I felt that the case actually improves the feel of the device.
Conclusion
Overall the Tech21 Impact case for the Nokia Lumia 925 is a great case, it seems a little expensive for what it is though. Not many manufacturers seem to have committed to the Lumia 925 yet, so the prices seem high. This case does offer pretty good protection from most angles. You can get the Tech21 Impact case here from MobileFun along with the other colours for £24.99.