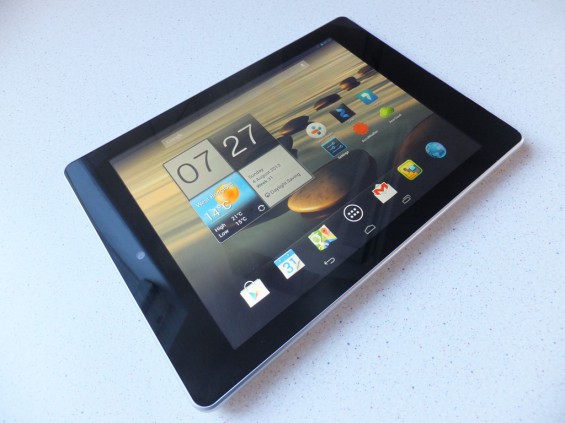 I do love a good hand sized tablet, which is probably why I use my Nexus 7 every single day and also why I'm probably going to get the new Nexus 7 when it appears in this country. Can an alternative manufacturers offering tempt me away from the Google / Asus offerings? Well the latest tablet from Acer is something a little bit different. The Acer Iconia A1-810 tablet is an 8″ tablet that is a 4:3 ratio as opposed to the normal 16:10 so it is squarer. I oftern hear how 4:3 is ideal for web browsing and reading books
To start my initial impressions here are my good and bad points.
Good Points 
Lightweight
Micro SD slot
Micro HDMI
Android 4.2.2
Feels fast through the UI
Bad Points
A bit plasticy
I can only just hold it in one hand
Screen resolution sounds low
Design
The Iconia A1 is quite plasticy, a huge white plastic back, a faux metal plastic silver edge panel all around the sides and then the screen, the buttons are plastic too. Not that plastic is to bad a material on this as it makes the Iconia A1 quite light, which when trying to hold it in one hand is a plus point. The design has obviously been arrived at because of related costs, to compete a small ish tablet needs to under £200
Here are some shots of what the Iconia A1 looks like and how big it is compared to the Nexus 7:
Hardware
Operating System – Android 4.2.2
Processor & Chipset – MediaTek MT8125T 1.20 GHz Quad-core (4 Core)
Internal Memory – 16 GB
RAM – 1GB
Micro SD Slot
Screen – 20.3 cm (8″) TFT Colour LCD XGA 1024 x 768 (4:3)
GPS
Wi-Fi 802.11b/g/n
Bluetooth 4.0
Micro HDMI
Battery 2-cell Lithium Ion (Li-Ion) 4960 mAh
Dimensions – Height 11.1 mm, Width 145.7 mm, Depth 208.7 mm
Weight (Approximate)  410.0 g
Highlight in the the spec are the quad core CPU, Micro SD slot, Micro HDMI, 16GB internal memory and the 1GB of RAM. They all add up to make a decent tablet experience. The internal memory and Micro SD card combination makes for a device that would be great to take on holiday or something like that.
Software
The Iconia A1-810 runs Android 4.2.2 so you get all of the Google Now and Lockscreen widgets. Acer have once again chosen a basically stock setup for this tablet, with only a few widgets and a handful of apps added in just because.
Moving around the UI feels really quick and responsive, the quad core CPU helps with that no doubt.
Initial Conclusion
My initial conclusion is that I really like the Iconia A1-810, it offers everything that the Nexus 7 does but in a slightly package. Oh and then there is the Micro SD slot and Micro HDMI as well. If I was to choose which to take on holiday I'd probably go with this one. As regards which I'd pick over this and the new Nexus 7 is a whole different problem.
I'll be using this tablet day in day out over the next few weeks so if you've got any questions please let me know in the comments below.