The 7-8″ tablet market is a rather competitive one, with Apple and Asus at the top of the pile. The iPad Mini and the Google Nexus 7 are undoubtedly the market leaders and there are many other manufacturers trying to get in on the action, Acer, Amazon, Gemini, GoTab and many many more.
Often in the pursuit of a price point manufacturers trim specs or build quality, Acer over the years have been guilty of this and their tablets and phones have always had an achilles somewhere.
So as I've had a few weeks of use with the Acer Iconia A1-810 tablet, starting with my revised good and bad points.
Good Points
Nice size for software
Android 4.2.2
Micro SD and Micro HDMI
Lightweight
Decent sound quality with headphones
Bad Points
Fingerprint magnet screen
Build quality is a bit basic
Screen brightness
Design
The Acer Iconia A1-810 tablet has a pretty basic design. It's a mix of white plastic, silver plastic and the screen. Apart from a few buttons and ports that's it.
The Liquid A1-810 is an 8″ device which means that holding it in one hand is a little awkward at times, especially when compared to my Nexus 7. Although being quite light means it's not too hard to hold.
A few things about the design of the Liquid A1-810 do grate a little, I use a smaller tablet in portrait and in this orientation the headphone port is on the bottom edge of the device, meaning I can't rest it on my lap or knee or other nearby body part. Also the position of the rear speaker seems totally random.
Hardware
The Iconia A1-810 has a pretty good spec, as follows:
Operating System – Android 4.2.2
Processor & Chipset – MediaTek MT8125T 1.20 GHz Quad-core (4 Core)
Internal Memory – 16 GB
RAM – 1GB
Micro SD Slot
Screen – 20.3 cm (8″) TFT Colour LCD XGA 1024 x 768 (4:3)
GPS
Wi-Fi 802.11b/g/n
Bluetooth 4.0
Micro HDMI
Battery 2-cell Lithium Ion (Li-Ion) 4960 mAh
Dimensions – Height 11.1 mm, Width 145.7 mm, Depth 208.7 mm
Weight (Approximate)  410 g
Highlights of the spec are the Quad Core CPU which really does a good job of keeping up with whatever you throw at it, the 1GB of RAM really helps as well.
The Micro SD and Micro HDMI are really useful, allowing the tablet to become a multimedia device, even plugging it into your TV.
Benchmark wise the Iconia A1-810 tablet comes out similar to the Nexus 7.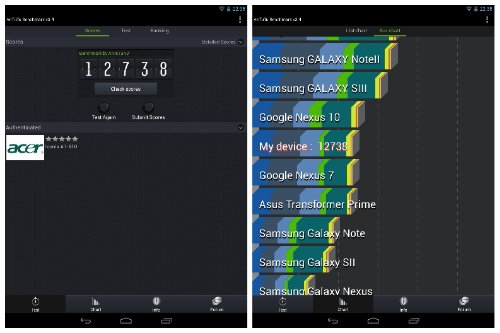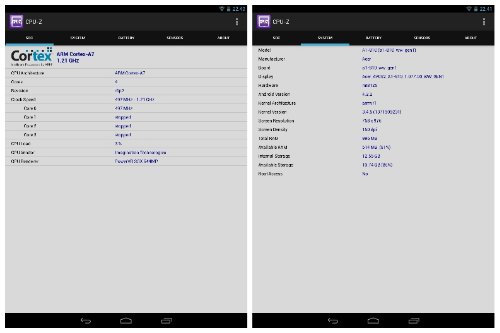 The battery is bigger than the Nexus 7 4960 mAh compared to 4325 mAh. The battery does well to stay alive for my needs, I noticed it lasting linger than my Nexus.
The screen isn't the brightest display ever often requiring brightness to be set to max, the screen also needs fingerprints removing regularly.
Software
The Acer Liquid A1-810 tablet runs Android 4.2.2 which means you pretty much get the latest features like Lockscreen widgets and Project Butter.
Acer have barely touched the ROM at all with this tablet, apart from a few bundled apps and widgets. The clock widgets are just the usual ones Acer have been installing for years.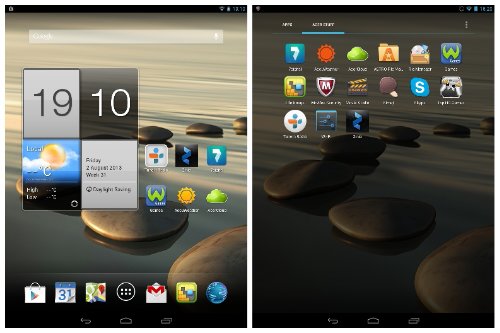 Some of the pre-installed apps are pointless, the McAfee Security app is infuriating, some people may want an anti-virus on their Android tablet, I don't and disabling it was one of first things to do. Also on the list to do was to setup an alternative launcher with more options. I settled for Apex and seemed to make a Play Edition.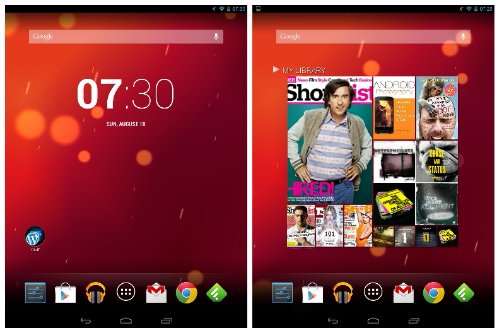 Web browsing on a 4:3 screen gives you more width when browsing with the device in portrait, hopefully these screenshots show how.
First of all shots from the Acer.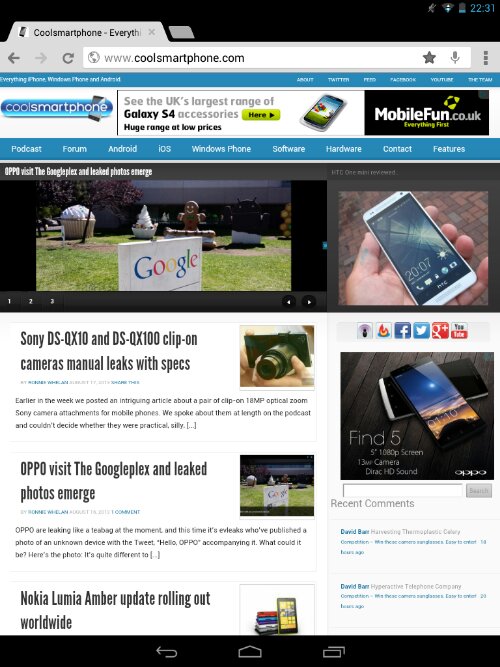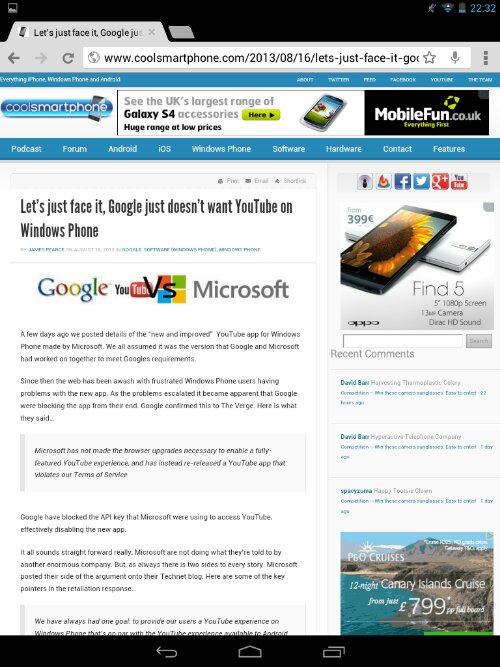 Then the same Web pages on the old Nexus 7.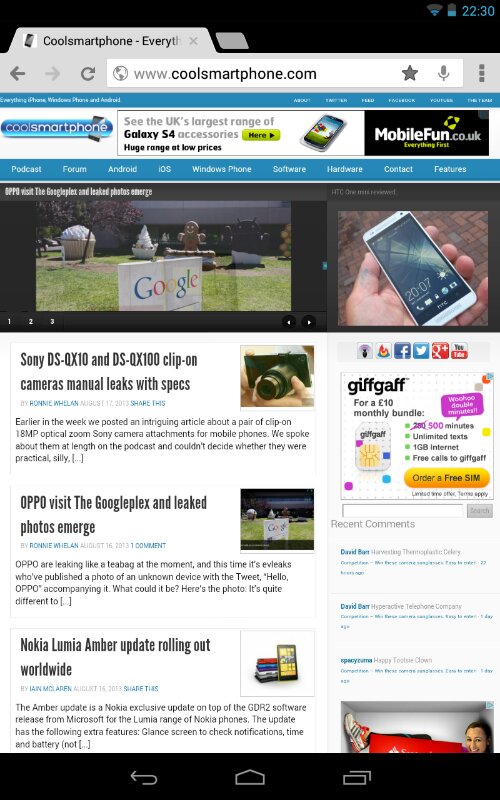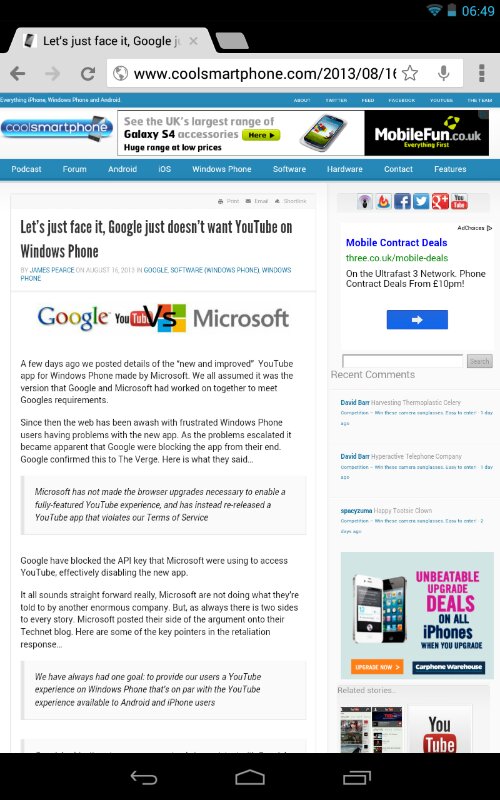 One interesting feature Acer have added is a screen unlock feature. If you press the screen with five fingers it will unlock the device saving you pressing the power button and a two finger press in portrait will open the camera app.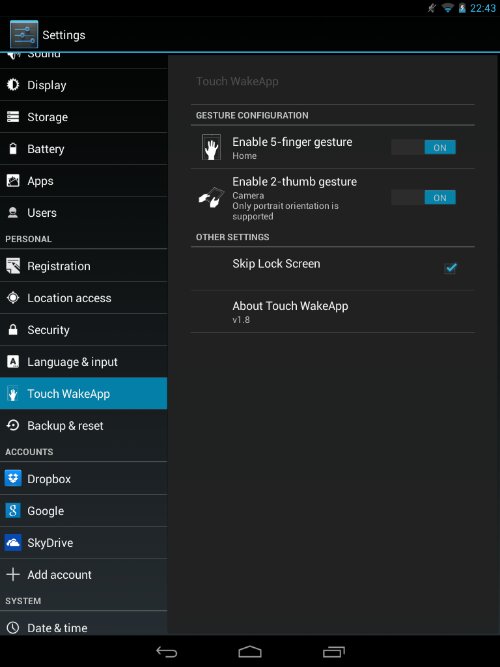 When I did my initial impressions a few weeks ago, a reader asked if flash would work on the Iconia and the answer is yes it will. Via Dolphin Browser and a manual install of the Flash Player APK and I was watching embedded flash video.
Camera
The camera on the Iconia is ok, photos in decent light come out ok. Their isn't any way of adjusting the focus so either it will focus on what you want or it won't.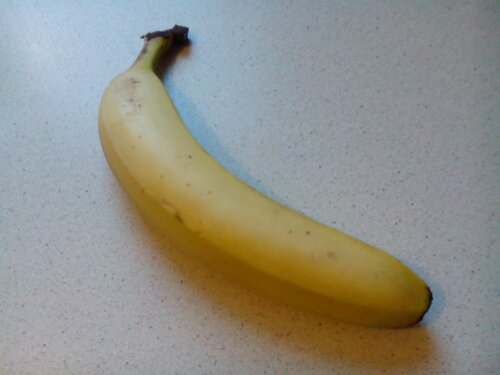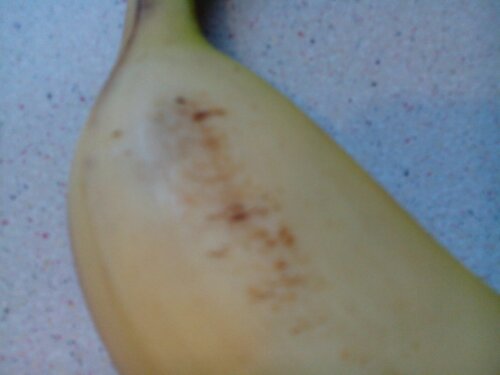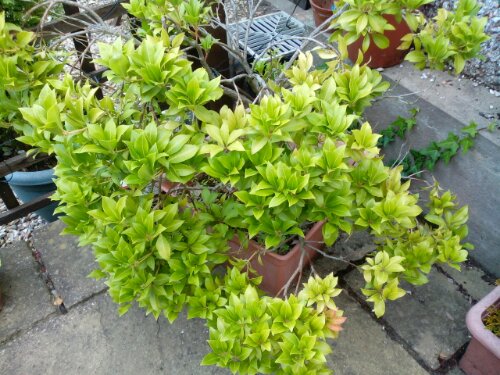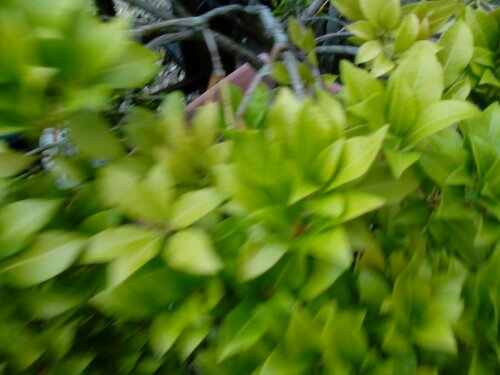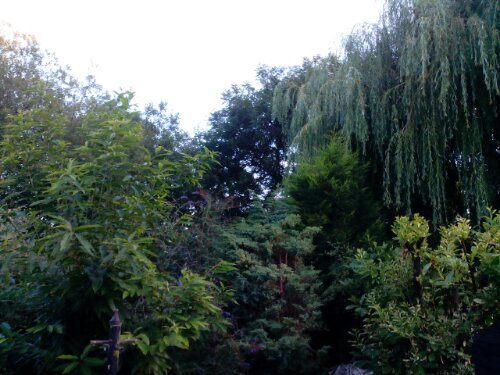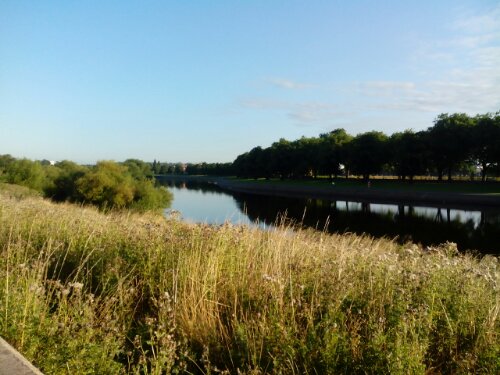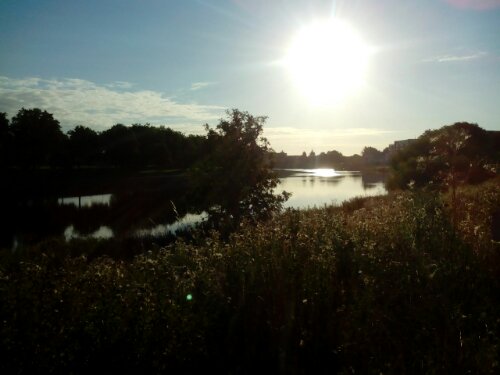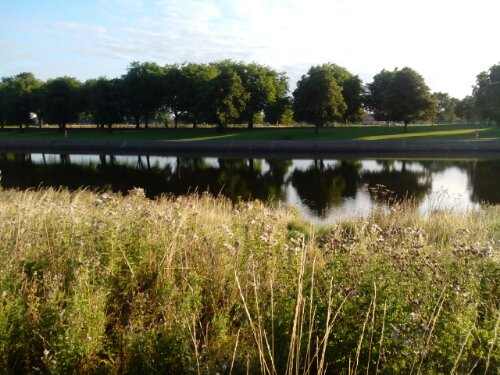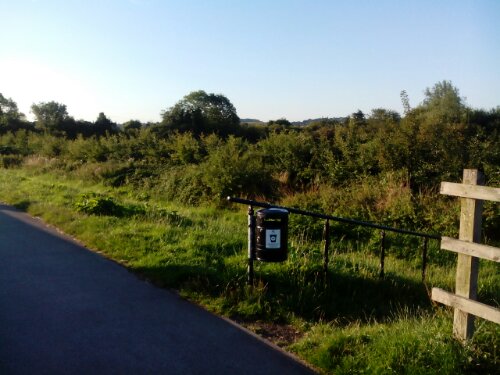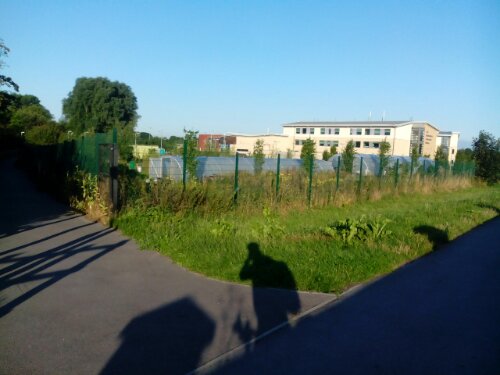 Conclusion
In conclusion I liked the Acer Iconia A1-810 tablet, the size, the lag free UI, the decent internal memory, the memory card and HDMI port all combine to make a nice experience. The build quality, RRP price and the screen do let it down a little, making the Nexus a slightly better choice. Although with the appearance of newer tablets the price of this Acer tablet will drop, I've seen this for about £150 which is a bargain.
Acer A1-810 tablet - Review
Design - 6.5
Hardware - 7
Software - 8
Camera - 5
Screen - 6
Battery - 7
6.6
A decent tablet, hampered slightly by choice of materials. Everything works well, just in a kind of "also ran" way. Slightly pricey as well.