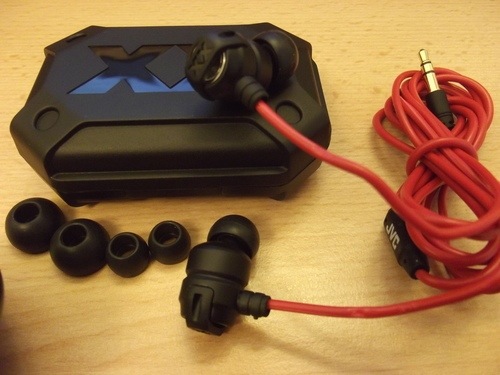 Boom! Lets blow those eardrums to …err… heck! These JVC HAFX1X Xtreme Xplosives In Ear Canal Headphones (I know, catchy right?) are normally £24.99 but right now they're down to just £7.90 via Amazon.
Now yes, that Super Saver Delivery has now changed so you'll need to spend over £10 to get free delivery. If you don't want to order anything else then it's £3.99 postage. I know. That is a lot. Welcome to new Amazon. Rubbish eh?
Now, I know that these are good quality. You know that these are good quality, but I'm going to bamboozle you with some highlights that will literally make no sense whatsoever..
– 10mm large diaphragm neodymium driver units
Cooorrrr…. Neodymium driver units? Get me some of them baby.
– Extreme Deep Basse Ports deliver ultimate bass sound
Basse? Isn't it just Bass? Perhaps it's just me and I've been spelling it incorrectly for years then. Luckily the other highlights make more sense…
– Rubber protectors for body durability
– Superior sound isolation
– Comfortable fit with ergonomic contoured form and three sizes of silicone ear-pieces
2.0mm-thick and robust 1.2m pure copper cable (Y-type)
Anyhow, dive in if you're after some very decent headphones at a very decent price. They're available from Amazon here.