Operating loss.. what's that then? Well, if you're not into your economics this might not mean a great deal. Put simply it's the point at which a company's operating expenses exceed its income.
This is what could well happen at HTC very soon. They've today warned that Q3 could see their first ever operating loss as revenue projections missed analysts forecasts.
Shares have fallen sharply, down 7% to 159.5 Taiwanese dollars, almost the lowest for 8 years.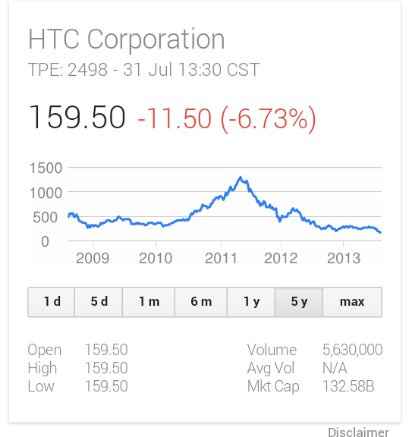 The company blamed a "relatively higher cost structure" and the "lack of economy of scale".
The company are enjoying positive reviews for their HTC One and HTC One mini handsets, both of which we've covered here, but big changes have occurred within the company lately and financial stats have remained gloomy. Year on year, net profit has shrunk by 83% in the second quarter.
HTC are planning to launch some "mid-tier products" shortly in an effort to retain market share.