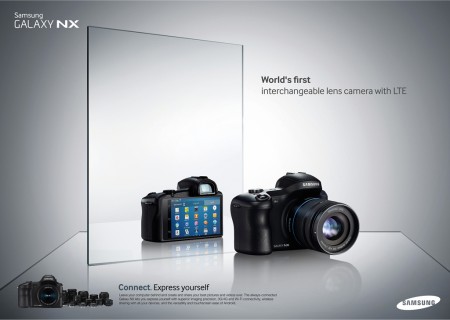 Are you after a professional quality smart camera? Well the world's first mirrorless Android powered camera with interchangeable lenses, the Samsung Galaxy NX, now has a price in the UK. I suggest you sit down…
£1299.99
If you go to Jessops or Wex Photographic Warehouse werbsites and hand over 1300 smackers you will get the main Galaxy NX and a 18-55mm OIS lens. Want more lenses? Better hope Mr. Mastercard is feeling generous today!
Primary specs for the main unit include a 20.3MP Sensor, dedicated DRIMe IV Image Signal Processor (the original Galaxy camera relied on the CPU to process the images), mirrorless, 1/6000 sec shutter speed, 8.6fps, Android 4.2 (a higher version than many Samsung phones!), 4.8inch TFT LCD SVGA touchscreen, 4G connectivity, 4,360 mAh battery.
Take a look at the official Samsung promo video and our photos from the Galaxy NX launch event (if you're feeling wealthy enough).
[yframe url='http://www.youtube.com/watch?v=kQ3QqVPyFOY']