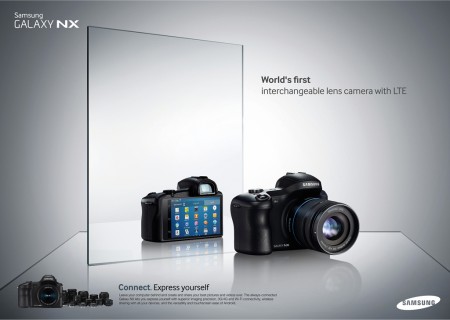 Samsung's launch event is throwing up some surprises; one of which is the Galaxy NX, an Android powered smart camera with 3G, 4G LTE and wi-fi connectivity. Big deal, I hear you cry, sounds like an updated Galaxy camera, right? Oh no, this one's gone truly pro with the introduction of interchangeable lenses.
Primary specs include a 20.3MP Sensor, dedicated DRIMe IV Image Signal Processor (the original Galaxy camera relied on the CPU to process the images), mirrorless, 1/6000 sec shutter speed, 8.6fps, Android 4.2 (a higher version than many Samsung phones!), 4.8inch TFT LCD SVGA touchscreen, 4,360 mAh battery.
There are also dedicated camera apps, such as Photo Suggest that provides location based recommendations of popular photography spots and Story Album which creates digital photo books which can be viewed and shared on other devices.
Full details the Samsung Galaxy NX can be found here