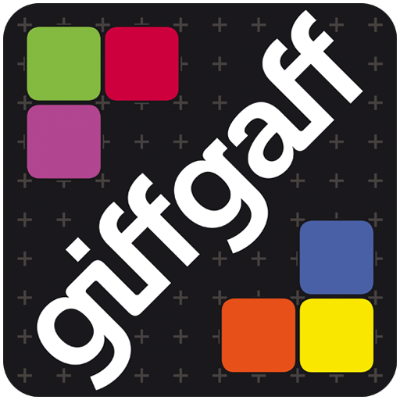 We've covered a number of virtual network operators recently but perhaps the most well known is giffgaff. Sure, let's be upfront, they've had a couple of bumps in the road with outages and the fact that a small selection of customers abused their "unlimited" data packages, but what are they like now?
Recently I mentioned that, after quite a number of years as a contract customer, I was about to switch and port my number across to a rolling monthly deal with giffgaff.
My usage habits have altered quite a lot over the last couple of years, plus I've found that O2 – the network underpinning giffgaff – is really strong in all the locations I'm at most. I've got the giffgaff SIM, which took about 5 days to arrive, and it's now sitting in my main handset. With giffgaff there's no contracts to worry about, no handset subsidies, just "Goodybags".
Those Goodybags are packages of minutes, texts and data that lasts for a month. You can set this to recur automatically, or change it each month depending on your usage.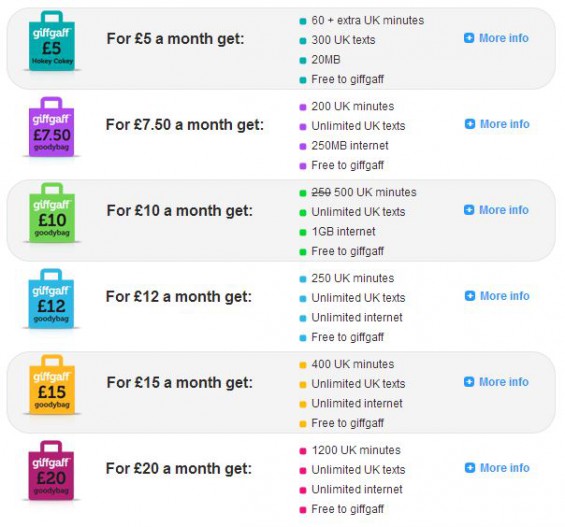 The deals start at just £5 for a month. That'll get you a tiny 20MB allowance, 60 minutes and 300 texts. Notch it up to £7.50 a month and you'll get 200 minutes, unlimited texts and 250 MB data. A tenner will get you 500 minutes, unlimited texts and 1GB of data.
I've chosen the £12 goodybag, which gives me 250 minutes of calls, unlimited texts and unlimited internet – more on that in a minute. For £15 you'll get 400 minutes, unlimited texts and unlimited internet and for £20 you'll get 1200 minutes, unlimited texts and unlimited internet. With all plans you get free giffgaff-to-giffgaff calls.
I, like many of you, enjoy my music. Whether it's streaming radio or a service like Spotify. Although the giffgaff internet service is "unlimited", I do know a couple of people who have had a temporary bar on their SIM due to constant and uninterrupted streaming of data. There's now a post in the community forums with some best practice tips and it's all pretty self explanatory. Personally I've been streaming for a few hours at a time and not had problems but, as with a lot of networks, if you abuse it, you lose it.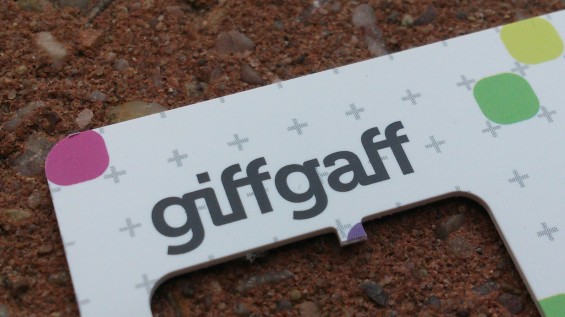 The main reasons that giffgaff is favoured by the community is the price, the flexibility, the ease of use and the quick support from the community. Here it's the other customers that help you more than the giffgaff staff themselves and, by working that way, costs are lower. That's not to say that giffgaff can't play with the big boys – an online account system lets you easily transfer your number into the network with the aid of a PAC code and you can delve into your account details easily, changing or viewing anything you might need. You can turn off those network messages (such as "Your balance is xxx following your last call") here too.
So far I'm pretty impressed. There's a lot to like about the freedom you have and the flexibility to move up and down goodybags, plus it means costs are brought right down because you're not paying an extra £20-odd on top for the cost of a handset. They don't sell you a phone just yet, but that could be about to change. For now, go and get yourself a SIM-free phone and pop your SIM in.
What else is there to like? Well, giffgaff also have that vibrant community I mentioned. You can recommend friends or help on their community and get paid in return. You can also get data-only SIM cards, which are great for iPad or Android tablet users.
Oh.. something else you should know about giffgaff. They're just a little bit bonkers. Perhaps I should say "cool". Call the voicemail an it'll say, "Nice one". Meanwhile, their own website says that..
Our time has come, no? Haven't the big networks become a little too faceless with their massive call centres, their glossy TV ads, their high street shops full of shiny-suited salesmen, their endless handset "deals" and their long contracts so indecipherable you sense the penmanship of Dan Brown?

Now, don't get us wrong. We're not necessarily anti-them. We wouldn't all be texting each other a squillion times a day if it wasn't for them. It's just that, surely there's room for a small one on top? One that's less, er, big… and more, er, people-y.
Bonkers and, if I'm honest, I like a bit bonkers. So, if you've got a SIM-free phone and want a lot for a little with a great community, give giffgaff a spin.