So there's someone at the door. You don't really want to answer the door, but you want to know who it is. Sure, you could hide down in the hall, crawling along on your belly, trying to get a look at the person.
This, this is pretty cool. It's called "DoorBot" and replaces you standard doorbell with a camera that, when the doorbell is pressed, opens a video link to your smartphone. Even better, they offer something called a "Lockitron" that'll unlock the door if you're happy with the person coming in. Pretty sweet. The Lockitron bumps up the price a little, but the DoorBot itself costs $189, which is around £127.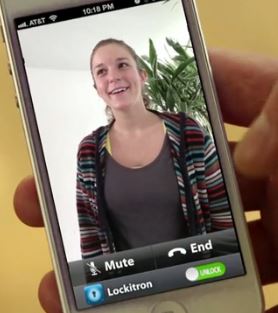 There's a video showing you how it all works below but it's all pretty simple. On your door you get the doorbell / camera itself. This is powered by a battery and connects via WiFi. Then, when the button is pressed a video call is initiated via the DoorBot app on your phone.
Good yeah? Well, it gets even better. If someone comes to door you can even connect to the doorbell over the mobile network, so you can see those knockers anywhere.