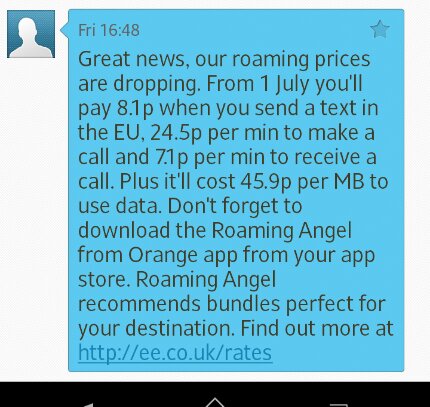 Blow up the balloons, order a cake, we're going to have a party! Roaming rates are dropping today. New EU limits kick in to…slightly reduce your costs. Data especially is now a lot cheaper, but we're still a long way from being able to use phones as we do back home.
Data is now 39p per MB, calls are capped at 21p per minute and texts at 7p each. After adding the 20% VAT this goes up a notch, and as an example EE are charging 45.9p per MB (which works out at £470.02 per GB), 24.5p per minute for a call back home and 8.1p per text.
The EE rates page, like the text I received above, shows these new rates but if you're an Orange customer then you'll pay a bit less – 42p per MB four your data, 8p for each text and 24p per minute for a call. Strangely I'm an Orange customer and I've been sent the wrong rates. Confusing.
If you are a T-Mobile customer then you'll pay the EE rates.