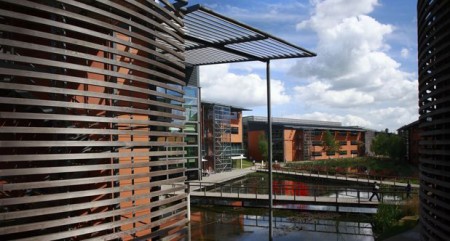 Down in Newbury 30 acres of land is occupied by Vodafone. Their space-age HQ is simply massive and there's an F1 car on display outside. Inside there's information boards which constantly update to show how many calls and texts have been sent over the network and staff are free to sit where they need.
In addition Voda have started using some rather clever mobile tech to ensure that their buildings are eco-friendly. With over 4000 staff it's important to keep the temperature and working environment right too, so they use an "occupancy monitoring system" which can see where staff are based on their phone signal.
Brendan Ludden, from the Vodafone in-house innovation team, stated..
We can see everybody in the building, and differentiate between visitors and site workers. It shows you how occupancy varies over time. And you can drill down to, say, the second floor where we are now. You can see it's busier over there, quieter over there.

By monitoring this, we're learning what it means for occupancy. On a Friday it's more quiet, for example, so why would we heat everywhere up? Why not consider closing a floor once a week? Or turn the heating down and save the planet a bit? They're the kind of things you learn from this. You just monitor it and change the way you do things.
Read more in their blog post.