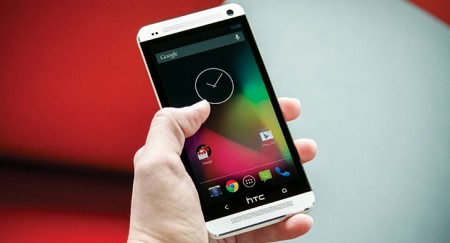 The Vice President of Android Product Management at Google, Hugo Barra, has been revealing some secrets about the HTC One Google Edition (the One running stock Android rather than the HTC Sense skin). Whilst speaking with Nilay Patel from fellow tech site The Verge, Hugo slipped the as yet unreleased handset out of his pocket and proceeded to show off some features.
Since the very moment the Google Edition version of the One was announced the questions started, the primary one being whether the hardware features that make the standard phone so unique would still be supported. For example, what's the point of having Mr. Dre PHD's Beats Audio hardware if the software isn't there? Or, whether the Ultrapixel camera be supported in vanilla Android.
Funnily enough, those are the first questions Nilay asked; it seems we not talking vanilla now; more of a raspberry ripple.
You see, Beats audio will be switched on by default, but there'll be no button to turn it off. No big deal if you ask me.
The Ultrapixel camera is "being made to work" with the stock Android camera app; it will "do what it does". That's a bit of a woolly statement. Sounds like there won't be any of the flashy HTC software involved, and that is where people are going to think twice about getting the stripped back version of the One. The feature that I've heard most praise for on the full fat handset is Zoe, the three second video that one selects frames from to capture those unplanned moments. Smartphone photographers may have to put up with Blinkfeed if they want Zoe.
No more details were leaked, but Nilay did notice that the button layout isn't as nature intended, instead it follows the HTC convention of the home button being on the right, not the middle, and will require a long press will open Google Now and a double-tap for recent apps. A shame, but liveable with.
No doubt there will be more HTC tinkering, but as long as the main things work as they should and Sense has been unravelled I still like the idea of a raspberry ripple HTC One. So much so it could justify the extra cents that will no doubt separate it from the Nexus 4. I'm just hoping it will eventually make its way to the UK.
Source – The Verge