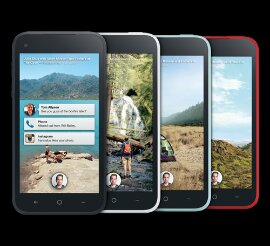 Over a week ago we reported that the HTC Facebook phone – the "First" – had vanished from the "Coming Soon" section of the EE website. We reached out to EE about this and, at the time, they told us that they still intended to range the handset despite it getting ditched by US-network AT&T.
The HTC First included a custom Facebook skin which took over most aspects of the phone, but the UI wasn't exclusive to the HTC handset for very long at all, and quickly popped up on Google Play for free. The Facebook "Home" app / skin hasn't exactly broken download records and, following poor sales of the handset itself, AT&T stopped sales.
The fallout for HTC has been pretty bad so far, with top brass abandoning the company amidst rumours of large changes and sharp company politics.
Now we can confirm that UK pre-orders for the HTC First have been cancelled. Meanwhile, customers that registered their interest for the phone on EE will shortly receive an update mail telling them of the news.
An EE spokesperson told us..
Following customer feedback, Facebook has decided to focus on adding new customisation features to Facebook Home over the coming months. While they are working to make a better Facebook Home experience, they have recommended holding off launching the HTC First in the UK, and so we will shortly be contacting those who registered their interest with us to let them know of this decision.

Rest assured, we remain committed to bringing our customers the latest mobile experiences, and we will continue to build on our strong relationship with Facebook so as to offer customers new opportunities in the future.
Held off? Well, if an updated UI is in the works (perhaps one that doesn't consume the phone quite as much) how long before it returns, if at all?