I've had the BlackBerry Q10 for a couple of weeks now and I've grown to love like it quite a bit. The Q10 is the new age Bold, with premium materials, high end specs and a new ish OS. This in theory is the device that would persuade millions of people worldwide to upgrade their old BlackBerry devices.
I used to use portrait qwerty devices a lot but having had a few years to get used to touchscreens instead my first few days using a physical qwerty were rather difficult.
During my initial impressions of the Q10 I posted my initial good and bad points and I'll start this review with an update list of good and bad points.
Good Points
Nice size lends itself to single handed operation
Nice screen
Nice software tweaks to make use of keyboard
Nice software tweaks to adapt the OS to the Q10 1:1 screen
Great build quality
Nice loud clear speaker
Once configured BlackBerry Hub is a useful messaging system
Bad Points
Single handed operation sometimes isn't quick enough
1:1 screen sometimes means details are obscured
BlackBerry World is still lacking
The Q10 feels a little small compared to other modern devices
Design
The BlackBerry Q10 is a nice looking device possibly more so than the Z10 that I reviewed here. The Q10 feels less plasticy and more solid. The sides of the Q10 are made of the same solid, soft touch, peculiar material that pretends to be a metal, it even feels slightly cold to the touch, it's plastic though; just nice plastic. I guess the sub frame is metal, there are also four metal strips across the keyboard and one across the back which not only look good but stiffen everything up.
The left hand side has the Micro HDMI and Micro USB ports. Which I feel are in an odd position, they're the same as the Z10.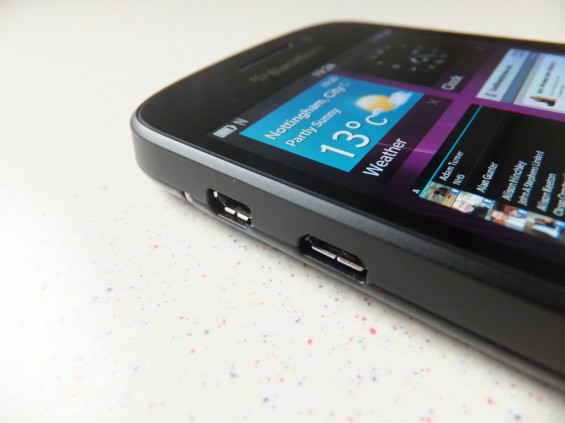 The right hand side has the metal volume buttons and the mute media button. Again these buttons have other uses, press the volume buttons in camera mode and you'll take a photo and press them together and you'll take a screenshot. They feel nice and solid and seem like they'll survive many pushes.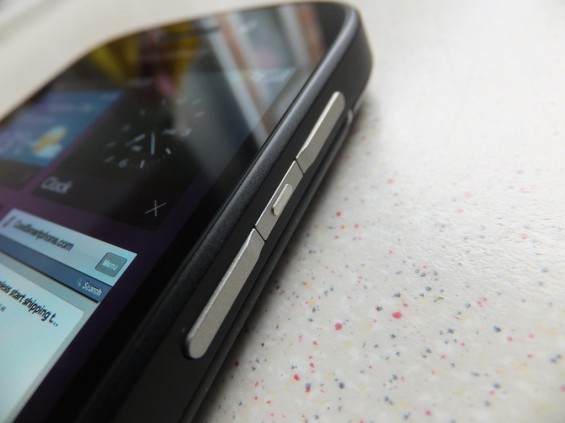 The top edge has the power button smack bang in the middle and the headphone socket off to the side. Power button placement would be nice if it was on the right hand side, but that's just my personal preference. As the Q10 is manageable with one hand you can easily reach the power button though.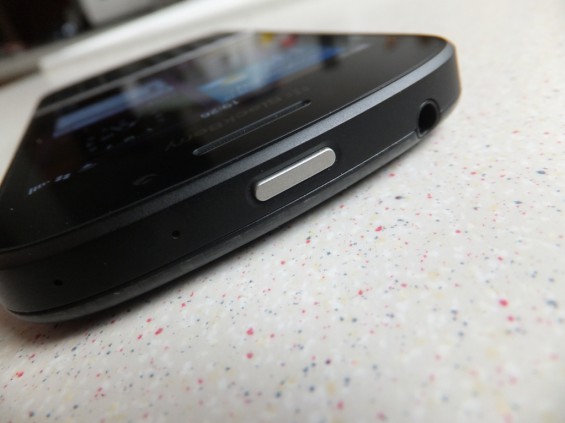 The bottom edge has the microphone and a speaker, the speaker was surprisingly loud in use.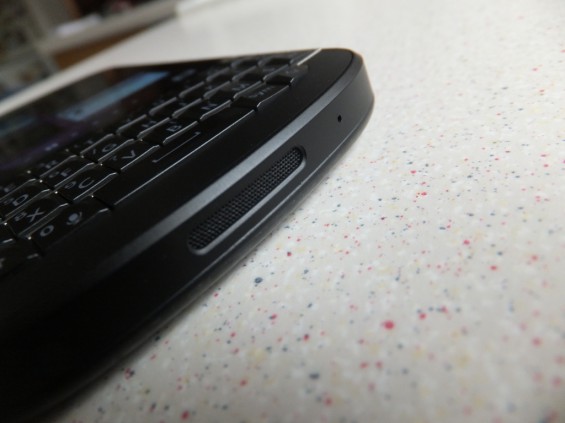 As I mentioned before the backplate on the Q10 really improves the look and feelof the Q10. I assume it is carbon fibre as it has a slight ribbed feel to it and you can feel the carbon weave. But pop the back off and you can see plastic edges and the insides aren't as well finished. So I'd assume it's plastic with a glass fibre coating on it. I like it though, it gives it a good feel in the hand and it has a sort of non slip coating as well.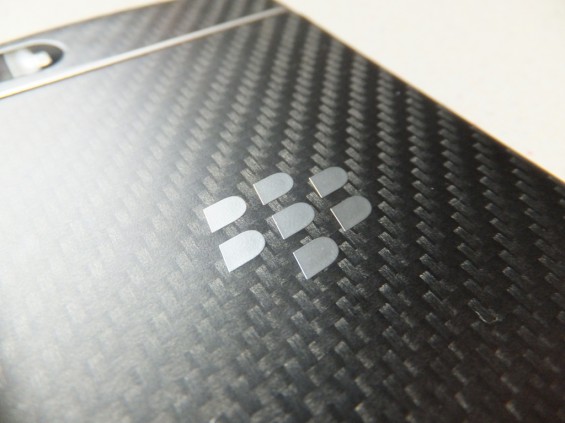 Lastly the keyboard, which is the Q10s main selling feature. The buttons are like the buttons on the Bold range and they are curve upwards towards the edge of the button. The left hand side and right hand side are curved slightly differently to aid two hand touch typing. At first I struggled but I soon picked it up.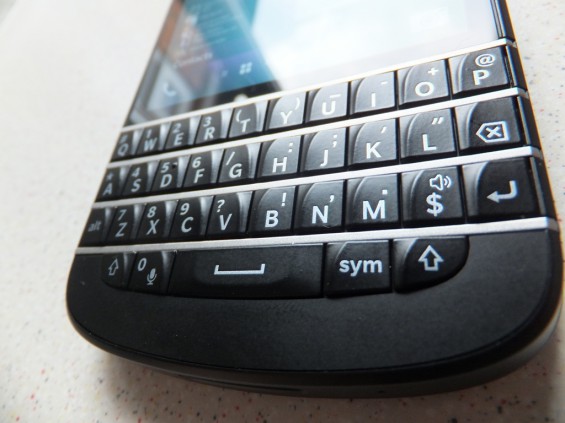 Here are some other pictures from around the device.
Hardware
The BlackBerry Q10 is a really well specified device and because of that it really flies. There aren't really any compromises with the spec, apart from maybe screen size or not having a Quad Core CPU. It's just me being picky though.
Here are the full specs for the Q10.
Processor – Dual Core 1.5 GHz
Memory – 2GB RAM 16GB Flash
Expandable memory – Removable microSD memory card – slot under battery door (Up to 32 GB)
Display – Resolution 720 x 720 resolution, at 330 PPI 24-bit color depth Super AMOLED
Screen size – 3.1″ diagonal 1:1 aspect ratio
BlackBerry 10 OS
Micro HDMI Port
Battery – 2100mAH removable battery
Rear camera 8 megapixel auto-focus camera, 5-element F2.2 lens,
Front camera – 2 megapixel fixed-focus camera, 720p HD video recording
4G, Quad band LTE 3, 7,8,20, Quad Band HSPA+ 1, 2, 5/6, 8 (850/1900/2100 MHz/900) [email protected] 42mbps, Quad band EDGE (850/900/1800/1900 MHz)
Wi-Fi – 802.11 a/b/g/n, 2.4 GHz / 5 GHz
Bluetooth, Bluetooth 4.0 Low Energy (LE)
GPS – Assisted, Autonomous and Simultaneous GPS, GLONASS support
NFC
Dimensions – Height 119.6 mm Width 66.8 mm Depth 10.35 mm
Weight – 139g
Software
A lot has been said about BlackBerry 10 and I won't go into another rant about it. What I will say is that I was pleasantly surprised about the experience the second time round. There are a range of tweaks that I've come across that have been added to maximise the usability of the keyboard. For instance when you're in the Messaging hub when you look at the sub menu you can see hotkeys for frequently used functions such as reply, reply all, forward, delete etc.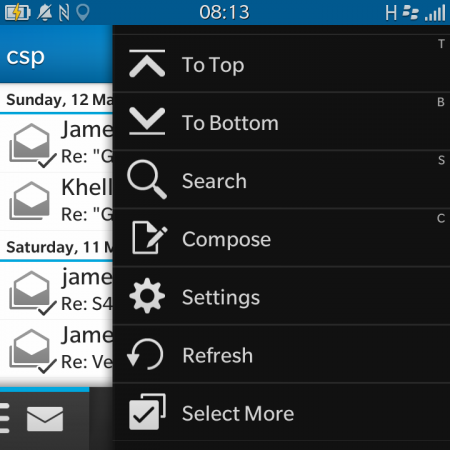 The core OS is a pleasure to use, once you have the messaging hub set up the way you want it is a useful tool. It basically amalgamates all of your messaging into one stream. Which I find a nightmare, I have four email addresses, Facebook, Twitter, Google Talk, BBM, SMS and call records all in one thread. You can separate these easily and just deal with the ones you want individually. The settings for the hub are quite flexible, adapting to any new messaging app you may install.
I noticed a few nice features this time round with BB10, I realised I didn't need to hit the power button to unlock the phone, I could swipe on the screen, or just tap a number key on the keypad. Which meant getting to my messages was even easier. BlackBerry World is still the weak link in the whole BB10 OS. The app store may have lots of apps, but there are lots of buggy Android ports, what is there is hard to find, overpriced and as a whole it is lacking many native apps. I think the OS has massive potential but in it's current state it's not looking good.
I really like the whole swiping around to get to messaging, swiping for settings, swiping for home, swiping to do everything. Although on the Q10 the top row of keys sometimes get in the way. The other issue is that as the screen isn't that tall, sometimes and upwards scroll of a web page or conversation list is seen as a swipe up to get to home. So your current app is minimized. You can quickly jump back in, so it's not a huge problem. It just starts to get annoying after the 80 or 90th time.
Battery Life
The battery is 2100mAh and it's the biggest a BlackBerry has ever had. In moderate use syncing two email addresses, tweeting, texting a calling I just about got two days out of it. But the battery soon takes a nose dive when the BlackBerry Hub has lots to do. It also seems to be worse with semi live apps pinned to the homescreen.
The Camera
The camera is the same camera as in the Z10 so it is pretty good, in low light it struggles a little. As the phone is held in portrait orientation you have to take pictures in portrait as well. The default setting is a 1:1 picture of 2448×2448 pixels which works out about 6MP, there are then two landscapes modes a 4:3 mode of 3264×2448 which is 8MP and a 16:9 mode of 3264×1836 which again is about 6MP. You can't hold the phone in landscape to capture a photo, to take advantage of the volume button shutter button, the UI doesn't rotate.
It also manages to take some nice close up macro shots
You can quickly access the camera from the lockscreen which is nice.
Readers Questions
During my initial impressions I asked for you to ask me any questions about the BlackBerry Q10, here are the questions and the answers.
en_croute asked
"Why is the Micro SD slot limited to 32gb?"
I don't know, in the spec it is listed as SDXC yet the max capacity is 32GB, I tried a 64GB SDXC and it wasn't recognised. I don't know officially what is going on here.
the_prof asked
"Can you now use them with any other messaging services than BB's own?"
Yes you can there are a whole host of messaging apps, most of which integrate nicely into the BlackBerry Hub. I found WhatsApp, Yahoo, Windows Live, Google Talk, IM+, Skype and of course BBM. So it's likely you'll be able to chat whichever service you like.
"Can you easily use things like GMail or even your own ISP's mail services?"
Yes, you can add no end of different email services. Gmail is a doddle, although contacts and calendar need adding separately via CarDav and CalDav. See these screenshots for the options
"How customisable is it? Which of the more popular apps actually do work on the device (I'm thinking official facebook, instagram, twitter and the like"
It isn't massively customisable, you can change wallpapers and accent colours and that's about it. You can create folders on the homescreen to alleviate the iOS style sea of icons. Some of the popular apps exist, the official Twitter app is awful, it can't remember you place in the timeline there aren't really any decent third party versions either, Facebook is ok, Instagram doesn't exist, BBC iPlayer exists, Skype exists, no Google apps exist apart from Google Talk which BlackBerry made themself, it really is a bad situation.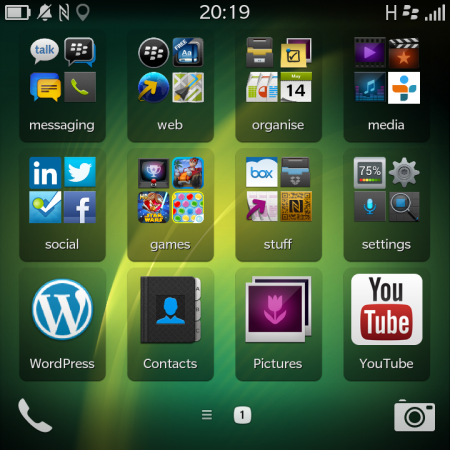 The final part of the question from the_prof was –
"A qwerty device would be relatively useful to me, but only if it could do certain things. I administer quite a few servers, and use things like SSH, x-windows emulators amongst other things. I'd be pretty interested to see quite how varied the app-store is."
The BlackBerry World store has a few ssh apps, mainly Android ports and some have positive reviews. You will be able to get by using SSH but there aren't any X-Window apps.
wubanger asked
"Have you figured out a sensible way to filter different types of messages in the hub?"
Yes I have, there is a way to choose which apps appear in the main hub and which appear in their own sub section. So after a bit of tinkering you can set it all the way you want.
Conclusion
Overall I quite liked the BlackBerry Q10, it is not for me though. I can't type anywhere near as fast as I can on a soft keyboard and try as I might I can't get to grips with pressing shift and alt keys to get different characters etc. Bear in mind I haven't used a qwerty device like this for years. In the hands of a hardened BlackBerry user this would be a great upgrade for them, the new OS, the new apps, the new hardware are all great. But in the hands of someone who has used any of the main mobile OS's this seems inferior. BlackBerry really need to sort out the app store. Yes allowing the porting apps to BB10 seemed like a good idea, but it is just being used as a lazy way for developers to get apps onto the OS. I think this time next year BB10 might be in a better place, but at the moment I could only recommend this to business users who are used to a small qwerty device and are already invested in the BlackBerry Ecosystem.
As a final point, a big thanks to Vodafone who sent us this device, they offer the Q10 on a range of contracts here.