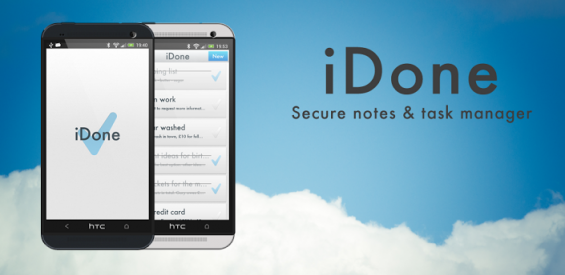 Notes apps, have a look in the play store and there are literally hundreds.  Some are good, some are poor and some stand out from the crowd.
Evernote is probably the biggest but requires a centrally registered account and, lets face it, isn't exactly what could be classed as a light app.
iDone however is the exact opposite.
In the developers words "iDone is a simple, secure task and notes application."
Simply create a locally stored account, log in and you are presented with the main screen.
This shows all outstanding tasks and gives the option to create a new task / note.
You also have the option to mark the note as complete or delete it entirely.
All information is stored locally and therefore security is not an issue.
As can be seen from the screenshots below the app really is clean, simple and easy to use.
The developer, Philip Andrews is currently working on notifications for the app so that completion dates can be scheduled and I also looking at being able to add things directly to the calendar too.
E-mail support is excellent, the one query I had was answered promptly and the changes resulting from it were pushed to the Play Store almost immediately.
For a fee of just £0.69, the app is an excellent choice for those who prefer their notes simple and clean, without the fuss and bluster.
iDone is available from Google Play now.