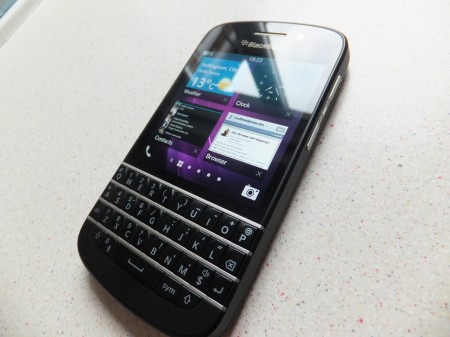 BlackBerry are in an interesting position these days, the Z10 and Q10 are what some may see as their last ditch attempt to remain relevant. We had the Z10 in for review a few months ago (which you can read here) I ended up liking the hardware and the potential it and the new OS had but I just couldn't get on with the split personality Android/BlackBerry app situation.
Fast forward a few months and I now have a BlackBerry Q10, the qwerty toting second coming. I have been wanting to try it out basically because it was a qwerty device, I miss qwerty devices (a lot) and this to me seemed like a new high end exciting phone. Out of the box I was impressed, I spent most of the day setting up all of my different accounts and apps. I then spent the evening taking some photos ready to bring you my initial impressions.
As usual here are my initial good and bad points, these of course will be updated in a few weeks with my full review
Good Points
Great build quality
Solid feel to the keyboard and it's backlit
Nice bright colourful screen
Fast feel to the UI
Removable battery
Micro SD slot
Nice compact feel to the device
Bad Points
3.1″ screen gets filled with UI elements and reduces visible items
App situation is still difficult
Design
The BlackBerry Q10 looks really nice, BlackBerry in my opinion have made the Q10 and Z10 really well. The Q10 is really solidly built, it has a carbon/kevlar look backplate and the same solid plastic edge strips that the Z10 had. The volume, mute and power buttons are made of metal along with some strips of metal running across the keyboard and across the back plate as well.
The BlackBerry Q10 has the same port arrangement as the Z10, with the Micro USB and the Micro HDMI port on the left hand side of the phone. The top edge has the headphone socket and the power button, I'm pretty used to power buttons being on the right of the device (thanks to Nokia and Samsung), the bottom edge has a nice speaker and a microphone. As the device is a nice size you can easily reach all of the buttons with one hand.
Hardware
The BlackBerry Q10 is really quick, my initial afternoon playing about with it seemed that it was fast. The dual core CPU and the 2GB of RAM really help it fly along. Here are the rest of the specs
Dimensions – Height 119.6 mm Width 66.8 mm Depth 10.35 mm
Weight – 139g
QWERTY keypad and all-touch screen with intuitive gesture based navigation
Volume Up/Down, Mute, Lock (for Power On/Off)
Display – Resolution 720 x 720 resolution, at 330 PPI 24-bit color depth Super AMOLED
Screen size – 3.1″ diagonal 1:1 aspect ratio
BlackBerry 10 OS
Processor – Dual Core 1.5 GHz
Memory – 2GB RAM 16GB Flash
Expandable memory – Removable microSD memory card – slot under battery door (Up to 32 GB)
USB Ports – USB 2.0 high speed port – allows charging and data synchronization of the device with a USB cable
Micro HDMI Port
Battery – 2100mAH removable battery
Battery Life Up to 13.5 hours talk time (3G) Up to 14.8 days standby time (3G)
Camera & video – Rear camera 8 megapixel auto-focus camera, Back Side Illumination for better low-light performance, 5-element F2.2 lens, Dedicated ISP (image signal processor) with 64MB frame buffer, Flash, continuous and touch to focus, image stabilization, Enhanced Super Resolution Digital Zoom (5x), 1080p HD video recording, 4 DOF (Degrees of freedom) video stabilization, Hybrid absorptive IR filter, Time Shift mode for pinpointing and adjusting individual elements of your picture
Front camera – 2 megapixel fixed-focus camera, 720p HD video recording
4G, Quad band LTE 3, 7,8,20, Quad Band HSPA+ 1, 2, 5/6, 8 (850/1900/2100 MHz/900) [email protected] 42mbps, Quad band EDGE (850/900/1800/1900 MHz)
Wi-Fi – 802.11 a/b/g/n, 2.4 GHz / 5 GHz
Bluetooth, Bluetooth 4.0 Low Energy (LE)
GPS – Assisted, Autonomous and Simultaneous GPS, GLONASS support
NFC
It is really quick to use, flying through the core UI. They have done a good job, much the same as they did with the Z10.
Software
Software is where things with the BlackBerry Q10 start to get complicated. BB10 has massive potential and what I said a few months back about the Z10 still sort of stands today.
It is basically a first generation device and with that comes a certain inevitability to struggle. BlackBerry in my opinion need to slowly kill off the whole "Android apps" side of things, it is ruining what could be something special. Developers at the moment seem to be content to port their Android version and leave at that, that's if they can be bothered at all. Whether BlackBerry need to be bribing developers quite as badly as Microsoft and Nokia are with their fledgling OS.
After playing around in BlackBerry World hunting for some apps I realised that things haven't really changed that much, there is still an abundance of ported apps, there aren't enough free apps and there isn't many big name developers releasing apps. You'd think being a big Windows Phone fan I'd be used to this.
The core OS functions though are a joy to use, the BlackBerry Hub seems to make more sense on the Q10, with keyboard shortcuts for replying to emails. Reader mode on the web browser is really useful on the smaller screen. The whole gesture based UI seems to feel more natural on the smaller qwerty device, strange I know. I'm also really impressed with the Contacts app, it has Facebook and Twitter sync which is always a pleasure to find.
I'm hoping over the next few weeks I can delve further into the available apps and find some really good native apps.
Initial Conclusion
I think initially I am liking the BlackBerry Q10 possibly more than I liked the Z10 initially. The smaller size and the qwerty keyboard really lend themselves to messaging and once I've got my Social Networks added things should really start to be tested out. If you have any questions about the BlackBerry Q10 or you want something testing out, please let me know in the comments below and I'll do my best to comply. The full review will come in a few weeks time.