Acer this afternoon have announce six new devices. Some are Android tablets and some are Windows 8 devices. Lets have a look at the Android tablets first, Acer have announced two devices with two variants, so four in total. They have announced the Iconia A1 and the Iconia B1, with both coming in WiFi and WiFi + 3G variations. The A1 is a 7.9″ device and the B1 is a 7″, we actually saw the A1 leaked a few weeks ago and we covered it here.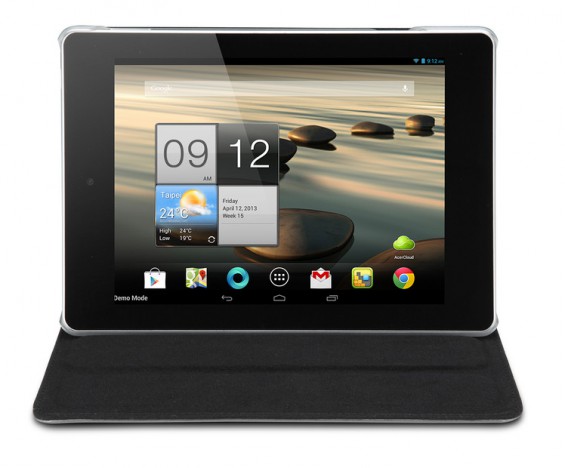 The A1 is the higher specced device with the following features
Quad Core 1.2GHz processor
LED backlit display with IPS technology
170-degree viewing angle
1024×768 resolutio
4:3 aspect ratio
410 grams
Measuring only 11.1 mm
802.11b/g/n wireless technology
built-in 3G mobile data connection (in the A1-811 variant)
Bluetooth 4.0
5MP rear-facing camera
Front-facing camera
Micro USB 2.0
Micro HDMI
Available as 8GB or 16GB versions
Expandable via microSD
The Iconia A1 will be available in May for the Wifi (A1-801) model and cost £149.99, the WiFi + 3G model (A1-811) model will be available in July and cost £209.99.
The Acer Iconia B1 is going to be a smaller and cheaper model, the specs for the B1 are as follows
1.2GHz dual-core or quad-core processor
1GB of RAM
Android Jelly Bean
17.8 cm (7") WSVGA (1,024 x 600) capacitive display
Front-facing camera
WiFi or 3G
8GB or 16GB
MicroSD™
The Iconia B1-710 (WiFi) version will be available in mid-June at a starting price of £109 and the Iconia B1-711 (3G) version will be available in end of July at a starting price of £129.
The Iconia A1 seems like the more desirable product, mainly down to the higher spec, but by the time these get to market how far behind will they be? We will almost have a new Nexus 7 and a new iPad Mini on our hands.
If you like press releases then here you go, two of them.