Seven inch tablets are so last year. This year everyone wants an eight inch tablet or else. Judging by the Note 8.0, the iPad Mini and now this the 7.9″ Acer Iconia A1-810.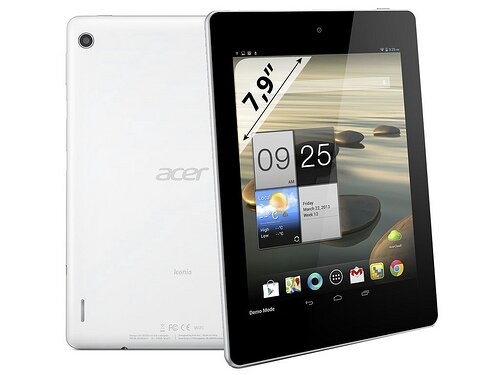 The Acer Iconia A1-810 has appeared on French retailers "Rue Du Commerce" website showing specs and some images. It is priced at €199.00 so if it appears in the UK it should work out about £170.
Spec wise it is going to be a mid range tablet that should on paper have more features than the upcoming next gen Nexus tablet. The specs pulled from the French retailers website are as follows.
7.9 inch IPS display
1024 x 768 pixels
Android 4.2 Jelly Bean
quad-core 1.2GHz MediaTek MT8125 processor
WiFi
Bluetooth 4.0
GPS
HDMI port
VGA front-facing camera
5MP rear camera
1GB of RAM
16GB of internal memory
MicroSD card support
Weight 460 grams
Dimensions – 208mm x 145mm x 10.5mm
3,250 mAh battery
As is often the way with Acer details like this appear without any official word from Acer themselves, I've emailed them this morning asking whether it's coming to the UK and I'll update the article later.
Personally I think they may be onto a winner with this tablet, it will offer much of what the Note 8.0 and iPad Mini can but at a fraction of the cost. This might just be my next medium sized tablet, the MicroSD slot would make it an ideal companion to take on holiday, which always seems to be my use case for tablets these days.
Source – unwiredview